All images and text are copyright protected. Contact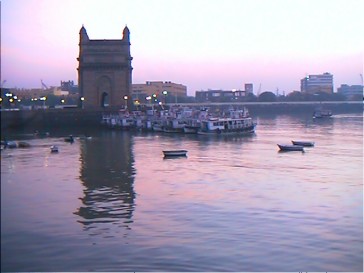 Bombay


Coming from a Turkish winter to an Indian summer is wonderful. Still, it takes a while to adjust to Bombay.

Bombay pounds at my senses. The squalor, the overwhelming crowds, the pungent smells, the dazzling colours, the vendors demanding my attention, the beggars tapping at my elbow, the traffic, horns blaring, swerving all around me. The women clad in bright saris and men in lungi and vest make a brilliant, moving splash of colour against the drab fading buildings. One night, returning home along Mereweather Rd in central Bombay, I am knocked aside by an elephant as big and silent as a house. This is the city of Salman Rushdie and Rohinton Mistry. The city where V S Naipaul was stricken with panic. A city on overload.

There is a sense of vast sprawling decay and chaos. Each of the 16 million plus inhabitants struggles against every one else for space and a living. The vendors spread their wares across the pavements and along the road's edge so that a casual stroll becomes a perilous walk through a minefield. Everyone, it seems, clamours to know,
"Sir, what is your name? From which country? How long you are being in India? Can I show you something special? What are you looking? You want hotel, very cheap? You want girl? You want boy? You want hashish, very good quality? Grass? One rupee? One pen? Foreign money for my collection?"


| | |
| --- | --- |
| Victoria Station | Taj Mahal Hotel |

The food assails me. Every dish sears my tongue, only the lassi yoghurt is kind. My brain screams at me, "What are you doing here? Leave while you still can." I read of a writer's mantra in India: "Today's goal is not to die".

I arrive in Mumbai (Bombay) at four in the morning, quite possibly the worst time to arrive anywhere. The taxi ride from the airport into Colaba, central Bombay, goes through silent, dusty, depressing neighbourhoods with sleeping people everywhere and leaves me in the seedy alley of Bombay's best budget hotel. I take courage and wake the doorman asleep on the floor. He allows me to carry my two heavy pieces of luggage four floors up a decrepit staircase only to be told at the top that there are no vacancies.

I walk the six blocks to the Salvation Army arriving at dawn and wait for a bed to be vacated. Walking among the big noisy crows and the fading grandeur of a slowly waking Bombay, I fight the urge to flee this madhouse for a plane going anywhere. By chance, I walk along Best Marg to the harbour and the Arabian Sea in time to witness a breathtakingly beautiful gentle pink dawn and the Gateway to India. The Portuguese named Bombay "Bom bahia" – "beautiful harbour" – but though it was renamed Mumbai in 1995 it is still popularly called Bombay.

There are more foreign guests than locals at the Salvation Army. The staff are helpful but this does not offset the bedlam of the huge institutional dorms with guests camping out and cooking in the passageways. The ongoing renovations and paint smells are bearable but the bedbugs are not. After three nights I move to a guesthouse, a few blocks away, five doors down from the only gay bar in Bombay.


| | |
| --- | --- |
| Durries | Hand tattoo (mehendi) |

Amazingly, on only my second day there Bombay suddenly feels comfortable. Day one blues must have been due to jet lag or culture shock. I tune out the vendors, beggars and traffic horns. I can cope with the mass of people living and dying on the streets. At the Kala Ghoda Fair there are stalls with dhurries, sky-lanterns, food. A small acrobatic troupe performs balancing stunts. Two women expertly paint intricate patterns (mehendi) on the hands of female customers. Someone plays raga cassettes; later in the evening several groups sing bhajans or devotional songs. The banyan trees lining the streets filter out the strong sunlight and provide leafy shade.


| | |
| --- | --- |
| Puja stall | Shrine at Mahalaxmi Temple |

Mr Raju, an accountant, apologetically interrupts my letter writing to ask about my country. Well informed on Indian culture, he suggests several top raga musicians whose CDs I am looking for. The Kumbh Mela, the largest human gathering in the world, is held every twelve years in faraway Allahabad where over 20 million Hindus are congregating to wash away their sins in the Sangam River. I politely murmur something to Mr Raju but I cannot face the thought of mingling with that many people. And today, Amedabad is celebrating Makara Sankranthi, the world's biggest kite festival. They also celebrate it in Bombay, in a smaller way, on Chowpatty Beach.


| | |
| --- | --- |
| Kite flying on Chowpatty Beach | Sky lanterns (akash dewa) |

On Chowpatty Beach there are perhaps thirty or forty kites in the sky. In Trinidad, our kites were supposedly brought from India when the first indentured labourers came 170 years ago. Though similar, there are marked differences. The Indian kites are purely fighting kites with fins and no tail. But, as in Trinidad, the real art of kite fighting lies with the older generation.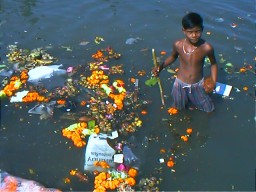 Across the peninsula from the Gateway to India is the Mahalaxmi Temple. I buy a handful of flowers and bits of coconut for five rupees and go down to the sea where dozens of Hindus are floating their offerings. Anil is diving among the flowers and gathering the coconuts for his family.
"I cannot get that boy to go to school," says his father.
"He goes swimming everyday. He lives in the water like a fish.
How old do you think he is?"
"Um."
He looks like five, maybe six, but his father insists that he is eleven.




At the top of Malabar Hill is the Hanging Gardens, a quiet spot for families and young lovers. Two park guards interrupt my thoughts to ask about my country.

"Ah, Brian Lara!" they exclaim.
"Do you see those big birds over there?"
I ask, pointing one kilometer due north where several vultures are circling.
"Why do they fly only there?"
"That is where the Towers of Silence are."
I feign ignorance.
"The Parsees put their dead for the birds," they explain.
"That sounds interesting. Can I see it?" I ask.
In 1975, Paul Theroux couldn't get in. Would 25 years make any difference for me?
"No, no-one except Parsees are allowed," they say.
"Oh, how disappointing," I make a sad face.
"If you walk two hundred meters down the road, maybe you can see the towers," they suggest.

As soon as I can, I leave and walk to the area but try as I might, the Towers of Silence remain hidden. Parsees, Zoroastrians who fled Persia in the 10th century, believe that burial and cremation will pollute the pure elements of earth and fire and prefer the sky burial also practised by Tibetans for other reasons. Numbering only 95,000 today, they await the Parsee messiah, Saoshyant, to institute their god's, Ahura Mazda, reign of goodness in the world.

That night, walking back to my guesthouse, I hear the chant "Ram, Ram! Satya hai!" and loud explosions like firecrackers and rounding the corner I am almost knocked down by a funeral procession bearing a corpse on a stretcher of bamboo. What is death? What is life? We are born and we die and it is those few short moments in between that seem so important to us.

Zubair from my guesthouse asks me, "Do you want to work in a movie?"
"What kind of work? What kind of movie?"
"An extra in a Bollywood film," he says.
And then comes the deciding factor,
"They will pay you five hundred rupees for one day."
"Okay. What do I have to do?"
"It's a disco scene. You just have to dance."
"I cannot dance," I say. "I would rather starve."
"Tomorrow morning at eight. I will wake you."


| | |
| --- | --- |
| Film set, Bollywood | Film set, Bollywood |

They are shooting in widescreen format using a single Arriflex 35 mm camera. The male star is called Vivek, his real name. He's young, fair, good looking, muscular, cool. The female star is called Roshni, her character's name. She's beautiful in a fragile way. Neither of them has seen a script. The director makes up the lines as he goes along and acts out the scene he wants them to perform. The actors have trouble being melodramatic and he rehearses them aggressively. Each scene is rehearsed and shot twice. In seven hours they have shot about 12 minutes of film. This film, a crew member tells me, will take about six months for filming and post-production work before release. A short time.

Chris, an extra, chats nervously. He calls himself an Inglo (Indian –Anglo) as his mother is Indian, his father Italian. Young, good looking and well groomed, he wants to be an actor. Luckily for him he is also a good dancer and is asked to dance with one of the stars on camera – his big break.

In Bombay, as in other countries, I eat from restaurants as well as street stalls. "Beware of Delhi Belly," warned my friends in vain. I eat samosas, dosas, naan and vegetable curries and chicken biryani, chapatis and paratha, dal and rice, papad, pakoras, palak and aloo. And thallis with all of the above. I drink lassi, tea, coconuts, mango juice, sugar cane juice, cherry drink, Limca and Tums Up, mineral and well water. I eat spaghetti, Chinese fried rice, Hakka


\




Previous Page | TriniView India Home




Text & images by Jiang He Feng & Sanjay
---
Raceandhistory.com | Howcomyoucom.com | Trinicenter.com | TriniView.com
Another 100% non-profit Website serving poorly represented communities.
Copyright & Disclaimer. - - Privacy Policy --Designed & maintained by S.E.L.F.
© 2002 TriniView.com