All images and text are copyright protected. Contact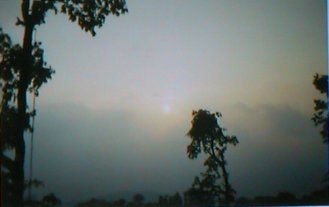 Northwest India: Pt 4
Dalhousie & Chamba


Travelling for six hours by bus from Dharamsala along dusty roads through Patankot, then up again into the Dhauladar Mountains, we arrive at 2 pm in Dalhousie, where the Himachal Pradesh, Kashmir and Punjab borders meet. Named for the Marquis of Dalhousie who was Governor General of India in 1848, Dalhousie was another British hill station back in 1854 and, because of the unstable situation in Kashmir, is today a prime vacation spot for local tourists. Like Shimla, Dalhousie has that British air of order and cleanliness that distinguishes it from other Indian towns.

At the bus station, we buy a town map that we discover to be years out of date when we phone hotels and guesthouses for their rates which are rather high at 1,000 to 2,000 rupees per night. While I enquire about buses to Chamba, Sanjay goes off to look for a more reasonable guesthouse and comes back smiling. The manager looks surprised (and slightly peeved) when I turn up which indicates that the rate given to Sanjay is for locals but I am allowed to stay anyway.

Dalhousie is a small town divided into Subhash Chowk and Gandhi Chowk, which are joined by two roads, both walkable in 20 minutes. The Mall is lined with shops selling trinkets, toys, traditional costumes, saris, balloons and snacks. The other road, lined with cedar and oak trees is more scenic with vistas of the pine tree valley and Tibetan sacred paintings of Padmasambhava and other gods on roadside rocks.

Under the Subhash lookout, at Punjabi Friends Dhaba, we have chapatis, aloo kofta, channa, boiled eggs and cold drinks. The waiter asks Sanjay to help him find another job in Rajasthan because his work as a waiter is seasonal and he has a large family to support. Oddly, despite asking for a favour, he grudgingly brings water and napkins only after we ask three times. Water is short in Dalhousie and the hotels have posted signs warning guests of fines for washing clothes or wasting water. We read of riots over water in Shimla but during our travels in these water-restricted towns never saw any violence.


| | |
| --- | --- |
| Monkey | Close by is a Catholic church where the priest, on the point of closing the doors, reopens for us. He was born into a Christian family in the south of India and Dalhousie has been his parish for more than six years. Over that time, his congregation has dwindled somewhat to the present 60 persons who attend service on Sundays. The church is built in the ornate style of the last century with stained glass windows and statues along the walls and although he says humbly that it's not as modern as the newer Catholic churches, I can hear the pride in his voice that he is of the old school and not a recent convert. Outside, a troop of monkeys race around the churchyard, chattering in the trees, hanging from the power lines. |
22 km from Dalhousie is Khajjiar, a postcard-pretty clean meadow surrounded by pines and called by the Tourist Board, 'the Switzerland of India'. Patronised mainly by local tourists, it has the atmosphere of a village fair. It is undoubtedly attractive, but after half an hour, I become bored with being a tourist in a tourist site. We stop long enough to take a photo, eat a quick meal of aloo chaat, pakoras and cold drinks and quickly jump onto a crowded bus for Chamba.

Although the town of Chamba is only about 1000 years old, the region was visited 2300 years ago by Alexander's Macedonian army marching from Afghanistan and Punjab.


Khajjira

Greek coins found in the Chamba area are displayed in the Bhuri Singh Museum and several of the Chamba inhabitants still seem to possess Greek or European features, pale skins with grey eyes. Apart from 3 years of Greek rule, this hilly region has always remained fiercely independent and even the Mughals have never had much influence here. At one time Chamba ruled over an area from Jammu to Shimla but now it looks like a town isolated from the rest of India and the flow of time.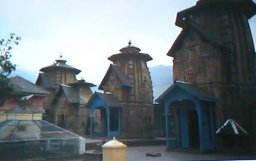 Laxmi Narayan Temple


We get mixed directions to the Laxmi Narayan temples (in such a small town, how could the inhabitants not know the way?) but by dint of perseverance we find the large complex dating back to the founding of the town. Preserved in remarkably good condition, the Chamba style temples house statues of Vishnu and Gauri Shankar. Families visiting the temples pause to ring the bells at the entrances; the small children are lifted by the fathers to tug at the bell ropes.

Opposite, a university for women now stands where the palace is marked on my map and I go inside to ask the librarian if the building was formerly the palace. "Yes, yes, yes," she says tiredly and waves me away as if she is asked this same question fifty times every day.

Sanjay goes in search of the Kali temple on the hill overlooking the town. While he climbs the 400 steps, I buy some butternut cookies from the only friendly honest soul that we meet that day and sit in the tiny town square to wait. Sanjay returns disappointed that the Kali temple is actually only a small shrine at the side of the road; the tourist sights in Chamba are so few that a roadside shrine is a major high point.

In the Bhuri Singh Museum, I had seen a pair of Chamba styled shoes, clearly of recent make and I wish to buy an identical pair. The shoe market is conveniently on the same street with the Chamba food specialty, deep-fried chicken with chili sauce so off we go to kill two birds on one street. There are only about eight shoemakers, none of them has that particular style shoe but they insist that I should buy the ones they have. I ignore them and we go in search of the deep-fried chicken. The two or three chicken cafes have chicken parts heaped on their front counters and their prices are twice the usual. We settle for two chicken legs and chapatis and are disappointed with both.



Chamba River Ravi
It is a pity that the local people have such an attitude. Chamba has few tourist sights and fewer tourists, but the town itself is quaint enough to be remarkable. While the museum has made a huge effort to be interesting, the locals try their best to scare off the odd tourist that wanders into Chamba.

The only mark left by the Brits is a hydroelectric power station on the River Ravi. Curious, we walk down the steep incline to the river but though we can see the station from atop the hill, we lose sight of it down at the river's edge.

The river flows strongly and the water looks inviting on this warm day. We walk along it looking in at shops, people repairing a tractor, old buses coming and going to the town, people walking back home with parcels. We fail to see any buses going to Dalhousie and walk up the long road toward the bus station.

We go past the police station where I stop to ask for the ancient name of Chamba. I reason that if Alexander the Great came this way, the old town must figure in the Greek histories under a Greek name. So what was it? Three times various policemen ask me for my name, country of residence, the name of my guesthouse and my reasons for wanting this information. They go into the station and it takes me a while to realise that they're not returning with any information for me.

Chamba also has the only bus service where one has to obtain a ticket with a seat number for a 2-hour journey. It doesn't help a young man whose seat is occupied by a young lady who refuses to give up the seat. He has to wait more than an hour before she finally disembarks.

It is dark and raining when we arrive back in Dalhousie. Too tired to walk to Subhash Chowk, we buy snacks at the bus station and return to the guesthouse to change, sleep and dream.



\

Previous Page | TriniView India Home




Text & images by Jiang He Feng & Sanjay
---
Raceandhistory.com | Howcomyoucom.com | Trinicenter.com | TriniView.com
Another 100% non-profit Website serving poorly represented communities.
Copyright & Disclaimer. - - Privacy Policy --Designed & maintained by S.E.L.F.
© 2002 TriniView.com