All images and text are copyright protected. Contact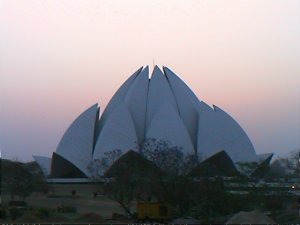 Baha'i Lotus Temple




Rajasthan to Tibet: Pt 1
Dehli


One evening in early April I take a train from Rajasthan to Delhi. Already, the spring heat is uncomfortable and I am looking forward to travelling north to Nepal and Tibet and returning to Lijiang in southwest China. There are passengers riding on the roof of another train pulling out of the station and I assume my train also carries its quota.

My carriage is full of Indians going to Ajmer or Jaipur. One passenger is 23 and though his clothes are rough his face shines with intelligence. He is a teacher in the middle school in his village south of Udaipur and is on his way to Jaipur to seek the post of headmaster at his school.

"When I was at university in Bihar," he says, "I spent one month in Kathmandu. My classmates went home but I wanted to see another country, another way of life. Now I teach English Literature; it is special. My favourite author is John Milton. I love Samson Agonistes, have you read it? Sometimes the other teachers ask me to give a talk at school and I give a discourse on Milton. Then none of the other teachers can argue because it is above their heads, they don't understand great literature."


| | |
| --- | --- |
| Train Passengers | Train Roof Riders |

Being the only son and having inherited the family acres he is also a farmer. "Teaching is not a well paid job," he says, "and I must also do farming if I am to support my mother and sisters. If I get the post of headmaster, then in a few years I can think of marrying."

Outside, the parched earth slides past the window.

The Tibetan colony of Majnu Ka Tila lies somewhere in the north of Delhi. The Tibetan and Nepalese residents aren't sure of its age nor where it is exactly in relation to Delhi and I suspect that few ever leave the settlement. Many were born here thirty years ago, some were refugees fleeing Tibet. The colony, with groups of Tibetan Buddhist monks in red and yellow and women in Tibetan attire, struggle to maintain traditional Tibetan culture but the western clothes and haircuts worn by the younger ones and the proliferation of Internet cafes everywhere give a decidedly modern image.


| | |
| --- | --- |
| Majnu Ka Tila Street | Tibetans, Majnu Ka Tila |

Given my dislike for big cities, I too, would probably never leave Majnu Ka Tila to venture out into Delhi. True, Delhi is green and clean but it's also very large, takes forever to get to where you're going and quite expensive even without shopping. The city, among the first in the world, is struggling for a clean image by converting the buses, taxis and motorcycle rickshaws to CNG fuel. But because of the expense of the conversion from regular gas and the insufficient number of gas stations that sell CNG gas, many long distance bus companies are protesting by not sending out their buses and pressing for a general strike. It is impossible to get a bus to Kathmandu or even to the Nepalese border.


| | |
| --- | --- |
| Delhi Rickshaws | Riding in a cycle rickshaw in Delhi traffic is a heart-pounding experience. The rickshaws are stripped down to bare essentials like racing machines and I feel the finger of death when we're squeezed between juggernaut trucks and buses in a congested street. Technically speaking, the black and yellow auto rickshaws provide more protection with their cabins but the close shaves as they zip in and out of gaps in the traffic are still terrifying. More comfortable are the cream Ambassador Nova taxis, which, like London taxis, look pre-Independence. The taxis and rickshaws that have converted to CNG look clean 'n green painted in the new yellow and green |

I thought that Delhi, the capital of India and third largest city, would be ultra modern and fashionable. This was one of the two capitals (the other being Agra) of the Mughal Empire whose emperors built palaces, forts and tombs on a grand scale. Indira Gandhi International Airport comes close; if not flying, one must pay 50 rupees just to enter the building. But, downtown New Delhi, Connaught Place, organized into concentric circles with wide streets and massive buildings, is hardly ritz. Like Bombay or Jaipur, there is the sense of fading grandeur, like an ageing rani now living off her jewels. The embassy area, Chanakyapuri, looks like California with quiet streets, huge offices, wide lawns and greenery. Oddly, though they want the foreign dollars, every embassy nowadays gives visitors the impression, "Why are you bothering us?" It reminds me that there is a difference between ritz and rich; one can have class even without money; rich simply means having money, often without class. There is history in Delhi though.


| | |
| --- | --- |
| Red Fort (Lal Qila) is the palace complex begun in 1639 by the Mughal emperor Shah Jahan who built the Taj Mahal at the time when the capital shifted between Agra and Delhi. It is a large compound with palaces, museums, fountains, the harem and perimeter walls 2 km in length and walls that rise 33 m high which shows how impudent the Brits were in thinking they could subdue the sub-continent. There is a silly light and sound show at night that is best avoided. Like the Taj Mahal, or even Beijing's Forbidden City, the Red Fort could perhaps be considered beautiful were it not for the prevailing atmosphere that surrounds most tourist sites: "We don't want you, just your money, all of it." My foreigner's ticket cost 235 rupees; a local's ticket costs 5 rupees. | Red Fort |

Even this costly ticket would be almost worth it if most of the Red Fort were not closed off to the public. To visit the Taj Mahal would cost a foreigner 920 rupees; a local, 20 rupees. On Fridays, however, if you like dense crowds, entry is free. Even dhaba habitués, like myself, like to eat something fancy once in a while. Karim's, next to Jamma Masjid, next to Red Fort, is wonderfully informal and the unpretentious, excellent and reasonably priced food comes recommended by food columns in newspapers around the world which are framed and hung on the walls. The owners are said to be descended from palace chefs of the Mughal era and the food is so good they may very well be.

Moti Mahal Restaurant is best described as grubby chic. The high-ceilinged dining rooms are lit by chandeliers but the table cloths, like the waiters' uniforms, are stained and mismatched. The curries are good and a meal costs about 300 rupees per person, three times the cost of an average meal in an ordinary café, six times that of a good meal in a dhaba. Of course, one doesn't find tandoori or chandeliers in most dhabas. At Moti Mahal the waiters demand their tips, pointing out that there is no service charge on the bill and are disgruntled with 10% of the total.



Paharganj street
Paharganj in Old Delhi, next to the New Delhi Railway Station, is a busy bazaar area, a microcosm of Asia, crammed with shops selling tourist kitsch, guest houses, hotels, cafes, money changers, jewelers, bookshops, internet cafes, fruit stalls, vegetable markets, cows, rickshaws, carts, taxis, people and touts willing to show you to a guest house for a commission. Here also can be found India's first wireless or satellite Internet café at one sixth the standard rate per hour. I expected the usual five or six terminals and am astounded to enter a large office with seventy-five terminals all in use with a further fifteen or twenty waiting customers.
As I enter the New Delhi Railway Station to book a ticket I am met by an "official" who tells me that the ticket office has been moved to a nearby building and offers to take me there.


I follow him to an office that is being painted and the counters still covered in sawdust. The door carries a sign "Official Tourist Office" and the staff worker is busy putting books in order. I find his train fare to Agra to be very expensive and when he offers to book a taxi and hotel I ask to see a Government Railway receipt or rubber stamp, neither of which he can produce. I leave the office and return to the Railway Station where I am met by another "official" on the stairway who gives me a similar story. I brush past him and continue to the second floor where I find the Foreigners Booking Office open. While I am booking my ticket to Agra, I tell the staff worker about the con men but he remains unconcerned.

The Baha'i Temple in South Delhi was built in the form of a lotus flower from white marble. Simple and elegant, it is a marvel of modern architecture against the evening sky. There are no services and no sermons. Inside are rows of benches where I sit, on my last evening in Delhi, and meditate in the silence, gazing up 34 m to the apex of the arching roof.


\




Previous Page | TriniView India Home




Text & images by Jiang He Feng & Sanjay
---
Raceandhistory.com | Howcomyoucom.com | Trinicenter.com | TriniView.com
Another 100% non-profit Website serving poorly represented communities.
Copyright & Disclaimer. - - Privacy Policy --Designed & maintained by S.E.L.F.
© 2002 TriniView.com