TriniView.com Reporters
Event Date: November 10, 2007
Posted: November 12, 2007


| | |
| --- | --- |
| | |
| A child lights a deya | |
The Divali celebrations ended in spectacular fashion across the country as lighted deyas lit up many communities across Trinidad and Tobago. This Hindu festival which honors the Hindu Goddess Mother Lashkmi (Goddess of wealth and prosperity) has become a major attraction for many people. There are several stories within Hindu scriptures that relate to this festival. One involves the return home of Lord Rama to Ayodha after fourteen years in exile. Upon his arrival, the overjoyed people of the village lit rows of lights as they greeted him in joy and happiness.

Divali or Diwali comes from a Sanskrit word meaning row of lights and given the activity in many communities across the country, this is a most appropriate term. In areas such as Chaguanas, La Romain, Aranguez, Patna, Felicity, Woodbrook and St. Helena, lighted deyas mounted on bended bamboo fashioned into various shapes and styles signified the triumph of good over evil.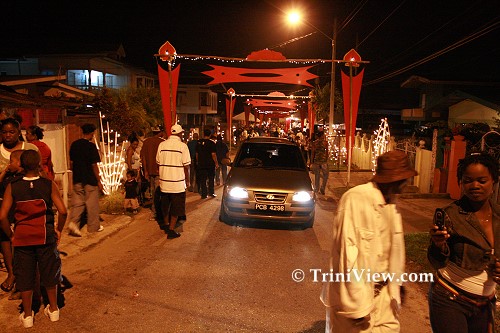 Many journey to Patna Village for Divali


Triniview.com journeyed to Diego Martin to witness the culmination of the Divali festivities. Several streets as well were lined with deyas. In Patna Village, many people came out for the annual Divali celebrations organized by Patna Rainbow Youths. A major part of this celebration were the fancy bamboo creations for which the village has become famous. The deya-adorned creations were fashioned into various shapes that depicted animals, a scorpion, a train, a helicopter, a dragon, and various symbols. Children were in their glee as they lit deyas, playing with their friends and setting off small firecrackers. People also sat in front of the stage set up in the road for the entertainment that would soon start.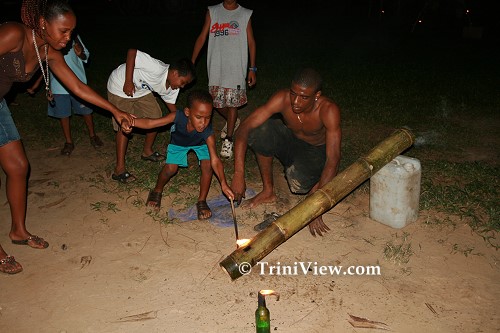 Bamboo bursting


In Surprise Park along St. Lucien Road, bamboo creations again took center stage and children and their parents lit deyas as some nearby youths skillfully demonstrated the art of bamboo bursting.

Hindus traditionally fast in the week leading up to the annual Festival of Lights and households clean their surroundings. Apart from this, the preparation of a variety of Indian delicacies such as kurma, goolab jamon and barfi takes place in many homes. These delicacies would be shared with friends and families and even sold in groceries around the country.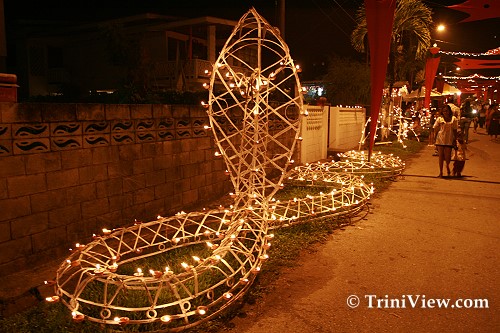 Divali lights in the form of a Cobra


This multi-faceted festival, celebrated in various countries around the world, reflects the rich threads of East Indian culture that intertwine into the social fabric that is Trinidad and Tobago. From the deeply religious rituals including the fasting and the singing of bhajans, to the lighting of the deyas, to the food and cultural activities that take place in many communities, Divali has significance and meaning to many people.

Divali Celebrations in Patna Village, Diego Martin in pictures:
www.triniview.com/gallery/main.php?g2_itemId=219815




Homepage | Special Events | Photo Gallery




---