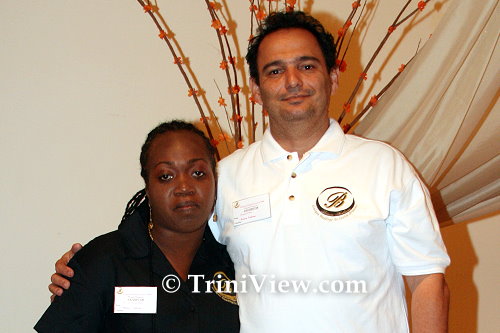 Makeda Brown-Elias and her husband Raymond Elias


TriniView.com Reporters
Event Date: November 09, 2008
Posted: November 27, 2008

On November 09, 2008, a Bridal and Lifestyle Exposition, organized by Mrs. Makeda-Brown Elias and her husband Raymond Elias was held in the Ballroom Foyer of the Trinidad Hilton Hotel, Port of Spain. The exposition attracted quite a number of people from as far as San Fernando and various areas in and around Port of Spain. Many were pleased with the whole-day event which was quite informative and some persons even asked for the event to be held in San Fernando.

This Bridal and Lifestyle Exposition was the Elias's first attempt at hosting a show of this magnitude and from all indications the show was successful. They are also the owners of Boiswa Fashions: "Unique Weddings for Lavish Dreams." When Triniview.com asked Mrs. Elias where did the word Boiswa originate and how did they come up with idea for this type of exposition, she explained:


| | |
| --- | --- |
| | |
| Makeda Elias wedding gown worn by Whitney Applewhite, Jewerly by Zina's | |
"The word boiswa originated from the French word bourgeois. Boiswa is an elite English spelling word of the French word bourgeois meaning 'high end'. Boiswa to me means outstanding, different, and hence my slogan 'Unique Weddings'. When you see fashion in the name it does not mean clothing. I look at fashion as an inner admiration for your hairstyle, your confidence in your own skin, your passions for art, and so on; basically just being yourself.

"After my own experience with my wedding, I saw it fit to assist brides and grooms in making their wedding a special and memorable production. To me a wedding planner/decorator should be one who listens and understands the couple and would build long-lasting relationships with their clients in a professional manner."

The exposition made the public aware of the wedding-related products and services that are available. It also provided creative ideas about planning weddings within diverse cultural requirements.

More than eighteen exhibitors showcased a wide spectrum of products and services which included photography, wedding gowns, printing of wedding cards, florists, hotel accommodations, wedding cakes, Mehendi, reception sites décor, DJs, videographers, jewelry, and much more.


Opnet Jewellers


Throughout the day, people toured the various booths, interacting and exploring what is required to plan a successful wedding. The exhibitors were quite eager to share their knowledge and expertise.

The highlight of the evening was the fashion show which started about 6 p.m. A few hours before the much anticipated show began, designers, hairstylists and make-up artistes were busy getting the models ready for the catwalk. Some of the models even participated in a photo shoot while waiting for the show to begin.

For the entertainment segment, patrons were treated to a short musical interlude with romantic violinist Anselm Walters and guitarist and portrait artist Daniel Newflowers.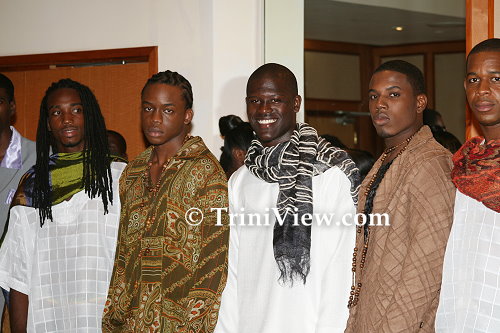 Models from Daniel's Den of Fashion


Finally, the models made a grand entrance into the foyer, strutting down the catwalk and showcasing both men and women's fashionable clothing by designers Jagdeo Rampersad, Florida based designer Charmaine Spicer, Sherwin Daniel of D'Fashion Den, David George of Daniel's Den of Fashion, Adanna of Adanna's Knitted Fashion and Makeda Brown-Elias's bridal pieces from Boiswa Fashions.

The models hairstyles and make-up were done by Marlene Matierrienne and Lester Rauseo.

After about two hours of showcasing the collections, the designers proudly made an appearance on the catwalk with the models bringing the show to an end. Patrons applauded in appreciation for what was presented.

Mr. and Mrs. Elias can be contacted at Boiswa Fashions:
868-769-2636 / 868-464-3267 / 868-742-9327.
Website: http://boiswafashions.com/

Bridal and Lifestyle Exposition 2008 in pictures:
www.triniview.com/gallery/main.php?g2_itemId=317717




Homepage | Special Events | Photo Gallery




---