A presentation of drinks from the first three competitors


TriniView.com Reporters
Event Date: May 12, 2008
Posted: May 19, 2008

It was an afternoon of cocktails, cocktails and more cocktails as Angostura held their annual Angostura Aromatic Bitters Global Cocktail Challenge last Tuesday 13th May, 2008. Eleven bartenders from Europe, Australia, the USA, Venezuela, St. Kitts, Barbados, St. Lucia and Trinidad and Tobago were on hand to showcase their talent before an enthusiastic crowd at the Zen nightclub in Port of Spain. In the audience was the Prince of Port of Spain, Brian Charles Lara, as well as a vocal contingent from the Trinidad and Tobago Hospitality and Tourism Institute (TTHTI).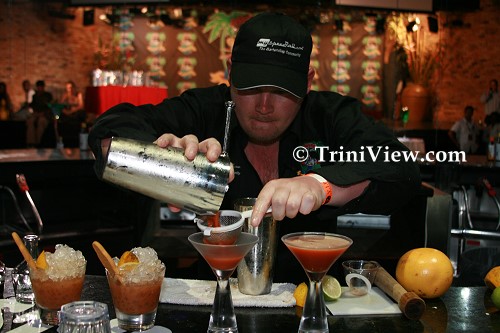 Competitor Robert Wood prepares drinks


Competitors were required to prepare two identical drinks in two categories (non-alcoholic and alcoholic) which they had to do in eight minutes. Cocktails had to include at least five drops of Angostura Bitters and were judged on appearance, taste, ease of preparation and presentation skills. Judges for the evening were Chief Judge, Josue Merced-Reyes; Kirk Velasquez, a bartender in Las Vegas; Johny Kanor-Doublier, head of Food and Beverage Department at the Trinidad and Tobago Hospitality and Tourism Institute (TTHTI); Carol Homer-Caesar, Angostura Senior Manager responsible for laboratory operations, Quality Control and Quality Assurance; and Dave Broom, a writer and speaker within the beverage industry.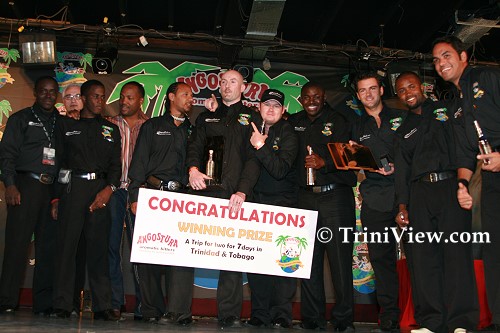 Competitors of the Angostura and Drinks International Global Cocktail Challenge


This year's competitors were Raymond Edwards and Dwayne Goodridge from Trinidad and Tobago; Jamaal Bowen from Barbados; Valentino Bolognese of Italy; Kremour Maloney from St. Kitts/Nevis; Australian, Zdenek Kastanek; Danilo Oribe of the United States of America; Eduardo Gonzalez of Venezuela; Robert Wood and Jamie Stephenson of England and Uyre Peter from St. Lucia. They put on a spectacular show for the judges and patrons.

The first competitor was Raymond Edwards who delighted the audience with his two cocktails titled "Papa Yo" and "Mistress Hibiscus". Although his lack of use of bitters in one of the drinks cost him top points on the judges' scorecards, Raymond Edwards was the crowd favorite as he earned the Peoples Choice Award. The other Trinidadian in the competition, Dwayne Goodridge, handled himself credibly as he drew loud applause from the audience for his efforts.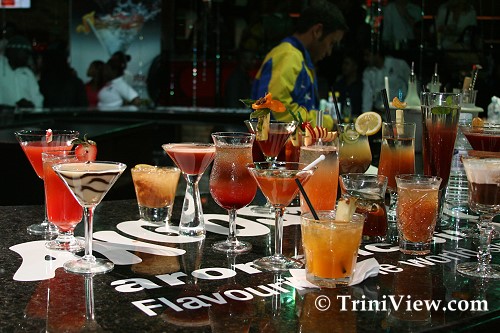 Competitors' drinks on display


The competition was quite stiff as the competitors thrilled the audience with their techniques, flair and their creative use of various ingredients to create their cocktails. Competitors used ingredients such as citrus, passion fruit, watermelon, bayleaf, apple, ginger, nutmeg, guava, tamarind, mango, chocolate, coffee, mint and pineapple. It was not only about the ingredients as competitors Danilo Oribe, Eduardo Gonzalez and Zdenek Kastanek gave the audience a taste of their flairing skills as they prepared their cocktails.

One of the most interesting efforts was by Jamaal Bowen from Barbados who prepared two cocktails titled "Walking Jumbie" and "Calypso Rainbow". His "Calypso Rainbow" was an amazing layered cocktail in the colours of the rainbow.


Jamie Stephenson, overall winner receives his prize from Brian Lara


Despite all the creative efforts of the competitors it was Jamie Stephenson, a bartender from the United Kingdom, who placed first overall in the competition, while also capturing the prize for the Best Non-Alcoholic Drink. Jamie thrilled the audience with his ease of preparation of his two drinks titled "Narrow Minded" and "Easily Satisfied".

Danilo Oribe was awarded the prize for the Best Alcoholic Drink for his cocktail that was prepared using, among other things, watermelon, mango juice and, of course, Angostura Bitters. He later returned to the stage to put on a scintillating display of flairing. This flawless high energy display by the World Flairing Champion captivated the audience as they cheered and applauded loudly. Also giving a display of flairing was Venezuelan Eduardo Gonzalez who incorporated fire breathing into his flairing routine.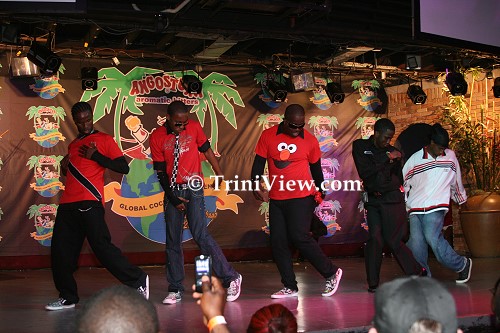 Trini Alliance dancers


Entertainment continued with a high energy performance by Panman Dane Gulston who heated up the audience with his rendition of several popular Soca songs. His performance was followed by Tassa by the Unity Tassa group and high energy performances by the Shiv Shakti dancers and the Trini Alliance Crew. Radio personalities, Jason and Blaze from Red 96.7 kept the audience well-entertained with their jokes and antics.

Overall, it was a very exciting evening as the audience delighted in the competition and the entertainment that was perhaps made even better by the cocktails that were graciously provided by Angostura. The audience sampled cocktails with such names as "Tobago Love", "Rusty Knife", "Dark Secrets", "Honey Bee", "Orgasm" and "Blue Hawaiian".

Angostura Aromatic Bitters Global Cocktail Challenge 2008 in pictures:
www.triniview.com/gallery/main.php?g2_itemId=237817




Homepage | Special Events | Photo Gallery




---