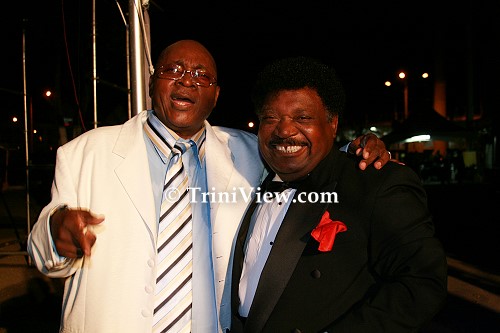 Dr Slinger 'Sparrow' Francisco and Percy Sledge


TriniView.com Reporters
Event Date: May 10, 2008
Posted: May 21, 2008

Mothers and their loved ones filled the National Stadium on Saturday 10th May, 2008, to revel in the entertainment that was in store for them which was the dynamic and talented trio - International Soul Superstar Percy Sledge, legendary Calypsonian Slinger 'Mighty Sparrow' Francisco and dramatist and comedian Learie Joseph. The show, for the most part, was very successful and must be praised for its punctual start at 8 p.m. sharp. Most audience members arrived early and were able to partake in a show that was organized for them - especially the mothers. What was also surprising, especially since there were several other Mother's Day concerts that night, was that the length and breadth of the stadium was occupied.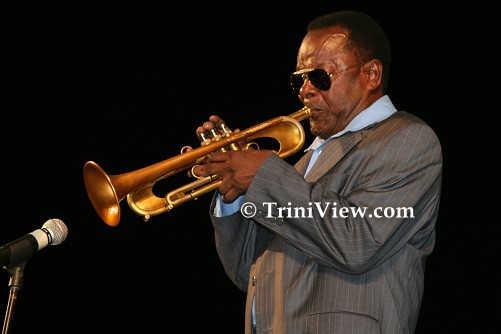 Errol Ince plays the National Anthem


The concert began with a smooth rendition of the National Anthem by notable international arranger and trumpeter, Errol Ince, followed by a comedic introduction by Master of Ceremonies, 'CG'.

Immediately following, the show rolled into a series of skits put on by Learie Joseph and co-actors Peter Joseph and Delores Alexander. The first skit involved conversations between a feisty and witty vagrant and a policeman who tried relentlessly to get him off the streets. The second skit involved the wife of the policeman in the first skit and another man who were having an affair. The adulterers, who were going through tough times, had to hide from the wife's spouse who arrived home a while after they had finished their love-making. The third involved a protective young schoolboy who rejected his mother's abusive boyfriend and literally ran him out of the house with his tough-talking but who, in his mother's boyfriend's absence was quite babyish and timid. The comedic trio had the audience in stitches with their clever words and especially with Learie Joseph's exaggerated facial expressions.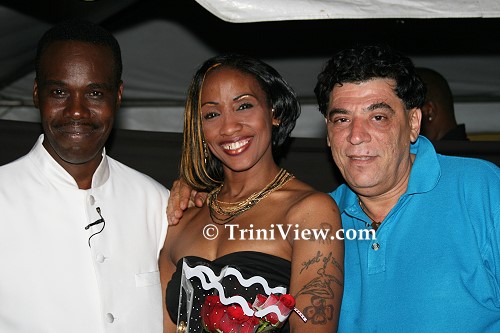 Comedian Learie Joseph(L), actress Delores Alexander and Peter Joseph


Learie Joseph ended the comedy with a serious thank you to his mother and a beautiful rendition of Aaron Neville and Linda Ronstadt's chart-breaking love ballad "Don't Know Much" with co-star Delores Alexander - lip synchronized of course.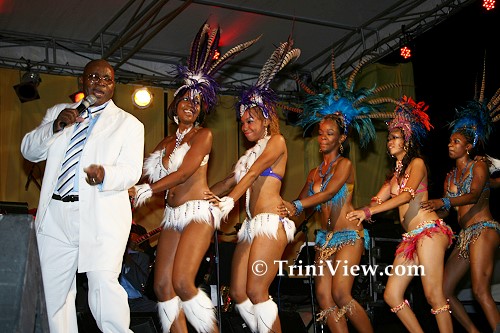 Dr Slinger 'Sparrow' Francisco and dancers


Following the funny segment was a powerful performance by Dr. Slinger 'Sparrow' Francisco who put the groove back into the sway of things. The 'Birdie', as he is commonly called, and being the notable ladies man, was joined by some costumed-clad ladies who titillated the audience with their waist-shaking movements. Sparrow began his hour long set with a medley of tunes including his old favorites "Jean and Dinah", "Lizard", his 1966 Road March "Melda" and "Drunk and Disorderly". He then went into his rendition of the Frank Sinatra classic "My Way" and glided into the perennial classic "Let Me Try Again". Sparrow then moved back into his Calypso classics: 1976 "Saltfish" and the 1965 "Congo Man". After alerting the audience about Byron Lee's illness, he dedicated the song "Only A Fool" to him. This was the song that he did in 1965, which was a remake of Arthur Prysock's original, "Only A Fool Breaks His Own Heart" in which he was accompanied by Byron Lee and the Dragonaires. This rendition won him a Gold Record in Holland.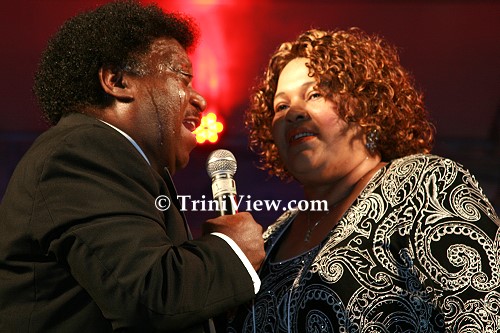 Percy Sledge and his wife Rosa Sledge


The other man of the moment, 2005 inductee into the Rock and Roll Hall of Fame, Percy Sledge, burst onto the scene with the sounds of screaming from thousands of fans. The golden voice of soul wasted no time in singing many of his popular hits starting with his 1969 hit "My Special Prayer". Some of the other songs that he rendered were "Take Time to Know Her", "My Girl", "Cover Me" and "Many Rivers to Cross". During his performance, the American Soul singer paid tribute to his wife Rosa in song and had her accompany him on stage singing "Warm and Tender Love" and "Bring It on Home to Me". Percy Sledge ended his stint on stage with Otis Redding's classic "(Sittin' On) The Dock of the Bay", "A Whiter Shade of Pale" and finally his 1966 chart-topping hit "When a Man Loves a Woman". Despite a few technical difficulties with the group of musicians, Percy Sledge was able to calmly get things back in order. Certainly, the master of Soul has proven his worth.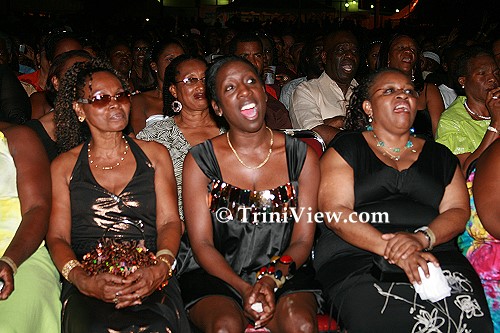 Mothers sing along at the concert


The Mother's Day Night Out was a huge success and the mothers that attended must have felt that their role as mother was truly appreciated.

Percy Sledge - Mother's Night Out in pictures:
www.triniview.com/gallery/main.php?g2_itemId=236324




Homepage | Special Events | Photo Gallery




---