Paying Respect to Tito Lara at His Funeral
TriniView.com Reporters
March 05, 2009


| | |
| --- | --- |
| | |
| Pablo Hospedales (center) | |
Triniview.com: We are here with Pablo Hospedales who was a close friend of Tito Lara.

Pablo Hospedales: I was also the captain of the Lara Brothers Parang band for many years.

Triniview.com: What kind of person was Tito Lara?

Pablo Hospedales: If you could sum it up, he was a loving man. He spread love all the time. Anywhere he went he would talk to people. What he did was out of love.

Triniview.com: What are your thoughts on his contribution to the Parang art form?

Pablo Hospedales: Phenomenal ... that is an act you cannot follow at all. He will be sorely missed. That is a legacy that is gone.

Triniview.com: As a person who was very close to the band, what was the experience putting forward this very traditional form of Parang and being loved by the whole public?

Pablo Hospedales: I guess everywhere we the Lara Brothers went, people looked forward to hearing us because we always brought the traditional part of the Parang. In this time where all the groups are experimenting, the Lara Brothers kept to the old traditions and people look forward to that. We had this unique blend of the male voices because it's a group without ladies and you had that peculiar blend between Lara and Willie that was so unique.

Triniview.com: What are some of your fondest memories of Tito Lara?

Pablo Hospedales: Going house to house Parang. He was a stickler for singing the right things when we go to a house, which is an art that is dying because people really do not know how to open a door. There are particular tunes to go with to that door which tells the people you have come. It was unique that we would go all Moruga and all these places and Parang. After a while with the commercialization of the Parang and having to perform in all the venues, this part of the Parang was lessening because of the demands of the public to have the band playing here and everywhere.

Triniview.com: Last words on the life and times of Tito Lara?

Pablo Hospedales: To encapsulate that would be hard. He would be sorely missed; his voice... and you can still hear him. His signature tune I would say is the "La Gaita". When you think of Tito, you think of that particular tune.

Triniview.com: I am wondering if the work of our cultural icons are being properly preserved and recognized in the national landscape.

Pablo Hospedales: People are trying. There was a group that was trying to do some work on that. I do not know the name of the group actually but they were following the band around for the last few years documenting certain things like how the band would attempt to go into a house and when we played out. They were documenting all these things so I think maybe soon you would see something coming out soon.

Triniview.com: Thank you very much.


| | |
| --- | --- |
| | |
| Tony Hinds | |
Tony Hinds: Tito would be easily referred to as a father of Parang and I would add that with his passing, it would never be the same again. Willie is here equally strong and well, thank God. Two of them would have been part of a body. The passing of Tito, the art form as we know it, would never be the same again.

Triniview.com: What was unique about the Lara Brothers Parang Band?

Tony Hinds: Indigenous and traditional; they always did their own compositions in the traditional language. If you realize, Parang is part of a bigger thing. They, like I said, stayed indigenous and never went into the wine, wine, wine aspect of it. What was interesting about Tito, and I suspect personally that there has to be some sort of record because for sixty plus years they have been performing and recording. I am trying to think which other artiste in the world with sixty-five years under their belt recording. I know Lata Mangeshkar for sure is the most recorded but is she still recording? Is she still performing? When Parang season starts they are going every night. You have to have some kind of resilience for sixty plus years. When you go out there it's not holy water you are drinking, its alcohol and they do that day in day out. I tried but I cannot make that and I dare anybody to do it for that period of time.

Triniview.com: You were around the Lara Brothers in the early days, what was that like?

Tony Hinds: I would have been involved with the band about thirty years. Through the same Pablo Hospedales, he introduced me to the band. It was an experience because I grew up hearing about the Lara Brothers since I was a child and I was so fortunate to meet them. At the time when I met them I had my own little business place and it was Pablo who brought them and introduced them and I was like, "Oh wow, is the Lara Brothers in living colours in my place?" Willie and myself, we have a beautiful relationship also, but it is not the same as Tito and myself would have had. I couldn't love him more than if he was my natural father and the love was mutual. If you see how the family and myself interact, it is a mutual thing. I am considered by them and they are my family.


| | |
| --- | --- |
| | |
| Keith Bell | |
Keith Bell: I am Keith Bell from the group La Bendicion All Star Serenaders.

Triniview.com: Who was Tito Lara to you?

Keith Bell: Actually, I have been involved in Parang since I was small with the best of like Fuentes and others, born bred in Rio Claro. When I moved over to Barataria in the early sixties I was already into music both Parang and the Combo days and as a little fella, since in the late fifties we heard this group they called the Lara Brothers. I always really wanted to see, know and meet these guys so when I came down into Port of Spain in the early sixties. I continued playing music. I took the opportunity then to ensure that I met the Lara Brothers in person. Now Tito, I remember Paranging with Los Alegres Sin Dula who are relatives to Tito. At that time, we used to go and wake up Tito early in the morning around 3 o'clock and Tito would not come out without saying his prayers so we had to wait until he said his prayers and then he would join us in the Parang.

I remember in the seventies there was a famous song by the Lara Brothers and somewhere in Santa Cruz here they collapsed a floor. I never forgot that tune with Tito singing and the floor fell down in Santa Cruz and boy, that was panic in the place. Two weeks after, I remember lower down Bourg Malatress somebody got a copy. I don't know if it was a pirate tape in those days and a similar incident nearly occurred. Every single year I used to look out for Tito. As soon as he appeared at the National Parang Association of Trinidad and Tobago (NPATT) festival, "Oh Tito" shake hand and so on, we maintained that relationship until my little son, he too, because I have quite a few of Lara Brothers CDs at home and my little son insisted, he is now fourteen years old, he wants to meet this Tito. I took him to a couple Parang and I said, "Yuh have to meet this man," and he met Tito. He was the one who actually told me, "Daddy, Daddy, Tito drop down and dead".

I heard some old tapes from the late fifties and early sixties with Leo de Leon and all those old radio people and Lara Brothers sounded the same then as now and I would like to say they held this authentic Parang throughout and I don't think that Lara Brothers would go. You have Willie; I think that group will continue. It may change but it would continue because I think that Lara Brothers music will always inspire all Paranderoes and all the other people who are interested in Parang. I don't think that Christmas or anything like that could pass without you hearing the good old songs of Lara Brothers. Now Lara Brothers, some of these people have been playing for well over fifty years. I don't think any band these days lasting fifty years. Actually it's about sixty-three years I understand that those fellows are around. I think hats off to the entire group for playing Parang music for so long. Ah mean, what else could you ask for? Their music is relevant today as it was forty or fifty years ago.

I remember Pablo here who used to play with a good friend of mine and others. We had good times together. I remember Lara Brothers was one of the groups in the seventies that destroyed the crowd at the National Parang Association of Trinidad and Tobago (NPATT) festival. In the days of Errol Mohammed, the Lara Brothers hit the stage and then came Daisy Voisin; the whole place ended up in chaos. It was just all over and any group after that was by the way kind of thing. People just tolerated them because time and so on. So be it, we all have to go at one time or another. I knew Tito was going about five years ago when he started having his little problems as anybody will at that age. God bless the old Tito and take him to where I think he rightfully belongs and I hope that the group continues. I hope the younger people will use the Lara Brothers music, understand it clearly and bring something into Parang.

This set of Soca Parang with all these obscenities and that kind of thing I think has no place in Parang. Parang is really centered around the birth or if you want to say when they saw the stars. The birth of Christ is what Parang is centered around not what some of these guys are singing about chicken foot and all that kind of stupidness. I really and truly have very little likeness for the Soca Parang. If you ask me, I will give Soca Parang a five percent rating. I am not saying I am a spiritual person to the core but I think where Parang is concerned it is a spiritual thing and it's not what these guys and them are singing now and corrupting the whole thing. I mean how could you be singing all these obscenities and talking about the birth of Christ? I cannot deal with that. I think this is what I have to say and I hope when you edit people will understand exactly what I have just said.

Triniview.com: Thank you.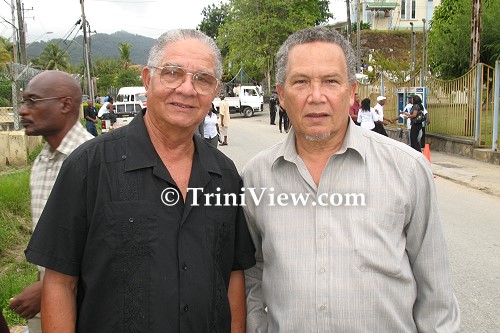 The Flores brothers - Wayne Flores (right)


Wayne Flores: Tito and I go back from since we were little children. It used to be four brothers singing, Victor, Antonio, Tito and Willie. That is the only group ever raised my hair when they are singing. Tito had the sweetest voice.

Triniview.com: What was so unique about the Lara Brothers?

Wayne Flores: Lara Brothers had their own style. There was something about their music that really moved you. It makes you feel like heaven boy! If you love your culture, Lara Brothers was the band to bring it out in you. Take what I am tell you!

Triniview.com: You were around in the early days, how was Parang back then?

Wayne Flores: Parang was love boy. You cannot describe that any other way. No matter what part of Trinidad you are from, Parang was one community ... love. Keith could tell you that.

Keith Bell: Actually, I played with them too; that's why he is saying that. I played with them for a couple of years well. I told Will last year, I said, "Flores de San Jose providing music for this country for at least seventy-five years," and I think if I live beyond that, it might even go beyond that so he, the original Flores de San Jose, Hilltoppers and so on...

Wayne Flores: Hilltoppers was my father.

Keith Bell: Yuh see? And he was a little fella in those days so yuh know what's going on.

Wayne Flores: Tony Flores was the first man to play the one string box bass in Parang in Trinidad and Tobago, my father. There is something else going on with the media, I have to say this. The media has magnified Daisy (Voisin) to an extent that has closed off every other Parrandero in Trinidad and Tobago. The person who really started this revolution in Parang was Gloria Alcazar and that was just before Daisy. Daisy came up after Gloria. I appreciate Daisy and I love Daisy but you do not hear anything about the real people who in it ... Gloria Alcazar.

Triniview.com: So what you are saying basically is that the whole story of Parang needs to be retold.

Wayne Flores: Of course, because the people interview the wrong people. The people who really know about Parang most of the time are in the background. The wrong people have been interviewed about what is taking place. A fella like Ronnie Kalicharan, one of the best mandolinists who passed through Trinidad and Tobago, you don't hear about him. They would arrange Parang music for San Jose Serenaders, you don't hear about him. Look him right there talking to my brother. The Lara Brothers ... is a great loss to the culture of Trinidad and Tobago and when I say the culture, I mean this is one of the first cultures of Trinidad and Tobago which people do not recognize anymore. It's like they threw it away. People do not recognize that this is one of the first cultures of Trinidad and Tobago.

The Lara Brothers maintained it from beginning to end, and right now there is only one more. We don't know what will become of them. These people are supposed to be documented right through and have it down in the archives. Everything now is Soca. Take for instance, Tito just passed away and one newspaper had it and I didn't see anything on the TV. Faye-Ann won Soca Monarch and you see it splashing all over. This man is the king of Parang. What happen to the old pioneer; the king himself? It hurts to see what they are doing with the cocoa payol in Trinidad. Faye-Ann won Soca Monarch, she won Road March and it's all over. What happen to the king of Parang? It's like he is dead before he is even dead and it's not supposed to be that way. Give Jack his jacket. Everybody has their role to play. He played his role and they are supposed to give him his dues but he didn't get it. Look at how many Parang people here. They read papers too and they watch TV too. It hurts them. Parang keeps you young.

Triniview.com: Thank you.

Triniview.com: We have Jose Hernandez here with us. What would you like to share about Tito Lara?

Jose Hernandez: A great contribution especially when we talk about the tradition.

Triniview.com: What are your fondest memories of the band?

Jose Hernandez: The band as far as I remember have been for many years in the Parang and have put the flavor or as the Trinidadian would say, the pepper in the Parang and for many years I have been putting that in the Parang.

Triniview.com: Last words on the life and times of Tito Lara?

Jose Hernandez: The last time I saw him and we talked was in Arima. But he was quite good even though the year before he had a little illness, he was well and ready to play this year. Even if he played last year a little bit he was ready to play this year.

Triniview.com: Thank you.

Clarence Moe: I am Clarence Moe, CEO of the National Carnival Commission.

Triniview.com: What are your thoughts on the contribution of Tito Lara?

Clarence Moe: Tremendous. In fact, if you consider a foundation on which Parang has been built, Tito Lara's name will come up first. He has been a tremendous source of inspiration to the young people. His voice is a unique blend and really represents Trinidad and Tobago. He did excellent work and we will really miss him and I know his brother will continue the good work that he has also started.

Triniview.com: What are your fondest memories of the Lara Brothers?

Clarence Moe: Just seeing them on stage performing, and even though their Spanish may have been considered not to be perfect... but of course when one understands it's genesis, you would appreciate that what he was singing was from the people and from the heart and what they understood. Just watching him sing was just enough for the rest of the world and to see young people today still admire the Lara Brothers. Even up to last year when they had their finals they were admired and continued to be admired in Trinidad.

Triniview.com: Well we can certainly see that because masses of people turned up for his funeral.

Clarence Moe: I am of the view that this funeral is even larger than Daisy Voisin's and she is the queen of Parang and if she is the queen, I am saying that certainly Tito is the king of Parang.

Triniview.com: How important is it for the cultural legacy of the nation to be adequately recognized and preserved?

Clarence Moe: Preservation - I would suggest very strongly that we find a way through some government agency or even private intervention to preserve the history of the Lara Brothers and their contributions to Parang. All too often our unsung heroes in every area of culture go unrecognized. They pass away and we don't even preserve anything belonging to them. I always ask the big question, "Do we still have one hat preserved somewhere that belonged to Lord Kitchener?" and many people cannot answer that except for the immediate family. But the nation, many generations to come will not be aware of the contributions of these heroes and it is critical that we begin to look at preservation because they are all now in their eighties and seventies and their histories has not yet been written.

Triniview.com: Any last words?

Clarence Moe: Great guy, great contribution to the building of Trinidad and Tobago as a nation culturally.

Triniview.com: Thank you.

Henretta Carter: I am from the group Amantes de Parranda.

Triniview.com: Who was Tito Lara to you?

Henretta Carter: Tito was one of our mentors. Actually one of our cuatro players in the group; Tito was certainly his mentor. He had an interview with him some time ago and last year we honoured him. We had an award function for the Lara Brothers actually where we presented them with a big cheque and we gave them a plaque and we had this banner we made for them. They really inspired our musicians and sometimes people think we sound like them. We sing their music and we are really grateful for having him in the Parang fraternity.

Triniview.com: What was so unique about the Lara Brothers?

Henretta Carter: Their style of music. It was very authentic and you can easily dance to it. It's something we just love. It's natural; it's real, it's the first set of Parang, not the new Parang that we have, the crossover or whatever you call it. It's still authentic and that is what we like.

Triniview.com: What are your fondest memories of Tito Lara?

Henretta Carter: What I liked about Tito was every time he saw me he would give me a little sweet eye. He was very calm before performances but that little charm about him; he was a very charming man.

Triniview.com: Any last words?

Henretta Carter: I wish the band will continue because Tito Lara was a beautiful singer and he had a beautiful voice. I wish the band will keep going just for his memories and continue the tradition.

Triniview.com: Thank you.

Henry Perriera: I always liked the Lara Brothers and each person in the band was a special character. The Lara Brothers themselves had good voices.

Triniview.com: Thank you.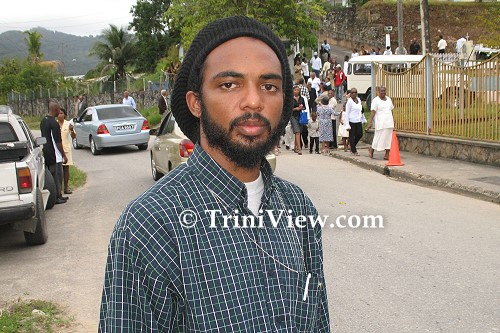 Christopher Castagne


Triniview.com: We are chatting now with Christopher Castagne. What are your thoughts on the passing of Tito Lara?

Christopher Castagne: On one side is a sad occasion and is definitely a great loss to the Parang fraternity and also to the entire nation of Trinidad and Tobago but at the same time it is not really so sad because it is a real joyous occasion in the that he lived a good and full life, full of music and love and joy and you can see that reflected in his funeral and his wake which is more a moment of joy and celebration than an occasion of sadness.

Triniview.com: What is the significance of the Lara Brothers?

Christopher Castagne: Well the Lara Brothers are very significant because from what I know started about fifty years ago. They hold true to the culture in that they are one of the few original Parang sides that are still around today and are well known and performing all over the place. Why they are very significant too is because of the average ages, which are men in their sixties and up, really holding firm to the culture. The thing is they are the direct link to the history of the culture and it still lives on.

Triniview.com: How important is it for these cultural icons to be recognized and preserved in our memory?

Christopher Castagne: Very, very important. People are set apart by its culture. People from different parts of the world might look the same, have the same types of occupations and what not but what sets people apart is their culture especially with the influence of advancing technology and mass communications bombarding all over the world, especially the Caribbean with one type of culture. People, especially of our generation, I would say thirty, twenty and under but more so twenty and under, really don't have that much of a sense of self and it's very important for us to recognize these cultural icons to be given real recognition. But more than just recognition, because you can give them an award in a ceremony and print it in the papers, that is not doing much for the youth of the nation in really understanding the culture. If there was some sort of way to not just recognize them but celebrate them. When I say celebrate I mean in terms of exposing people to the culture. This is another icon here, "Family de Rio Claro".


| | |
| --- | --- |
| | |
| Ramona Granger | |
Triniview.com: What are your thoughts on the contribution of Tito Lara?

Ramona Granger: It was a very great contribution and I should expect a little more but you know you cannot fly in God's face, we have to accept whatever little we have.

Triniview.com: Tito was in the same generation as your own husband, Sidney Granger. How important are their contributions in the Parang art form?

Ramona Granger: In the Parang art form I think these are two of the best icons we ever had in the natural Parang. We are glad to have them and at the same time we have to miss them one day. We miss him quite a lot and we wouldn't have these kinds of people again. They say now it is the children, the younger ones, but without the older ones we wouldn't have the younger ones. I do hope whoever takes part in Tito's place will continue with the contribution towards the art form.

Triniview.com: You would have been around in the earlies, what was Parang like in those days?

Ramona Granger: In those days Parang was a family loving type of thing we did going around from house to house giving Parang but it no longer exists because the fact is, whenever you have to go to a home, you have to ask the people permission because whenever you go house to house you find the people on the street will follow you and they go and behave so bad in people's house; so due to that people are not going house to house anymore.

Triniview.com: How best could icons such as your husband, Tito and others be remembered?

Ramona Granger: They would be best remembered if the people keep on the tradition. At least he taught the children and them. I am his wife and we lived together for fifty-three years. I love Parang because I came from a Spanish family and I tried to pull him into Parang and even my children because they started from babies. We thought it was wise to keep on even though they bring this new five lines. That is not Parang. Parang is four lines. We have been playing Parang for so many years and we placed twice in the National Parang Association. They put the others who are not even singing in line. I know it has a few members that have groups and they say, "You know I sing a lot of nonsense and they still put me first." We had nobody to assist us in Parang and at that time you needed sponsors. The people who love Parang remained to the back because they are seeing what the Parang people which is like Tito and the Lara Brothers, Los Muchachos De Agua and even La Familia, they are not getting a fair deal in Parang. We go into six or seven venues and you will have to play, when you come out seventh you are just getting a little fifteen thousand dollars. It is hard. A man singing Calypso and he alone getting a hundred thousand dollars or fifty thousand dollars. It is hard and you are going all through the night so it doesn't make any sense. When you do look at it, it is better you stay home so right there the art form is dying.

We will miss Tito quite a lot. Even I miss my husband. Last year we had gone to play Parang and I missed him quite a lot because he had the old time tradition. That is what caused us to be here because Parang is a sort of family loving thing that we have to go on with the tradition. I do hope that the government will assist Parang a little more because we do not have any killing and fighting and all these kinds of things that will happen during Carnival. Mothers do not take their babies and dump them; mothers do not try to get rid of them, put them in hospital and say that they are sick, give them some kind of sedative and they go off and have this belly diarrhea ... they leave their children. These things you do not find in Christmas time. I hope that Tito's name will live on, the Lara Brothers. I felt proud to see the crowd and whatever I feel happy about it.

Triniview.com: And you journeyed quite from Rio Claro to come here?

Ramona Granger: Because they journey from here to come to my husband's funeral and even the wake and we are going to have a year wake for him on the 25th April. We do hope that the tradition will go on. I have eleven children and sixty-one grandchildren, eight great-grandchildren so I do hope that the tradition will go on. If you look at our music we don't have this big amount of music, but we have the authentic music and Parang is going from the authenticity. We haven't got that anymore again so I do hope they keep up the tradition.

Triniview.com: On behalf of Triniview, thank you for sharing with us.

Remembering Tito Lara in pictures:
www.triniview.com/gallery/main.php?g2_itemId=339457




Homepage | Remembering Tito Lara | Photo Gallery




---