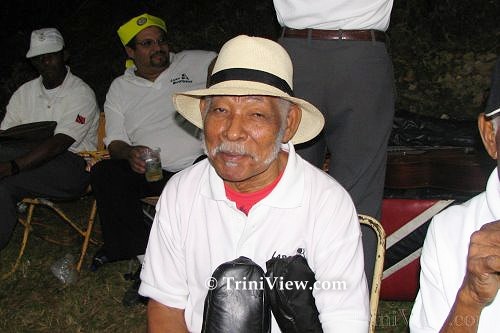 Tito Lara


TriniView.com Reporters
February 28, 2009

LORDRICK ESPINOSA

Triniview.com: What is your relationship to Tito?

Lordrick Espinosa: We were like brothers. I met him in 1942 at Caura. They were teenagers and I was also a teenager...that is how I started with them.

More of the interview with Lordrick Espinosa

---

WILLIE LARA

It is a big loss for us because we were so accustomed with each other. It's about fifty-two years we have been playing Parang together and to lose it now…but what will you do? You have no choice but to accept whatsoever it is. He passed away, so I have no other choice but to hold the fort and go by myself with the group behind me. I have one sister who is about ninety-four years old. Besides her, my three brothers died. It was four brothers and now I am the only one here.

I started playing Parang over forty years now. Parang is a nice thing. I really got involved with Parang in the country and I got to like it more. I started singing Parang with fellas who could only play cuatro and answer a little chorus. I was singing, so I came like the star for three years. When I left there, I came down here and I was real good. My brother and I came together and we started playing Parang house to house. People say Parang is this and that but Parang is house to house business reminding friends that Christmas is coming. Parang has gotten so commercialized. You are playing music now and getting money, so you know how fellas would be. Parang wasn't like that. It was a house to house business and that is why they call it "Parranda". I loved it that way because we would go and play ah three tune here and there and fellas would say, "Leh we go by meh partner," and we would go and just keep going.

Tito was the same kind of person like I am, just bigger in body and a little taller. In the early days, he didn't play the cuatro, he used to play a guitar and I was playing the cuatro, so it was him and I alone paranging all about. We would borrow a fella called Samuel from up Settlement who used to shake a marac. He didn't know anything in Spanish but he used to shake the marac good. Parang is a nice thing. I was glad to know Tito had reached to that age but if he come now and pass away, then there is nothing else we can do with that.

Parang is a friendly house to house business. Every season that comes you go house to house and play Parang music but you have to know what you are singing because you have to sing for the person to open the door for you. If you are singing and the person doesn't know what you are saying he is not going to open that door. In those days, it was pitch oil lamp so when you see the light go up, now yuh feel to sing. When you see the light come back down, then the next thing is "wap!", they out it (laughter) because you are not saying anything so they out it on you. That was real nice. I had loved it and I still love it. I will hold the fort. It's I alone to sing now and the others will just answer chorus (laughter).

My most favorite memories of Tito are just as I said. He used to play the guitar and we used to leave here and go quite Settlement to give Parang, he and I alone. He was a fella, after he reached to an age, if he wanted to go and give Parang anywhere he would take a cuatro and a guitar and hang it on him and he gone (laughter). Besides that, he was a nice fella and we understood each other. When we go and sing everybody used to wonder what was going on.

We were instrumental in forming the National Parang Association. It was four brothers but it was only three who used to enter the association business. When we performed, fellas who couldn't say a word in Spanish were winning but we didn't go in for that. We went in for the Parang because we liked Parang, so we were playing Parang. The fellas who are winning now cannot give a Parang because they don't know anything about it. I am not boasting, but it doesn't have a Parang group like the Lara Brothers here in Trinidad and Tobago because those fellas are singing just for the competition. They do not know anything else so they cannot give you a Parang. What would they sing for you?

---

ERROL MOHAMMED

I was founder of the National Parang Association which was founded in 1971 with seven groups and it is still flourishing today, thirty-seven years later. The Lara Brothers were foundation members of the National Parang Association and they are one of the true Parranderos. This group sings Parang all the time and they will go for a long time to come because they sing the original Parang. They are not singing Latin American, they are doing the original culture which we have had here for four hundred years. Tito was always a pleasant guy and he always attended the festivals. In my days, he took part in the competition but they were never interested in winning the competition. They were always interested in playing Parang and keeping the culture going. He was always a dynamic contributor to the field of Parang.

In the early days, the Parang arena was more traditional. We started Parang in 1971 in the old Arima Grand Stand, not the Velodrome, and everybody sang the old time Parang, they never went to the Latin American. People are changing it and this is what is worrying me now. They are not trying to stage or perform in the original form it was in. We can improve it but we've got to keep the originality going.

The contribution of the Lara Brothers to the Parang arena was marvelous. They are one of the most dynamic groups in the association. They are together, to be tied with Daisy Voisin and San Jose Serenaders. Those are the iconic groups in the country. La Familia De Rio Claro and even Sonny Christian (who is now in his eighties [and] was a very popular Parrandero) are people who have contributed to the coming of Parang.

With regards to the current state of Parang, the present management of the association now has to think; they have to do some research and try to bring back Parang to what it was. The association is not doing too much for Parang. They have to go back and look and to see what we were doing before to try and keep it going. They are not putting the effort into it and this is what they have got to do. I am sorry to see my brother Tito Lara pass away. He was something like eighty-five years old. He lived a full life and I am sure he will find his rightful place in heaven. I wish him all the best and I hope he continues playing his Parang up there.

---

LINUS REVERO

I am the bass man from the Lara Brothers Parang band. Tito Lara was the icon of Parang. The Lara Brothers played songs like no other Parang band played. You must have heard that our songs are different from most Parang bands and we do not have any ladies in our band. This band is roughly around sixty-three years old. But I have been in the band for about thirty-five years as the bass man. Tito was like a father to the band. He made a lot of nice songs for the band and we enjoyed the songs a lot. What I remember a lot about Tito is how we would always pray before we left Santa Cruz when we have to play out. That was one of the good things about Tito. He was a very gentle person and he always wanted to see things go the right way. He always asked me to make sure things go the right way with the Lara Brothers and to keep it that way.

The experience being in this foundation Parang band has been very nice because we did a lot of tours with the band. We went to Mexico to an Afro-Caribbean festival, then we went to Miami. We played with Joey Lewis and we backed up over eighteen Parang Soca artistes. We also went to Venezuela for an Afro-Caribbean festival. We met a lot of bands from Mexico, Venezuela and a lot of different countries. The bands outside play different Parang from us and people even asked where we learned the Parang. Tito's father was a fella called Ignacio Monasterio Lara from Venezuela who spoke mostly Spanish. He was a very dark person with beautiful white teeth and white hair.

I think there were five Lara brothers. The first one who died was Antonio. Then Victor, which is the last one, he died some years ago and now is Tito. The only brother who is alive right now is Willie and he is the person who is carrying on the band. We prepared ourselves with the band about three years ago in case anything had happened to Tito because he fell sick a couple of times. I cannot remember the last time Tito played with the band. Besides Christmas month, it was July 20th in Blanchisseuse harvest. He had surgery on the 23rd and after that he had to relax for a little while. He came out the first week in December. I am the person who was monitoring Tito all the time. I made sure he didn't drink and smoke. What was so amazing about the whole thing was how beautiful his voice was sounding. We thought we got the man back on stream but we lost him. We still have the band under control because we are already booked up for the season. We go to places deep south. We go to Moruga, Blanchisseuse, Siparia and so on.

I remember the band from in the early days because I was always around the band but I only became an official member of the band in 1970. I can remember in the early days when it didn't have electricity and you had to light a flambeaux when you were going to give the house to house Parang. When you go to a house you had to sing something the people would understand. You had to explain yourself or the people would not open the door for you. My father was a Parrandero and he used to make cuatros and guitars. My grandfather was a guy called Francisco Pavito Ravello from Venezuela and he couldn't speak English. He used to make cuatros, guitars and bass. The whole band is from this village here in Santa Cruz. There is only one guy who is from Moruga. Santa Cruz has a lot of Venezuelan and French roots.

I hope Tito goes down safely and everybody who came out here tonight enjoy the whole thing about Tito Lara because, as you can see, we get to play Parang and it is really a happiness. He always wanted the happiness and love, no set of crying or anything like that. He always told me to make sure we keep the thing going and try to get the younger ones in the band.

---

FAROUK KHAN

I am the PRO of the Lopinot Tourism Action Committee and an honorary member of the National Parang Association of Trinidad and Tobago. I believe everybody has to go one day. Everybody is sad in Trinidad and Tobago and even in Venezuela. It is really sad but we know he had to go. I happen to know the Lara Brothers since I knew myself and I always looked at this band as a great band because they were unique. Now that Tito is no longer with the band I don't know what kind of replacement they are going to have because in Parang, you always have to have a youth band training. I don't know if they have a youth band but I believe they will quickly find someone who will take over and keep the good work of Parang. In our beautiful twin island of Trinidad and Tobago, Parang has played a major role. The people who play Parang are really great people. They are fun-loving, kind, honest and trustworthy people. I am not too concerned about the competition aspect because I dislike a bit of it, but when you meet the Parranderos and you see them doing the house to house, you will know they have a passion for Parang and that is something really great. Parang is something which I believe and I am sure the Ministry of Culture, other Ministries and people out there would agree with me in saying that we have done excellent with Parang. What is needed now to help promote the tourism of our beautiful twin island in the Republic of Trinidad and Tobago is for us to mould our Parranderos and get them as cultural ambassadors to visit other Spanish speaking countries where they can have a great impact.

I can remember a number of times putting the Lara Brothers on stage. One year when I was the MC in Santa Cruz, Tito was ill at the time and I made it my business to send a message on the air letting him know he will be better. Within two weeks I saw Tito in a Parang on the Arima old road. I remember saying to him, "We want to see you back". His other brother was playing but it was missing something. After that, when I saw him again I felt happy to know that he was out of the illness and he was back and ready to Parang. It's a psychological thing when someone gets sick. If you are sick and you know you have something to do you will get better and that is what happened. In Trinidad and Tobago everybody prayed for him. As a matter of fact, today in Lopinot, we had some undergraduates from the University of the West Indies and in opening a programme, I had a moment of silence for Tito. We have a great future with Parang and we hope in Santa Cruz and these places we can set up archives and other areas for when foreigners or locals come to Santa Cruz they will always have memories of this great icon. I can't say what it should be but it is up to the people of this community and the government to do something in his honour. May God bless us all and may Tito get a resting place in heaven. I thank you and may God bless you.

---

DAVID SINGH

I only knew the Lara Brothers when I got involved with Parang. I've been in the Parang, playing the cuatro and the box bass for over twenty years with Los Alumnos de San Juan which is George Carter. Recently they changed their name to Amantes de Parranda. I use my harp in some of the shows and I am also performing with my own group called "David and Friends". The band members are Denny Alfonzo, Keith Bell and Wayne Flores. There are some downfalls in certain areas of the Parang industry. It needs a lot of people to get involved in the music itself with the cuatro, the mandolin and so on. I will soon be teaching how to play the harp in Trinidad and Tobago. I wish things will work out well for the Lara Brothers and the Parang Association in Trinidad and Tobago.

---

DENISE BERTRAND

Uncle Tito, as I know him, was considered the father of Parang just like how Daisy Voisin was like the queen of Parang. After Daisy, was uncle Tito and he was the one who taught a lot of us the true meaning of traditional Parang. We have a lot of icons before but uncle Tito to me was the best. He was a very warm and knowledgeable gentleman who always had a kind word and plenty of advice to give to you. He and his group bonded with our group and it was like a unity. It was like a love between their group and ours so much so that they would tease myself and my sisters by calling us "the Lara sisters" because when we sing, the voices blended so much, we would sound similar to Tito and Willie. He has made a lot of contributions toward Parang. He was the master of Parang. I don't think anybody else could take his place and will ever take his place. Uncle Tito was like a father who was warm, loving and soft-spoken. I've never heard him quarrel or raise his voice to anybody. If he had to say something to you, he was soft-spoken and very stern and even if you are upset and he is upset he will calm you down. And when he was finished, you will see where you went wrong without making you feel upset with yourself. He was a real gentleman and a humble fellow. From what I have seen and what we grew up with, that is how we know Uncle Tito to be. He has always been like that. I don't know if it is his culture or his background because his family extends way back in Santa Cruz. Coming up as a child in Santa Cruz, we always knew Tito, Victor and everybody coming home here and singing Parang. He was like a father to Parang and a godfather to everybody in the Parang fraternity.

My fondest memories of Uncle Tito is coming home here every Christmas Eve night and waking him up to give him his Christmas Parang. He used to also go from house to house with our group singing and so on. He also participated once or twice with us at a function we had at our home. Just his presence when he gets into a room was something else. Everybody used to look forward to seeing Tito Lara and the Lara Brothers. From the time they step into the room everybody got happy. They always generated that love and everybody looked forward to that. I don't think the cultural legacy is properly preserved in Trinidad and Tobago because people have a lot of different views about it and I hope our group and other groups will be able to carry on the tradition. It's a very hard fight and we are trying, but it's dying. Wherever he is right now, I hope he will carry on the tradition he has left behind for us. I know they say there is life after death up in heaven so I know by now he is forming his own Parang group with all the others who have gone before and I hope when my turn comes I will be able to meet him so we can continue singing as we sang here on earth.

---

CARLOS LARA

Tito Lara was my father and he was a very great man. He was a very loving and understanding man who did his best to help out anybody who had little problems. Everybody loved him to the fullest and they will miss him very much. I will always remember how he used to pray with us before we go out to play. Sometimes when we are playing he will look back at us and he would start to dance while we are on the stage. Wherever we are playing, he would be dancing and giving everybody an extreme zest to play the music.

He was passionate about Parang. He grew into it and he loved it to the fullest. If you didn't like Parang he showed you ways and means of coming into it and liking it. When he played, he would give you everything. I wasn't in the band for a little while but when I came back in he felt so happy to see his son playing in the band again and we moved on very good. If he is at home and he didn't play for two days he would be very upset because he was missing the Parang. I used to come and try to cheer him up. I would say, "Daddy, hold it down, you will get better just now and you will come out again". When he got better and he started to play again he felt good and it was like he got a little younger.

When he passed yesterday it broke everybody down. He was everybody's father in the village and they all loved him. They would take care of him and if he makes a little stagger, they would hold him and make sure he was safely in front of the steps before they leave him. Sometimes when he talked to you, because he was a soft-spoken man, you had to put your ears by his mouth to hear what he was saying. He lived a full live and everybody respected him.

I didn't know it was so wonderful being a part of one of the foundation bands in the country. It feels good meeting people on the outside. I feel happy performing for people and they cheering for you and cherishing what you are doing. I appreciate all of that and it gives me the extra thing to go on. Whenever I am working and I don't get to go out and play I would be thinking about the band. Now it's only my uncle Wille and I and I think we have the capability to make [it] given the full support that we have. I will miss my dad a lot and it will be hard when we are performing because I usually stand right behind him when we are playing out. I wish I had his voice. I love when he sings because hearing it makes me feel to play. The nation could learn a lot from his life.

---

DENNY LARA

I am the second son of Tito and Ivy Lara. I am from Santa Cruz and I was born on December 11, 1956. Right now, it is a sad moment, the passing of my father, whom I haven't seen for a month. It was my wish to come up here this weekend to spend the whole of Saturday with him but I didn't get the opportunity to see him until yesterday and it hurts. I don't know how everything will work out but I could tell anybody he was a father, brother, cousin, everything to the entire community. He never disrespected anybody and he was always there to give you advice. He never cursed or had any altercation with anybody over anything and I always thanked God for that. He liked his Parang music and he also like his little drink and cigarette. He brought up nine of us and I am proud to be one of his sons. He was a loving father and there isn't anything we can do to bring him back. He was always there for you and whether you were right or wrong he will come and talk to you. I praise and thank God he didn't suffer or anything like that. He went home peacefully and we will make sure everything works out safely on the day of the funeral.

My favorite memory of him was when I used to live here with them. We used to talk and laugh, go to the beach and when certain things happen he would laugh and it would be an enjoyable day. When Christmas time comes and they go out and play you would always hear, "God boy, this man has a nice voice, he could real sing," or you would hear, "Who is this man?" Sometimes I would stand up there and watch them and I would have nothing to say. Who knows will say, "That is his son there," and I will say, "Yes, that's my father." And they would ask, "What happen to you, why don't you go and sing?" I was there for five years and the hours coming home wasn't too nice and I left them. I am proud to see my father carried on for so many years.

A lot of people don't know he was the first man to blow two pieces of bottle. I am talking about thirty something years and we weren't living on this side, we were living on the back street. I don't' know if Guardian still has the clipping. He took two bottles, burned them and took out the bottom piece and throw it. He burned another one, put plastic over one and put the other one over it and he played music with that. It was a real nice moment listening to him blowing that bottle. To know you have a father like that doing those things you can feel proud.

My mother was always there for us too. They never quarreled or anything like that. Everything went smooth and nice with them. I really praise and thank for that and for not making him suffer. During the fifty-two years of my life I enjoyed and learned a lot from him. I learned not to lash or curse anybody and if you want something you have to work for it and not go and beg anybody for it. He was a real icon and a role model to all the brothers and I know each and everyone will appreciate that. I don't know what will happen on the day of the funeral but we are going to miss him a lot.

---

STEPHEN CADIZ

We, Tropical Power Limited, has been the sponsor of the Lara Brothers Parang band for the last two years. The contribution of the Lara Brothers has been nothing short of phenomenal and they are the last original Parang band in Trinidad. They sing the original music and it's an original beat with maybe a little change. When you hear the Lara Brothers performing somewhere, people really come out to support them so there is still that wonderful support for the original Parang rather than what is being passed now as Parang, which is known as Soca Parang.

We really need to understand what our true culture is and from that we can learn so much rather than trying to improvise and make other things happen. We need to understand what the true culture is and the Lara Brothers represent that. Preserving this legacy is important. Countries all over the world, their culture, their music is what makes a country - nothing else makes a country. You can have as many industries and buildings but they represent absolutely nothing.

Tito Lara was an absolutely wonderful, kind and gentle person. I had the pleasure of knowing him for the last two years. He loved his music, his country and his family. If we could be Tito Lara we could be better people.

---

MARTIN GOMEZ

I am Martin Gomez, a Parrandero from the Lopinot area. When Tito died it kind of shocked us, so I am here to represent part of the Lopinot community. I knew Tito Lara for a few years well because we used to arrange Parang in Lopinot and so on. I was with the village council and these different groups. I came here many times to arrange Parang with Tito. He was a very jovial person and always friendly to me and I had no problem with that. I liked his singing and I believe the best Parang group in Trinidad and Tobago is the Lara Brothers. The type of songs they sing is more original Parang songs compared to the other groups that are singing now and I say that type of Parang will be going out. I have a group called "The Living Legends of Lopinot" and we try to sing that type of Parang too. We love that type of Parang.

To me all the Lara Brothers songs are good. There is a movie that was made called "Salt of the Earth" we were involved in with the Lopinot area and they talked about us making Parang music with our mouths and so on. I started doing almost the same things because I didn't have any instruments and so on. We are trying to bring back the traditional Parang but I do not know how we will get through to the youths because anything they take and play they say is Parang, but that is not Parang. It is a special thing and it is based more on the greetings when it is Christmas time. From what I understand, Tito and they came from the Caura Valley which was one of the main areas at the time. Look at Sangre Grande now, it was nothing what Caura was. If we didn't destroy Caura in that way it would have been a town. The Lara Brothers are living legends to me. May Tito's soul rest in peace and I wish his brother Willie will continue and keep the band going.

---

LUCY CHAN

I am from St. Mary's, Moruga, and Tito was my friend for thirty years. Tito, Pablo, Willie, Melvin, Lennox, the whole crew, used to come and spend three or four days by me sometimes, but Tito never wanted to leave. He always wanted to stay and Parang all the time. I used to make black coffee for Tito and cook fried bake and roti for them. When my daughter got married they came and spent two days with us. My son was like Tito's baby. From the time Tito reached he would put him on his shoulder. That little boy grew up with them and he is here with me tonight. When we heard he died yesterday he was sad. I always said when Tito or Willie dies I wanted to be here for the wake and to be with the family. I was there in front with Tito. The last venue they played in down south I decided I wanted to go and see Tito and spend some time with them. When Tito saw me he said, "Lou, I want to go home by you all, but all yuh have to come by me first and then I will go back to Moruga with you all." He said he didn't want to come by me when he was taking medication. My house was full of girls and when Tito was leaving he had to dance, make coffee and so on. I had to walk down the steps with him, make sure I put him in the car and then Tito will drive off. During all those years, not a Christmas would pass without Tito, Willie and Captain coming by me. I used to cook and prepare their food and had their rum just waiting for that Parang on my door.

Long ago wasn't like now where you have gates and big dogs. In the early days, you used to come up easy on the steps. The sweetest Parang we ever got was from the Lara Brothers. Pablo is my first cousin and we grew with that love. Parang is a love, not hate. I grew up with Parang at home. I used to Parang with the Ramos, Sanchez and all of them. It really hurt me yesterday when we heard Tito died. The last Parang we had with him, my children took off his hat and we took away his cuatro and Tito laughed and enjoyed himself. Whenever we went to a venue, Tito would always have a table waiting for us. As soon as we reach he would hand you a glass and if he was drinking in a bottle he would say, "Lou, you hold that," and I would hold it for him and Willie. This last time he was only drinking Ginseng and he had to go up on the stage, 'Fatboy' had to lift him up onto the stage. I didn't feel good about that because I wanted to know why Tito was like that. He stayed the whole time at that last venue. We stayed from about 9 p.m. till about 3 a.m. the next day. They didn't want to leave and we didn't want to leave. That was the last time I saw Tito until yesterday. It grieves our hearts to know Tito is gone. He was a friend all through our lives. When they come to Moruga, it's wild meat, fete and the band coming to meet. Everybody wanted to know the Lara Brothers. They are still the best. Tito is gone but the band will never fail.

---

NEIL MACARNO

Neil Macarno - President of the National Parang Association: It's a great loss for us (the Parang industry), because Tito is one of the icons of the association. In fact, the Lara Brothers is one of the founding members of the association since 1971 in it's inception, so it feels like we have one of our fathers. It's definitely a great loss to the fraternity and we know that we will be mourning his loss for quite some time. In fact, this year we are going to be dedicating all of our shows to the Lara Brothers and Tito Lara as well.

The association is always fighting up with keeping it's Parang acoustically and of a traditional nature. It has been a fight going on for the longest while and we are grateful for bands like the Lara Brothers who assist us in keeping the tradition alive in Parang by keeping the traditional music, the traditional instruments and keeping the traditional sound. When you hear the Lara Brothers, everybody loves to flock around the area where they are playing.

The archiving of the association is a challenge for us and if the music of the Lara Brothers are not handled properly it could be lost over the years. Somewhere down the road you might be asking someone if they remember the Lara Brothers and they might say, "Who is the Lara Brothers?" That is something we definitely have to look at to ensure it is not lost through the system. Sometimes it takes things to happen for other things to happen as well and maybe this is a sign for us to look at how we are going to be archiving and keeping the tradition alive.

We could learn plenty lessons from the Lara Brothers [and Tito Lara]. Firstly, he was a guy who has been loved by everybody as you can see by the turn out here tonight. Once you come into Cantaro Village and you say the Lara Brothers or Tito Lara everybody will know who you are talking about. This is my first time up here and when I came yesterday, I just had to pull aside and say, "Ah going up by Tito Lara," and every person I spoke to was able to tell me exactly where he was. You have lived a life and everyone you have met you have touched and that alone in itself is a great achievement. He lived a full life but all of us have to go at some time. During his time I am sure he would have touched a lot of the younger ones and encouraged them to get into the Parang fraternity as well.

The association will be trying to honour Tito Lara and the Lara Brothers in every way possible and we will also be dedicating our shows to Tito Lara and the Lara Brothers. We are hoping the fraternity and even the non-Parranderos will look at this situation now and see how Parang in itself is the way to go. There is no violence in Parang, only love, and if you are looking to spread love in Trinidad and Tobago why not start with the Parang association who already knows how to spread the love.

---

PHILLIP SALAZAR

I am the lead singer of Los Pastores Parang group from Palo Seco. We grew up on the Lara Brothers music, as young people while growing up busting bamboo, carbi and so on in the rural district in Pala Seco. We grew up with Sylvester Mata, the Lara Brothers, Learie Collymore [and others]. They are icons in the Parang music because, at their age, they made a very valid and essential contribution to the Parang culture in Trinidad and Tobago. I think the government has recognized their contribution over the years and I think the nation has done so as well. Through their trips abroad, they have been able to be good ambassadors to the cultural art form of Parang in Trinidad and Tobago. They went to Mexico in 1997 and we followed them in 1998. Only two Parang groups have been to Mexico promoting the Parang culture in Trinidad and Tobago at the Afro Caribbean Festival in Vera Cruz.

Parang is a real religious thing and it has different forms. It has the religion aspect, the music aspect, the food aspect and the community aspect where the band is a key pillar in the community. I wish people could gravitate and learn from that family kind of love, togetherness and harmony and as I said, community spirit that evolves around Parang groups, and especially the family focus too because, if you realize, most Parang groups call the band a family. Essentially, it is family oriented and we could learn a lot from how Parranderos and Parang itself, the culture, is produced and done in the country.

It's sad and we know that last year Tito sustained a mild stroke, I think it was, and we knew he was recuperating. It was really a blow to the Parang community and all the Parang aficionados, the country at large and the Parranderos in particular, to learn of his sudden passing. It's very sad on all of us because it is one person who's contribution is very extensive, he and his brother, Willie, and the group as a whole. All of us will miss him because we know he was a very pleasant gentleman, always offer you a word of advice and always in a spiritual direction when you speak with him. I believe that the Parang fraternity has lost an icon and a good exponent of Parang. He will be sadly missed and we hope that the group will continue and will be there for him and continue to contribute to the Parang culture and his legacy in terms of the contribution of the Parang.

---

LAURENCE SALAZAR

We came here tonight to witness and also to give our input. Where Parang is concerned, as a brother, as a father, as a leader and the Lara Brothers, we wish the family, the gathering and the people of Santa Cruz all of God's blessings. Tito was always a leader to us in many spiritual ways and is something we always looked to as a group; we always remember something about Tito spiritually. He always gave a word of advice. As a young Parang group and for the culture to go on from strength to strength, he always gave advice in that direction. His contribution is so much; we cannot mention how great it is where Parang and the Lara Brothers are concerned today. They portrayed so many things in the Parang fraternity; I think they deserve more. It was shocking in a sense to know how he passed away. From what I heard, how he passed away was very sad. I hope the culture and his brother and the family will be spiritually strong because the fellow was spiritually strong, and that spirit they have to live on and with that strength he has as a group, as a brother, as a family, as a leader, as a figure head. I feel it will go on from strength to strength.

---

CHRISTO ADONIS

To put it into words is kind of difficult. Tito and I were very close. I visited him regularly and I considered him a father figure, a mentor and a very good friend. His contribution to Parang is one of the things that will ensure that Parang lives on in Trinidad. He will be sorely missed not only because of his singing or his voice but for his actual personality: jovial person; all-embracing. I am a person who likes to crack jokes regularly and Tito had this way, this method of bringing people close to him. He ensured that you felt welcome and loved...a lot of inspiration. I am a member of the First Nation People in Trinidad which is the Carib Community. As a matter of fact, I am what you will call the Shaman of the community. My songs and everything I do is based on spirituality. The reason why I told you that is to get to what I am going to tell you now about Tito. In him, I saw a very spiritual man, a spiritual person.

My fondest memory of him is being here around the Christmas season gone there, sitting down with him. He had just gotten an operation for his eyes, so he was wearing what we call locally, 'darkers'. So I told him, "Yuh good with that yuh know. You are Michael Jackson in Parang," and we laughed about that. He was walking with me from here to go by his brother Willie. We shared a lot and many people wouldn't know that. He called me his little brother and he knew his reason why he called me that and I am happy about that and I am blessed about that. It's very emotional to talk about it, but that fondness, that togetherness, that last part I have to be thankful to the creator that I got the opportunity to spend that time with him.

As an indigenous person and as the Shaman in my community and our belief in spirituality, as you rightfully say, I am glad you used the word passed because he only passed. There are people who would use the word dead and so on. In our belief and in our spirituality, he has really passed. I know he has gone on to greater planes and he will continue to visit us in visions and dreams and inspire those of us in the work and in the art and I know what Tito has done is a way of ensuring that Parang will never, ever die.

Remembering Tito Lara in pictures:
www.triniview.com/gallery/main.php?g2_itemId=339457




Homepage | Remembering Tito Lara | Photo Gallery




---