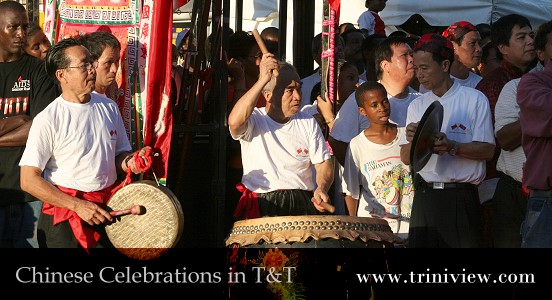 Chinese Bicentennial Celebrations in T and T


Dragon Boat Racing Festival
October 14, 2006
The Dragon Boat Races, a first time treat for the nation of Trinidad and Tobago, took place on Thursday 12th October, 2006, as part of the Chinese Bicentennial Day celebrations to a crowd of thousands at Williams Bay, Chaguaramas.



Chinese Bicentennial Celebrations Concert
October 13, 2006
It was an interesting sight to witness so many persons of Chinese descent gathered at one place to partake in a festivity that commemorated their arrival and presence in Trinidad and Tobago. In fact, the Queen's Hall venue, which was filled ...



Chinese Dragon Dance and Cultural Show
October 08, 2006
On Friday 6th October, 2006, the Chinese Bicentennial Committee showcased Chinese culture by parading through Charlotte Street and by putting on a show at the Brian Lara Promenade. The event was to commemorate the Chinese presence ...



Chinese and Indians share common history
October 07, 2006
It is more than a coincidence that Chinese, Hindus and Muslims will each have national holidays in their honour this October in Trinidad and Tobago. Chinese Arrival will be celebrated as a public holiday on October 12, 2006.

Chinese Bicentennial Celebrations in pictures:
www.triniview.com/gallery/main.php?g2_itemId=92665


Celebrating 200 Years of Chinese Arrival in Trindad & Tobago:
www.chinesearrivaltt.org/chinesett_main.htm




Homepage | Special Events | Photo Gallery





---