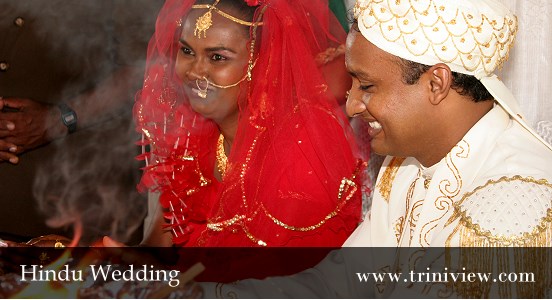 Triniview.com thanks the newly wedded couple, Mr. and Mrs. Seegobin, Geeta's family, the Maharaj's, Indra and Riannah Ramdhanie, and all the villagers who allowed us to share in the Hindu wedding celebrations at Welcome Road South, Enterprise, Chaguanas.
Hindu Wedding in Enterprise, Chaguanas


Maticoor Night: The Dulahin's Feminine Zone
December 15, 2006
On Friday 15th December, 2006, the first night of preparation for the wedding between Geeta Maharaj of Welcome Road South, Enterprise Chaguanas and Kishan Seegobin also of Chaguanas, Triniview.com was able to share in this celebration.



Interview with Indra on Maticoor Night
December 15, 2006
The Maticoor night of the Hindu pre-wedding celebrations took place on Friday 15th December, 2006. Triniview.com did a brief interview with Indra Lillawtie Ramdhania, an aunt of the bride, to gather a bit of information about what takes place ...



Triniview Chats with Geeta Maharaj
December 15, 2006
After the Maticoor night ceremonies ended, Triniview.com interviewed Geeta Maharaj, the bride to be. Among other things, she shared about her beloved Kishan Seegobin and the village she
grew up in.



The Eve of the Hindu Wedding
December 16, 2006
Saturday being the eve of the wedding, was all about preparing for the big day ahead. The house, just as it was the day before, was filled with friends and family who arrived early to assist Geeta, the dulahin, in the final preparations ...



The Hindu Wedding Ceremony
December 17, 2006
The most anticipated day of the wedding celebrations was finally here: the ritualistic Hindu wedding ceremony. This final day of the wedding ceremony, which took place on Sunday 17th December, 2006, was the culmination ...

Hindu Wedding in Enterprise, Chaguanas in pictures:
www.triniview.com/gallery/main.php?g2_itemId=153867




Homepage | Photo Gallery





---