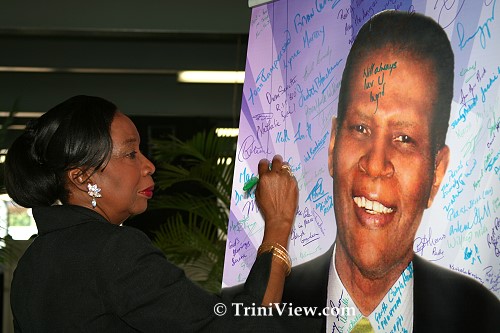 Former Minister of Culture, Joan Yuille Williams signs the picture of Terry Joseph


TriniView.com Reporters
Event Date: January 11, 2008
Posted: January 18, 2008

Friends and family gathered at the Center of Excellence on Friday 11th January, 2008, to pay tribute to journalist and cultural promoter Terry Joseph. Mr. Joseph passed away on January 2nd 2008, in the United States after a prolonged battle with cancer. He was born in Laventille in 1947, and spent the latter part of his life writing about the culture of Trinidad and Tobago, especially Pan, Calypso and Mas.

The cultural send off titled "Farewell Teejay" started with friends and family viewing the body, with some inscribing their tribute on a large picture of Teejay, strategically positioned in the foyer of the Marvin Lee Stadium. The official programme started at precisely two o'clock as it was remarked that Terry Joseph was a stickler for punctuality.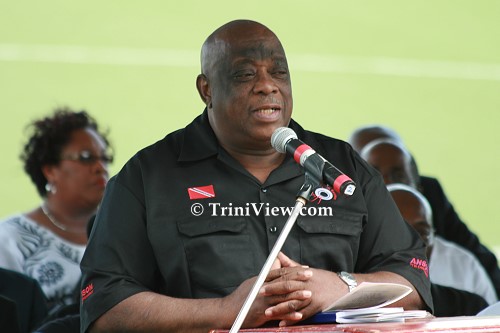 Keith Smith pays tribute to his close friend Terry Joseph


Fellow journalist and close friend Keith Smith delivered a stirring tribute to his fellow Laventillian, recalling some of the fond experiences they shared. He told the audience that although Terry Joseph was not in journalism as long as some people thought, it was an area he mastered, being one of the greatest headline writers in the country. Keith noted that Terry was an expert in Mas, Calypso and Steelband and would often be called upon to render his expertise. "It is not an easy task for me to stand up and talk about the departure of my best friend," he said. In an emotional ending, with his voice breaking, he told the audience that, "The maestro has passed on, but until my own dying day, he is going to live in my memory; that laughing joyous man who made my life and so many others, so much better."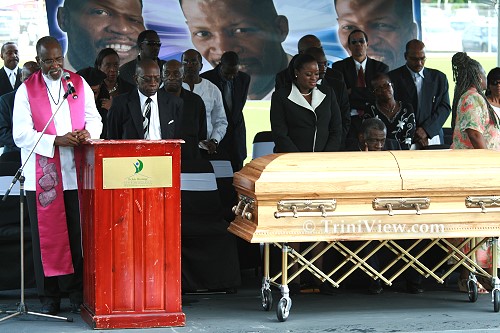 LEFT: Father Clyde Harvey


Following Keith Smith's Euology, Father Clyde Harvey delivered a 'meditation' in which he called on the audience gathered to not only celebrate the life of Terry Joseph, but also to reflect on his deeper significances as a human, male and Caribbean person. He added that, "As we face so many challenges to human living on this East-West corridor, the enigma of this brother might provide us with some clues to both the problems and the possibilities."

Father Harvey said that as a journalist, Mr. Joseph exposed a lot of the hypocrisies and inconsistencies of organised religion and mocked the pettiness which so many human beings ascribe to God. "Yet he embodied some of the real challenges which every man faces if he is at all interested in truth and integrity," he said. "If he was an expert at anything, it was because he was always a student, digging, probing ... seeking beyond each find."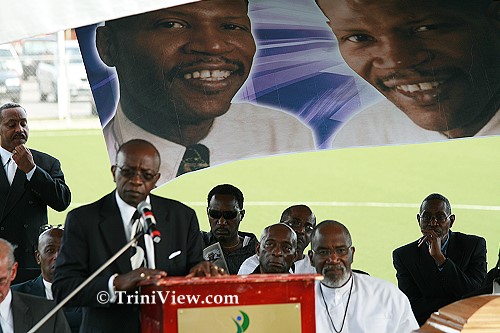 Jack Warner pays tribute to Terry Joseph


Jack Warner also addressed the gathering and expressed that he had lost one of his great African friends in a time when African friendship was dying. He remembered Terry for playing and working equally as hard.

Also paying tribute to the life and times of Terry Joseph were National Carnival Bands Association (NCBA) Secretary, Wrenwrick Brown; President of Pan Trinbago, Patrick Arnold; Garth Giuseppi of Carnival band Rabs Immortelle; National Carnival Commission (NCC) Chairman, Keston Nancoo; Michael Legerton, President of TUCO and Government Minister Donna Cox. Mayaro MP Winston 'Gypsy' Peters, Kelvin 'Mighty Duke' Pope, Opposition Senators Tim Gopeesingh and Wade Mark, former Government minister Ken Valley, musician Roy Cape, Joan Yuille-Williams, media personality Holly Betaudier, Rapso artiste Karega Mandela and COTT CEO Allision Demas were among those gathered to pay their respect.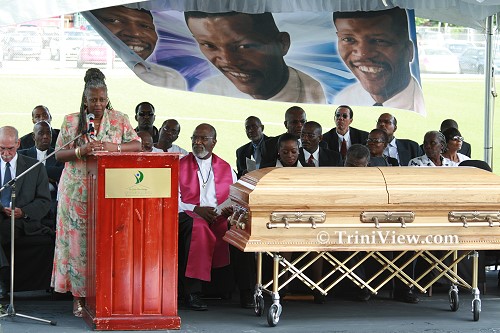 Dr Liani Gilliam-Jospeh shares her memories of her husband Terry Joseph


Terry's wife, Dr. Laini Gilliam-Joseph, paid tribute to her husband, saying that he had a great love for the people and culture of Trinidad and Tobago. Having married him twice, Laini said that the effort that Terry had made to travel to be with her in his last days, while in great pain, confirmed the love that he had for her.

Mavis John gave a brilliant and haunting rendition of Kitchener's "The Carnival is Over", accompanied by ace musicians Pelham Goddard and Ralph Mac Donald. Lord Superior (Andrew Marcano) sang two of his Calypsos "Crime Does Pay" and "Standardise the Pan". Also giving a musical tribute to Terry Joseph were Laventille Rhythm Section, Steelband Sagicor Exodus, the Lydian Singers and Roy Cape All Stars.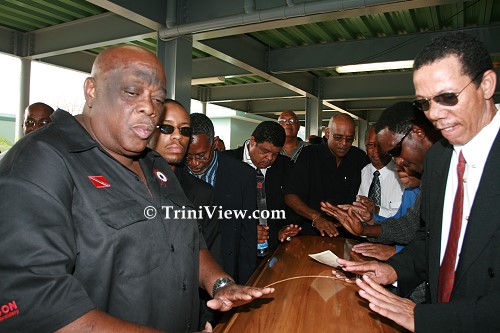 Drumming on Terry Joseph's casket


As the casket of Terry Joseph was carried out of the main area of Center of Excellence, onlookers broke into singing some good Kaiso to send him off to the private cremation. Speaking to Triniview.com, some of his friends, spoke consistently of his wit and brutal honesty which was a welcome voice in the cultural landscape of Trinidad and Tobago.

Terry Joseph's articles over the years can be found here: www.trinicenter.com/Terryj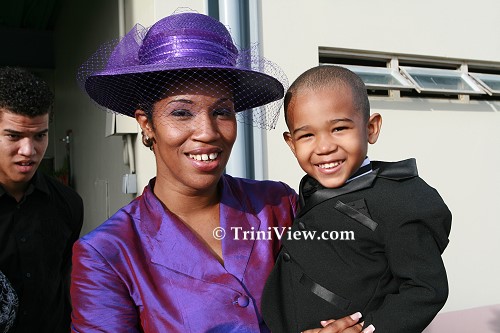 Giselle Joseph, the daughter of Terry Joseph and her son Alex


Terry Joseph is survived by his wife Dr. Laini Gilliam-Joseph, daughter Giselle Joseph, stepsons Shariyf and Shamyr Austin, stepdaughter Shani Austin, his sisters Verna Joseph, Lorna Sydney and Marlene Joseph, his brother Selwyn Joseph and his grandson Alex Allen.

Cultural Send-Off for Terry Joseph in pictures:
www.triniview.com/gallery/main.php?g2_itemId=225335




Homepage | Special Events | Photo Gallery




---