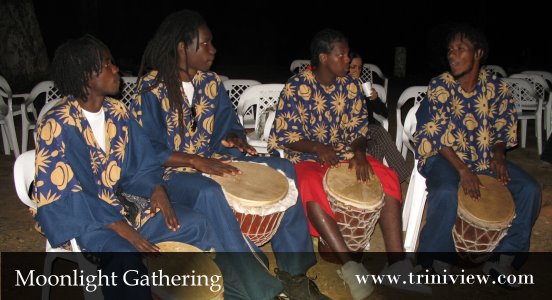 Moonlight Gathering Flyer

Poetry, Drumming, Dialogue and Singing on June 03, 2012

The Moonlight Gathering is a part of a wider drive to foster self-awareness and growth by presenting and encouraging perspectives that have been neglected, hidden, lost or misunderstood.

Check the flyer or facebook for details.


Dealing with Colourism
October 05, 2006
The session at the last Moonlight Gathering in September was highly profound and without a doubt, edifying and interesting. Usually, after a period of song, poetry, drumming and other chosen activities, the group at the Moonlight Gathering would engage an issue; any issue that we feel worth discussing ...



Moonlight Gathering Highlights Colourism
September 19, 2006
This past weekend, the Moonlight Gathering was held in Blue Basin Park in Diego Martin. Held in an open space in the alluring ambience created by the big bright moon, the Moonlight Gathering featured poetry, singing, drumming and dialogue.



Themselves
August 05, 2006
Truth be told
Many of us sellin our soul
In moments
Dressed up in condiments
To savour the flavour of the disguise



About Moonlight Gathering
November 11, 2005
Oral traditions are a powerful aspect of our African heritage. There are many people in this country simply bursting with talent and ideas, but with very few places to express it in a comfortable space. The Moonlight Gathering was created to fill this void.

Moonlight Gathering in pictures




Homepage | Carnival Features | Special Events | Album





---