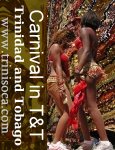 Pan Woman:
Steelbands of
Trinidad & Tobago

Bacchanal
by Peter Mason

The Black Jacobins


Rituals of Power & Rebellion

Capitalism and Slavery
by Dr Eric Williams
| | |
| --- | --- |
| Carnival Features | Related Albums |
Tribute to Lewicito 'Cito' Velasquez

Lewicito 'Cito' Velasquez, one of Trinidad's most renowned Wire-bender/Masmen, passed away after suffering a stroke on 8th April, 2006, at the Eric Williams Medical Sciences Complex in Champs Fleurs, Trinidad. Cito, as he was commonly called, was born on 51 Frederick Street, Port of Spain

NACC Stars of Gold for 2005

The 18th annual Top 20 Stars of Gold Calypso Award Ceremony was held on Saturday 7th January, 2006, at the Ballroom of the Cascadia Hotel honouring the top 20 calypsos for the year 2005. This effort was co-produced by the National Joint Action Committee (NJAC) and ...

Journey with Desperados

Mr. Rudolph Edwards has offered, in this piece, his history and the history of his involvement in the internationally acclaimed steelband movement, Desperados. Mr. Edwards is one of the founding fathers of the Desperadoes pan organization and has enjoyed many victories with this pan-side. Mr. Edwards is the oldest and longest playing panman

Brother Valentino: Life is a stage

The Grenadian born, Anthony Emrold Phillip, better known in the Calypso arena as 'Brother Valentino', has proven his worth as a riveting performer, expressing his political and social awareness through songs such as 'Life is a stage', 'Stay up Zimbabwe' and 'Dis Place Nice'. Brother Valentino has expressed his love for the Calypso artform...

Life as a calypsonian not easy

Calypsonian Black Prince exemplifies persistence and determination in the calypso arena. This experienced calypsonian has been singing since the 1950's and has graced the stages of a number of early calypso tents. Black Prince also appears on the Raw Kaiso CD: a recording of live performances, with other kaiso powerhouses ...

Glendon Morris' passion for Carnival

Glendon Morris, the son of legendary Ken Morris has created a history of his own. Following the footsteps of his late father, Mr. Morris continues traditional mas' making, including the use of cooper work in mas'. Morris is fundamental to Carnival in Trinidad and Tobago, keeping alive older Carnival traditions.

Muhammad Abu Bakr Speaks on Mas'

Muhammad Abu Bakr said: "The love in it is not the money, although we need the finance to do it, but the love that exists in it is important. There is nothing like that love you experience. If paradise is like that I want to go, where else would you get that. You should really get into a Mas' camp and see how it functions."

Jason Griffith: King Sailor Speaks

Jason Griffith, one of Trinidad and Tobago's renowned mas' men was born on the 20th June 1927 at Pelham St. Belmont. He attended the Miss Lewis Private School and Belmont Boys' Intermediate School. As a youth growing up, he was influenced by Jim Harding's Mischievous Sailor Band, a very popular band in the thirties.

Homepage | Photo Gallery | TriniView Forum | Trinicenter
Education © 2000-2005 Triniview.com