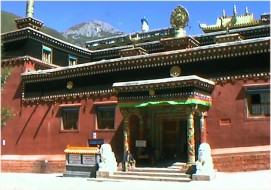 The Sichuan-Tibet Highway
The Northern Route Part 2

Owing to the impassiblility of the road, the bus driver has decided to return to Peiyul for the night and we set out again the following morning. The landslide has been partly cleared, partly flattened and we go slowly over it fearful of falling boulders.

The road to Ganzi goes through sweeping valleys, high mountains and through a fenced cow field where it is so deeply rutted that the bus threatens to topple over.

I sit next to a Chinese boy in layman's clothes but sporting a monk's haircut and a Gelu monk's yellow hat.
"Are you a monk?" I ask.
"No, the hat is just a sunshade," he replies.
"You got on the bus when we stopped at a monastery," I persist.
"Yes, I spent two weeks at the monastery," he admits.
"You look like Han Chinese," I prod.
"Yes, I am Han people."

In the cities distant from Tibet, many Tibetans have been assimilated into a Chinese way of life and live there comfortably. But in the Tibetan regions, the Han and Tibetans have little love for one another.

"It is unusual for a Han to study Tibetan Buddhism," I say, but get no reply.

We stop for the night at Manigange, a hamlet in the Chola Mountain range with more yaks than inhabitants. As I wander among the dusty shops in the late evening I pass a monk and automatically say, "Tashi dele." Blessings upon you.
He takes my hand and leads me back the way I've come. I offer him sweets from my bag and ask, "Where are we going?"
"To my monastery," he says simply.

We cross a bridge and climb a hill following a goat track. But though two other monks with a horse are also walking our way I can see no monastery.
"It is over the next hill," says my friend.
"It is almost dark and tomorrow morning, very early, my bus leaves."
"You can sleep at the monastery," he offers.


| | |
| --- | --- |
| This monk is from the Gelu Order ('Virtuous School') which was initiated by the monk Tsongkhapa, from the Sakya Order and who steered the Gelu Order back to Buddhism's original precepts in the 14th century. Manigange, Sichuan. | This 10 year old novice monk is from the Nyingma Order or 'Old School' founded by Guru Rinpoche who came to Tibet from India in the 8th or 9th century. Manigange, Qinghai. |
It is a wonderful opportunity to experience a little of monastic life and I am greatly tempted but it would mean missing my bus in the morning. Too often we are hurrying going somewhere – I am going to be a doctor. I am going to be famous. I am going to the Silk Road. – to really know where we want to go. This was the second time that Tibetan Buddhism held my hand and said, "Come" and again, regretfully, I shake my head. He clasps both hands behind my head and, in a simple and moving act, gently touches his forehead to mine.

That night in Manigange I find it difficult to breathe. Each time that I drift into sleep my body clamoured for oxygen and I awaken gasping like a drowning man.

Altitude Mountain Sickness begins at 2,000 meters, becomes pronounced at 3,500m and requires adjustments for each 400m above that. I had been living at 2,400m for 3 months but Manigange lies above 4,000m in the Great Snowy Mountains and I am not acclimatising well. I am travelling on the eastern edge of the Tibetan Plateau and my direction lies to the north-east, still on the Plateau, but I decide to push on to reach the lower desert regions and the Silk Road of Gansu and Xinjiang.

On the Chinese maps Shiqu is a large town but in fact, Shiqu is a town of only 2 streets, much smaller than Serxu, a monastery town 40km away and not on Chinese maps. The significant thing about Shiqu is that it is close to the border of Qinghai Province and this is where civilisation ends. There are no buses from Shiqu to Qinghai Province.

Early the following morning I find a truck going to Xiewu across the border and spend the day sitting in it waiting for it to fill so we can leave. Trinis taking the San Fernando taxis will sympathise with me.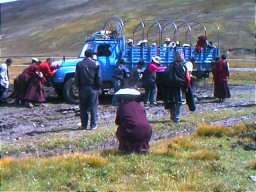 The road between Sichuan and Qinghai is so badly
eroded that only trucks can make the journey but not
without some difficulty.



By late evening there are only four other people wanting to go to Xiewu and the driver decides to leave in the morning. It begins to hail, small pellets of ice like split peas that stick to my skin and turn to mush. For the third night, because of the thin air, I am unable to sleep.

We leave early the next morning, before the sun comes up, with a full complement of passengers. The driver is a Tibetan from Qinghai (previously the Tibetan Province of Amdo) but forsaking traditional Tibetan ways, has his hair cut short and wears western clothes: jeans, T-shirt and a light coat. He is 18 years old and shows me his driver's permit where he passed his test at 15. "I was the youngest driver in Qinghai," he says proudly.

In several spots the road is closed or crumbled away. We follow tyre marks going off into fields or crossing rivers (and once even up a river) making wide detours and returning to the road. The distance from Shiqu to Xiewu is only 90 km but it takes 9 hours to travel. This is how one realises that the word 'travel' comes from the French 'travail'.

Xiewu looks picturesque with a colorfully painted monastery upon a hill and dozens of houses and farms scattered in a beautiful valley at the foot of it. I walk the length of the main street looking for lodging but there is none. As I stand there in the late afternoon a group of two Tibetan monks and a young Khamba pass by. "Tashi dele," I say. "I am looking for a place to stay for one night."
The young Khamba takes my hand and says, "Come, you can stay in my home." He adds in English, "My name is Jamyangworsal."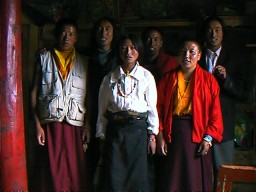 Jamyangworsal and siblings in their home. Xiewu, Qinghai.


He is the second youngest in a large family in a small home. The youngest child is a monk in India and three brothers and two sisters all belong to nearby monasteries. After many generations of sub-dividing property, this grandfather was left with a piece of land of half an acre, a small corner under Chinese cabbage, the rest fallow land. As if in compensation, a pretty stream burbles alongside their stone wall and a small, bare hill protects them from the winter winds.

Jamyangworsal's sister gives me a bowl of unprepared tsampa and I try to mix it like 'mixing cement'. They laugh at me for not knowing this elementary skill and the sister demonstrates how to mix it with one finger and then knead it with two fingers and a thumb. She puts two slices of jwo (identical to a Trini bake and just as delicious) on the table for me but though they have yak butter they eat their jwo plain. The kitchen is the busier room with a stove fueled with yak dung, three beds and an armchair occupied by the 84 year old grandfather twirling his prayer wheel.

The only other room is the bedroom with three beds and a shrine to the Dalai Lama. Jamyangworsal's parents live in another town but there are still more people than beds and I suggest that I look elsewhere for lodging. With great practicality, Snantashi, one year older than Jamyangworsal, says, "If you can find a room in the town, you must pay at least 40 yuan. But you can stay here for free." Why is it that the poorest people are often the most generous?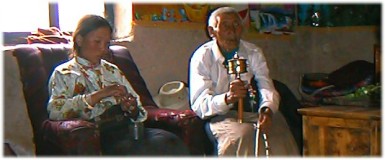 Jamyangworsal's 84 year-old grandfather spent his evenings spinning his prayer wheel and reciting mantras: "Om mani padme hom …." Xiewu, Qinghai.


There is great excitement as the eldest son, a monk, returns home. They fuss over him settling him in the armchair and putting a bowl of rice and Chinese cabbage before him. He fishes out a pack of photographs from his bag and hands it around. After eating he takes down an instrument like a guitar and sings a traditional Tibetan song. Each brother and sister takes a turn but apparently Jamyangworsal is the most musically talented.

I go with him and his brother, Seradowa, a monk, to take a sack of barley to the mill. We then stroll through the main street, look into the shops and stroll back to the house. In this village there is nothing for people like Jamyangworsal to do – no jobs, no entertainment, no opportunities for a better life. With no jobs in this small village for Jamyangworsal's generation, the family have elected to give six children to the monasteries and kept two sons to carry on the family. It is a half measure. While the monasteries give food, a bed and scriptural tuition, the monks are expected to find their own clothes and travel money. With only two sons to father children the burden of too many children is lessened. On the other hand, fewer children means there will be a problem looking after Jamyangworsal's brothers and sisters in their old age.

"If later, you wish to marry, will you be permitted?" I ask Seradowa, the monk.
"No," replies Jamyangworsal, embarrassed. "He has already taken his vows."
There is no toilet. "Go outside," says Snantashi, "anywhere you like."

The stream is convenient for brushing my teeth but is too cold to take a bath. Everyone tumbles willy-nilly into bed with much laughter and moving about. There are carpets instead of mattresses and a quilt with which to cover. They politely give the foreigner a bed to himself and I am grateful because Jamyangworsal snores loudly.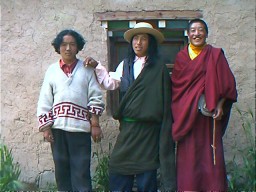 Three brothers, three faces of Tibet. (left to right) Snantashi, 21, the modern Tibetan; Jamyangworsal, 20, the traditional Khamba and Seradowa, 23, the Tibetan Buddhist monk. Xiewu, Qinghai.


In the morning, the grandfather takes his prayer mat out into the yard for his prostrations while the family wakes up and begins breakfast. Two slices of jwo and a bowl of yak butter tea put me firmly on my feet and will sustain me until I get to Xining on the Silk Road. Jamyangworsal offers me a wardo, a Tibetan slingshot woven like a whip, as a parting gift. It is wonderfully exotic but I have already accepted too much from this generous family. "Thank you, but I have no room in my bag." He takes me outside to demonstrate the wardo, spinning it like David aiming at Goliath and releasing the stone with a crack like a whip.

I leave money at the shrine in the bedroom where they will later find it, more than I can afford, less than I would have liked. I give my thanks and goodbyes to each one. "Gachunchi," I say in their local dialect. Thank you. "Tashi dele." Blessings upon you.




North-west China: The road to Tibet - Lugu Lake | The Sichuan-Tibet Highway: The Southern Route

The Sichuan-Tibet Highway: The Northern Route | North-west China : The Silk Road | China : The Centre of the World

Journey to Shangri La: Yunnan | Journey to Shangri La: Dali | Journey to Shangri La: Lijiang

Journey to Shangri La: Zhongdian & Deqin | The Year of the Dragon
---
All credits to Jiang He Feng -Triniview.com - Education 2001