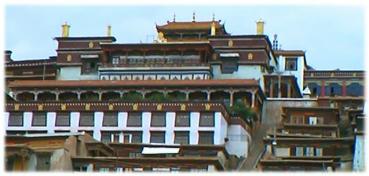 The Sichuan-Tibet Highway – The Northern Route Part 1

From Kangding, the Northern Route of the Sichuan-Tibet Highway passes through Ganzi, Manigange and Dege before crossing into Tibet. It is 2412km long, almost 300 km more than the Southern Route and far less travelled.

Ganzi (Garze) is an odd town. The streets are busy with Khambas and Tibetan monks but the Han Chinese seem to own all the shops and restaurants. They also seem hostile to everyone alike: locals, Chinese, foreigners, monks and Khambas. At the Post Office I try to post a kathak or silk prayer scarf in an envelope but am told that I would need to put it in a cloth bag for posting. I go from fabric shop to fabric shop to tailor with my request but am chased away like a beggar. Later I would read that Ganzi was once earmarked to be the capital of the Ganzi Tibet Prefecture but several protests by the local residents gave rise to doubts as to the political stability of Ganzi. The seat was given to Kangding, all financial aid to Ganzi ceased and the hostile attitude began.



Chinese (including Tibetans) learn to socialise from young. The solitary loner is generally to be pitied. Travelling as a Chinese from Guangdong, my most frequently asked questions were: "You are travelling alone? Have you no friends?" Ganzi, Sichuan.


Buddhists generally only go to the monastery at festivals, on pilgrimage or to ask for favours such as success in exams or for a male child. This young Tibetan was praying for work in western Sichuan, an area where unemployment has reached an estimated 20%.
Ganzi Lamasery, Sichuan


The young people though seem to be unaffected by the adults' attitudes. As I stood on a sun-baked mud track in a warren of Tibetan mud-walled houses looking for a way to the Ganzi lamasery a few meters away on the hillside, a young boy asks me if I need help to get to the lamasery. Tibetan monasteries and lamaseries have the peculiar custom of making the path to their entrance as inaccessible as possible. The boy leads me through the walled yard of a house, through a gap in the wall and up a goat track to the long, steep flight of steps to the lamasery.

At the bus station (a booth in the middle of a walled compound of soft mud) I wait for 5 minutes while the two female ticket staff catch up on yesterday's gossip and turn impatient, hostile eyes on me when I have the impertinence to interrupt to ask about buses to Dege. They angrily rail at me in a dialect which fortunately I cannot understand. I have never encountered such naked hostility in all of China and wonder if they would have been more polite had they known that I was a foreigner.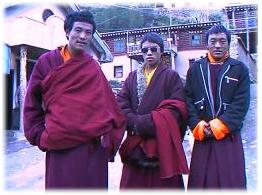 Three waiting monks also going to Dege helpfully tell me the time of departure and the bus fare and buy the ticket for me from the surly women. The monks and I pile into the back of the bus. I share my apples with them and we have a merry time taking pictures of each other and watching the images on playback. They are going to Chando in Tibet and I give them the kathak which I was unable to post. If I couldn't get into Tibet, at least my prayer scarf would.

Springing from the Mahayana school, Tibetan Buddhism came from India in the 8th century and largely replaced Bon among most Tibetans. Bon, the indigenous Tibetan shamanistic religion has now adopted some Buddhist aspects and lives on in some areas as a Buddhist sect.

Apart from Vajrayana (an esoteric school of Tantric Buddhism) there are four basic schools. Nyingma is considered the 'Old School' having been founded in the 8th and 9th centuries; Kagyu and Sakya are the Middle Schools stemming from the second wave in the 11th and 12th centuries and the Gelu order is the recent (14th century) return to the original values of Buddhism. For most laymen, there is not a huge difference between them and certainly I couldn't tell the difference between them just from looking at them. From the novice monks or trapa to the genyen (first vows) to the ordained monks or gelong and geshe, the only bits of robes they have in common are the rectangular wraps (ren) and the skirt (shonto) which colours range from crimson, vermilion, russet and burgundy to deep brown, even within their own orders. Their tunic (donbuk) and inner tunic (grila) could be green, yellow, brown or purple and they wear a variety of shoes from Army camouflage gym shoes to chunky leather shoes with large silver buckles. Traditionally the Gelu wore Yellow Hats but I also see Nyingma and Kagyu monks (traditionally the Red Hats) all wearing yellow hats. Despite the variety of clothing, they are all uniformly friendly, open and welcoming, not only to strangers but also to other Tibetan orders.

The road to Dege passes through the Chola Mountains, bare and rugged with snow-crowned Mt Chola, at 6168m, blinding in the sunlight. Eight hours later we arrive in Dege where I invite the monks to dinner. They choose a very modest restaurant and order bowls of noodles with beef. This is a surprise to me as I had assumed that they were not allowed to eat meat and had, out of deference, ordered plain noodles for myself. They explain that due to Tibet's high altitudes, protein from beef is needed to stay healthy and thus beef, not pork, is allowed by Tibetan Buddhism.

I leave them to get their bus to Tibet and go to find a hotel but when I return to the main road an hour later they are still there at the roadside.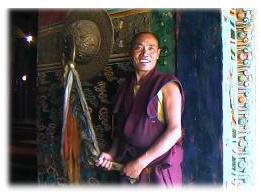 In Tibetan Buddhism there are 6 levels of rebirth: hells of torment, ghost worlds, world of animals, human beings, demi-gods and gods. Though we try to gain merit to have a higher rebirth, we must all pass through each of the 6 levels which are seen as parts of one whole. Thus, an evil spirit in this life could have been your mother in a past one and so the doors of Tibetan Buddhism are open to all. Ganzi Lamasery, Sichuan.


"Your bus?" I ask. "Is there one tonight?"
"No, it has not come."
"When will it come?"
"Tomorrow morning at seven."
"And tonight, you will sleep where?"
They look at one another uncomfortably.
"I have found a cheap hotel," I say. "Only 16 yuan one person."
Again the look at one another uncomfortably.
"Come!" I say. "Tonight you will be my guests."
They follow me to my hotel but two remain in the courtyard while the eldest goes with me to the lobby. Immediately, the hotel staff try to chase him out like a leper and I realise why the other two monks remained outside.

It angers me to see monks treated this way. Monks sacrifice marital lives and forego having children for the benefit of Mankind. When a Tibetan monk prays he prays not for himself nor for Tibetans nor for Buddhists but for all Mankind. I loved these monks who gave their friendship freely, never asking for money nor my watch nor for English lessons.

"They are my friends. Give them a room. I pay for them." I remain adamant until a triple room (identical to mine) is found and for only 10 yuan each. The receptionist explains to the monks that my room rate is higher because I am a foreigner. I apologise to them for my deception (I had told them that I was a Chinese from Guangdong) but there is now a space between us.

At 7 o'clock the following morning, in the pre-dawn darkness, the board the bus under the watchful eye of three PSB (Public Security Bureau) officers on the alert for sneaky foreigners. It is difficult for me not to ask the monks to lend me their robes to disguise myself to enter Tibet but they never asked me for anything and I ought to do the same. I wait in the hotel's courtyard for the baths to be opened and witness the dawn. Sunlight blooms on the hilltops and flows like honey down the slopes. A flock of small black and white birds flies down to the courtyard and alights around me. And so the day begins.

The 250 year old Bakong Scripture Printing Lamasery in Dege houses an extensive collection of Tibetan scriptures (and the printing woodblocks) of the five Lamaist sects which are revered by followers worldwide. It is one of the three most famous monasteries in the Tibetan Buddhist world and costs a steep 50 yuan for a look round. Naturally, as a Chinese from Guangdong I ask for the local price but it is the same. Of course, as a foreigner I refuse to pay the exhorbitant fee and continue up the hill almost covered by the prayer flags of a chorten.



The 250 year old Bakong Printing Lamasery in Dege, Sichuan, is among the 3 most important lamaseries in the Tibetan Buddhist world. It houses over 215,000 woodblocks with ancient texts on astronomy, geography, music, medicine and two of the most important
Tibetan sutras.


Printed by hand using woodblocks and ink, Tibetan Buddhist prayer flags blow in the wind, the vibrations sailing out into the Universe to benefit all of Mankind. Kangding.


"I am going to Peiyul (Bai Yu)," says Tony. "The road follows the Chang Jiang (the Yangzi, though technically this stretch of the Yangzi is called the Jinsha or Golden Sands) which is the border between the Tibet Autonomous Region and Sichuan. Would you like to come? I must say that though we will be travelling exactly on the border, it is highly unlikely that you will be able to slip across. However, this region has only just been opened to foreigners and it is the most Tibetan area you will find inside or outside of Tibet. There could be only a handful of foreigners who have been here before us."

There are no buses to Peiyul but there are rumours of a truck going in the morning. Daybreak finds us sitting at the side of the road outside of Dege awaiting the rumoured truck. When it does arrive it is already packed with Tibetans in the back and bags of apples and boxes of Dege merchandise. There is no room for us to sit and we stand on tip-toe swaying from the canopy ribs providing comic relief to the curious Tibetans.

The road itself is mostly a rutted and pot-holed track which causes us to bounce wildly in the back of the truck but it goes through some of the most magnificent scenery that I have ever seen. The Jinsha flows alongside, sometimes through boulders producing white water, sometimes moving sluggishly in a wide riverbed. Occasionally we round a bend to enter a valley that seems primordial with deep chasms that rise to twin pinnacles towering above us.

In every tiny village that we pass through, each mud-walled Tibetan style house boasts a flower garden and flowers in the windows. Passengers and villagers chat and pass on village news in lieu of telephone conversations unmindful of other passengers anxious to resume their journey.

Despite everyone insisting that the truck is going to Peiyul, 70 km later we are dumped on the road at the intersection 30 km from Peiyul. We walk 20 km of the least travelled road in China meeting only one man with two horses and one man with a bicycle all going the other way. At sunset, too exhausted to walk further I find a field with a stupa and immediately go to sleep leaving Tony to boil his soup.

At about 2am it rains and I put on my quilted Chinese Army jacket and raincoat which keeps me warm and dry as long as I remain standing. At dawn we walk another 4 km in the rain and come to a Tibetan house by a bridge. They invite us to sit by their fire and give us bowls of yak butter tea which warms me. By western standards, the house is small and poorly furnished yet they have a colour TV and VCD player on which they proudly show us a disc of Tibetans singing and dancing prettily.

Peiyul is a border town much like Dege. To get to the lamasery we go through a lumberyard, through a schoolyard and the courtyard of a house before climbing a track leading to the prayer hall. The monks excitedly take us to the lama who explains, "They have brought you to me because I speak English. I lived in India for several years and picked up English there. You are the first foreigners they have seen so they are curious about you."

There was a landslide the previous night rendering the road out of Peiyul too narrow for the bus. Stones are still falling, rolling downhill and striking the sides of the bus. After four hours of waiting, several 4 Wheel Drive vehicles squeeze through but the road is on a river bank which is crumbling and too dangerous for the bus to attempt. A fellow passenger monk calls to me and I walk over and greet him, "Tashi dele." Blessings upon you.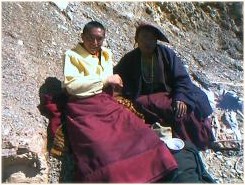 A travelling monk of the Nyingma Order, he (monk at left) generously gave me his bowl of tsampa made from roasted barley, yak butter and tea, kneaded together. Peiyul, Sichuan.

He offers me his bowl of tsampa – roasted barley, yak butter and tea kneaded into a paste – and I accept my first bowl of tsampa. It has a nutty flavour but can perhaps get boring after two days of just tsampa. In return I give him my last chondi, a yellow thread given to me by a Gelu monk for blessings. He thanks me gravely, quickly packs his few possessions and taking me by the hand says, "Let's go. We go together to Ganzi."
I reluctantly decline. "Ganzi is 200km away! How can we walk so far?"
He clasps my hand in both his, says something in Tibetan, and quickly strides away in the direction of Ganzi.

When I rejoin Tony asks, "How could you eat that tsampa? Didn't you see his fingernails?" "He gave me his food with his whole heart. How could you mention fingernails?"

Continue to part 2 of: The Sichuan-Tibet Highway: The Northern Route




North-west China: The road to Tibet - Lugu Lake | The Sichuan-Tibet Highway: The Southern Route

The Sichuan-Tibet Highway: The Northern Route | North-west China : The Silk Road | China : The Centre of the World

Journey to Shangri La: Yunnan | Journey to Shangri La: Dali | Journey to Shangri La: Lijiang

Journey to Shangri La: Zhongdian & Deqin | The Year of the Dragon
---
All credits to Jiang He Feng -Triniview.com - Education 2001