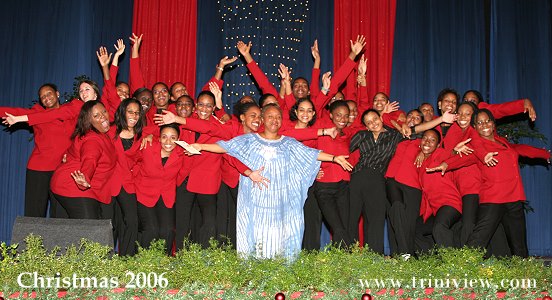 A Christmas Treat in Valencia
December 22, 2006
The Valencia Sports and Cultural Foundation presented its 'Traditions of Christmas' on Wednesday 20th December, 2006. This cultural event, which took place in the playground opposite the Valencia Government Primary School ...



Paramin Parang Festival Draws Thousands
December 20, 2006
Parang lovers by the thousands came together for the Paramin Parang Festival 2006 which took place on Monday 18th December, 2006, on the hills of Paramin. This year was the 29th anniversary of this celebration and the turn out was fantastic as usual.



Parang Champions 2006: Los Parranderos de UWI
December 18, 2006
Last Saturday, a sizable crowd of Parang enthusiasts gathered at O'Meara Road in Arima to witness twelve Parang bands compete in the National Parang Association's National Parang Finals. Scheduled to start at 8 pm, the proceedings ...



The Lopinot Heritage Festival
December 12, 2006
The Lopinot Heritage Festival took place on Sunday 12th December, 2006, to a crowd of hundreds. This event, although very festive in nature, was also an educational experience for visitors to learn about Parang in Lopinot ...



Parang in Maracas, St. Joseph
December 12, 2006
On Saturday 9th December, 2006, Parang lovers were given a treat at the Maracas - St. Joseph Community Centre. Large crowds of people assembled inside and outside the Community Centre to listen to Parang by six of the top bands ...



PoS Corporation Christmas Concert
December 07, 2006
The Port of Spain Corporation's Christmas Concert featuring the Bishop Anstey High School Choir took place on Tuesday 5th December 2006, at City Hall, Port of Spain. This concert sought to add to the Christmas spirit by highlighting ...



Woodford Square Lights up for Christmas
December 04, 2006
The formal ceremony celebrating the lighting up of Woodford Square for the holidays took place on Saturday 2nd December, 2006, in Port of Spain, to a crowd of over one hundred. The event started at about twenty minutes to six ...



Lady Hochoy Centres Christmas Concert
December 02, 2006
The Lady Hochoy Centres presented their Christmas Concert 2006 entitled "Our Gifts to Share" on Thursday 30th November, 2006, at the St. James Amphitheatre. The venue was filled with parents, friends and relatives of the children ...




Homepage | Special Events | Photo Gallery





---