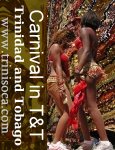 Pan Woman:
Steelbands of
Trinidad & Tobago

The Black Jacobins


Rituals of Power & Rebellion

History of the people of Trinidad and Tobago

Capitalism and Slavery
by Dr Eric Williams
| | |
| --- | --- |
| Carnival Features - Pt 2 | Related Albums |
Bertie Marshall Speaks on Pan

Bertie Marshall (1936- ) is one of Trinidad and Tobago's living icons who has made an invaluable contribution to the evolution of the steelpan instrument. Marshall, an adept pan-tunist, introduced several fixtures and accompaniments to the instrument that are evident today such as the canopy, and the popular double tenor pans....

Norman Darway Speaks on Pan

Norman Darway is one of the most informed elders on the origin and history of the Steelband/Pan. Apart from his own personal experiences during the embryonic stages of its development, Norman Darway still continues to spend much of his time researching and contributing copious amounts of information ...

Death has silenced the Commentor

Brian Anthony Honori, "Sir B" to many of his friends, was born on July 21st 1955 in Tunapuna, to Eileen and Ulric Honori (deceased). He had the normal childhood to be expected in the Tunapuna of that era, a warm cocoon with family and extended relations.

The Talented Codrington Pan Family

When Cary Codrington's childhood neighbours, Joseph and Alison Cummings taught him to play the pan under the downs tree in their back yard, they laid the foundation for a future initiator of an influential and phenomenal musical legacy. Today the family of Cary Codrington, affectionately known as 'The Codrington Pan Family' ...

Canboulay Riots

The famous and often-cited Canboulay riots which took place in Port of Spain at Carnival 1881 were in fact quite minor to the serious and widespread clashes which marred the carnival in San Fernando and Princes Town 100 years ago. Canboulay, or properly written "Cannes Brulees", means "burning cane" ...

Trinidad Carnival:
Afri-Caribbean Resistance

What is not so well known is that this colourful festival also served as a medium for resistance to white domination, particularly when one considers that the ways in which the British imposed their authority and "superiority"

The Origin of the Steelpan

Repressive acts by the colonial authorities such as the banning of the African drum and the attempts to stifle non-European cultural expressions, not only steeled the will of the practitioners of street culture, but also sent a message to the colonials that they would meet stiff resistance...

Still Going Strong:
The Legacy of the Mighty Bomber

Clifton Ryan known in the calypso world as the Mighty Bomber was born in St Georges, Grenada on 30th January 1928. His mother was a Grenadian and his father was a Trinidadian from Serraneau Road, Belmont.

Homepage | Photo Gallery | TriniView Forum | Trinicenter
Education © 2000-2005 Triniview.com