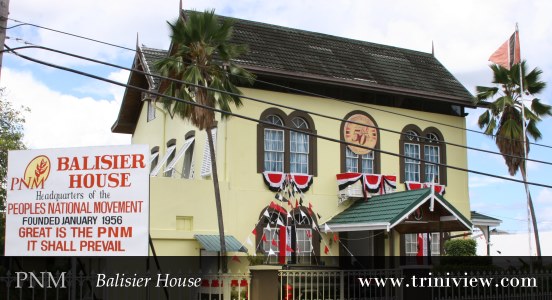 People's National Movement


PNM Women's League Annual Conference
Event Date: May 25, 2008
The PNM National Women's League 41st Annual Conference was held on Sunday 25th May, 2008, at St. John's Hall, Port of Spain, in front of hundreds of people, mainly women, who wore white symbolizing the league's solidarity.



Newly Appointed Government Ministers
Event Date: November 08, 2007
Prime Minister Patrick Manning appointed 31 members to his government team yesterday, November 08th, 2007, at the President's House.



Manning Officializes in Princely Style
Event Date: November 07, 2007
Patrick Manning received a majestic welcome from thousands of PNM supporters who ventured to Woodford Square to witness the first ever public swearing-in of a Prime Minister. This occasion took place on Wednesday 7th November, 2007



PNM Presentation of Candidates
Event Date: October 06, 2007
The 2007 election season swung into high gear as the People's National Movement (PNM) presented their candidates to the public at a rally at Woodford Square, Port of Spain. Thousands of red-clad PNM supporters braved the inclement weather...



PNM Women's League Talent Competition
Event Date: July 22, 2007
The National Women's League held its third annual talent competition at the Balisier House in Port of Spain on Sunday 22nd July, 2007. Eulalie James, First Lady Vice Chairperson of the National Women's League delivered the welcome address...



PNM Sports and Family Day 2007
June 01, 2007
Under the election-oriented theme, "Prepared and Ready", the Eddie Hart Grounds in Tacarigua was transformed into a sea of red as the People's National Movement held its 11th Annual Sports and Family Day last Sunday, 27 May 2007.



PNM's Women in Politics Workshop
April 25, 2007
On Saturday 14 April, 2007, the Minister of Education, Mrs. Hazel Manning, outlined her concern that boys are falling behind academically while mentioning that girls are outperforming boys in the education system.



PNM's Int. Women's Day Breakfast Seminar
March 07, 2007
The PNM National Women's League hosted their 4th Annual International Women's Day Seminar at the Cascadia Hotel and Conference Centre, St. Anns, on Monday 5th March, 2007.



PNM's Women's League 49th Conference
September 13, 2006
The PNM's National Women's League 49th Annual Conference took place on Sunday 10th September, 2006 in the Assembly Hall at the Chaguanas Junior Secondary School.



The Re-launch of PNM's Website
August 15, 2006
The correct and swift propagation of information was the recurrent theme in the re-launch of PNM's website on Tuesday 15th August, 2006. This website was said to be an improvement ...

The People's National Movement in pictures:
http://triniview.com/gallery/main.php?g2_itemId=100910




Homepage | Carnival | Special Events | Photo Gallery





---