Party 67 for Posse 67
Commemorating International Nelson Mandela Day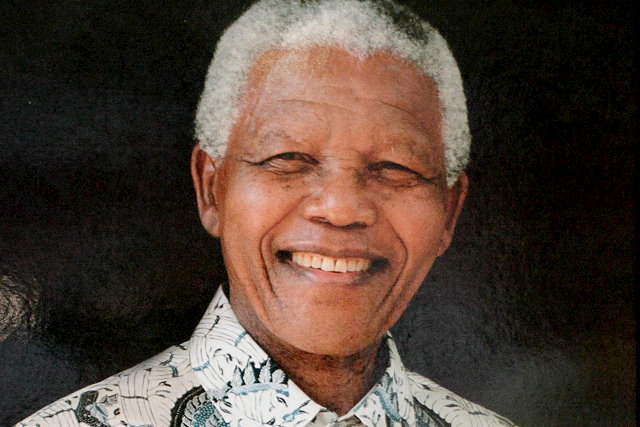 Nelson Mandela
By TriniView Reporters
Event Date: July 20, 2014
Posted: August 02, 2014
On July 20th 2014, Mr. Rowland Hopley hosted a black and white event at One Woodbrook Place, in part, to commemorate International Nelson Mandela Day which falls on the former South African President's birthday. Guests began to arrive at 6 p.m. and relaxed alongside the swimming pool which reflected the beauty of the Trinidadian sunset in brassy tones of gold. Soft music floated in the evening – a mixture of calypso and South African rhythms – adding to the relaxed ambiance of the event, which had been dubbed "Party 67." As black and white balloons drifted in the light wind, tethered on matching ribbons, food servers paced among the guests offering an appealing selection of delicious pastries and savories.

Tricia Moorley, Mario Pereira, Dr Marcia Greene, Rowland Hopley and Beverly Gilalta
Mr. Hopley, a South African diplomat attached to the Embassy and host for the evening, chatted lightly about the holiday, pointing out that it is one of the few holidays on the United Nation's calendar. He explained the significance of Party 67:
The Nelson Mandela Foundation has started a movement where individuals across the globe are asked to volunteer sixty seven minutes of their time in recognition of the sixty seven years of public service that Mr. Nelson Mandela gave to the struggle for freedom in South Africa.

Guests at Party 67
He added that the struggle for freedom was not confined to South Africa; it had a much wider impact in the global community since this struggle was not just for the freedom of South Africa but for the freedom of all people. It was, he opined, a struggle for Human Rights.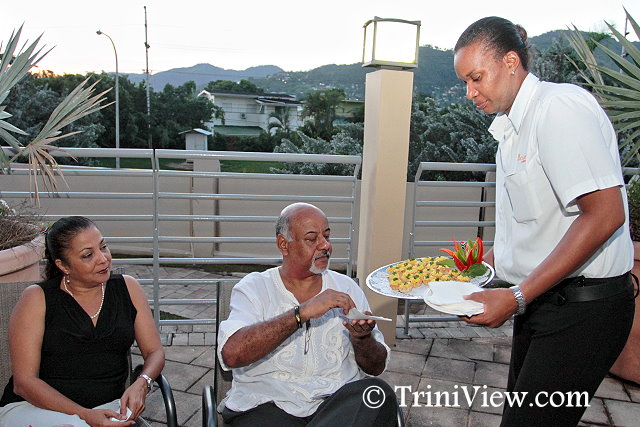 Wendy Imamashah and Paul Brathwaite being served at Party 67
Sixty seven minutes of volunteerism towards one's community is what was requested and it was from this that the idea for Party 67 was born. Mr. Hopley said that the idea then came to him that interested persons could donate $67 at the event which would then be donated to the Yahway Organization, in Buccoo Beach Tobago. This organization works with children by assisting with homework and teaching environmental awareness but they also outreach to various parts of the community, working with the elderly, teaching adult literacy, crochet and knitting. However, he still wanted to do more and after thinking about the matter he realized that Trinis liked 'posses.' From this, came the inspiration for Posse 67.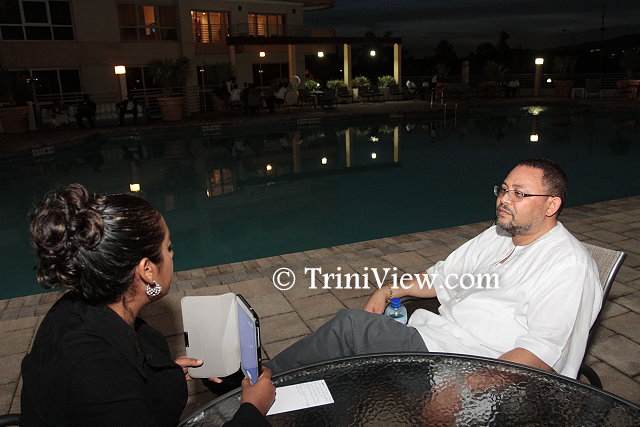 Rowland Hopley being interviewed by Triniview reporter
According to Hopley, Posse 67 would be a collective of like-minded volunteers who would embody the hallmark of the spirit of International Nelson Mandela Day: all involved would strive to make the world a better place. These individuals would assist the local community by offering freely of what simple skills each person has to offer. Mr. Hopley further added:
Cookies could be made by someone who knows how to bake a cookie and donated to someone who has never seen a cookie. Lessons in cookery can also be offered by those who could cook to those who want to learn how. Blankets can be crocheted and donated to someone who needs a blanket or likewise, someone can be taught how to crochet. Such small efforts could be made to ensure that the world can be incrementally improved through community service. It's about opening ourselves up to possibilities, the greater the collective, the greater the possibilities and the greater the outcome to be had from the possibilities.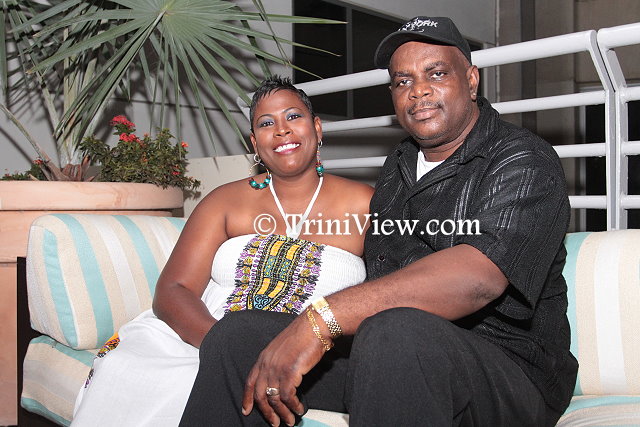 Alicia and Alford Allen
The idea had already attracted enthusiastic support with some of the event's attendees signing up for membership.
As Party 67 proceeded under a nighttime sky, a sumptuous dinner was served buffet style and the atmosphere was undeniably collegial as guests mingled over glasses of chilled, red and white South African wine, admiring the contrasting décor. Beverly Gilalta, accountant for the South African Commission explained that the black and white color scheme was chosen to show unity because South African is racially both black and white. Thus, the two colors were combined to show that two opposites can come together for a common good.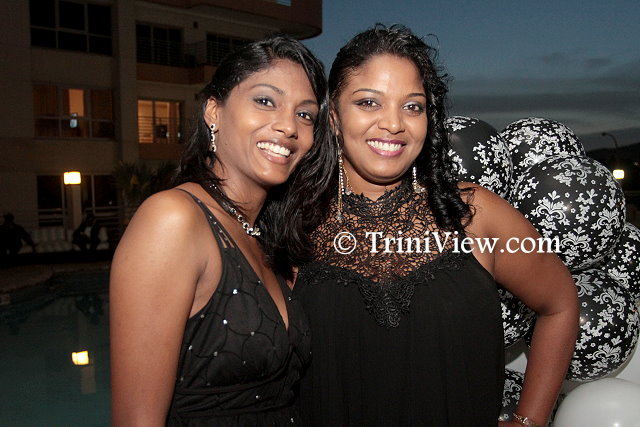 Charlotte Baccus and Shianna Pereira
Indeed, this idea of reconciliation seemed near the thoughts of many at the event. Mr. Edward Marx of Arouca praised Nelson Mandela's survival and commended him as a leader to Africans around the world. He mused that the recent renaming of the King George V Park after Mandela would certainly create a heightened awareness of his legacy. Mr. Sylvester Paul of Barataria shared similar sentiments, adding "His history ought to be taught. He seems to have been a humble person and after coming out of prison and forgiving his aggressors, this act of forgiveness seems to be an integral part of his life. His legacy will live on and the world should cherish it . . . his forgiving attitude, his peacefulness, his national dedication and foresight. Naming a park after him is an asset to the youths coming up, it will allow them to learn about Nelson Mandela and his legacy. Children going to the park will say 'I'm going to Mandela Park,' and the question would then be asked, 'Who is Mandela? Where is he from? What he did?' This is how they get to understand who he is and what he is all about."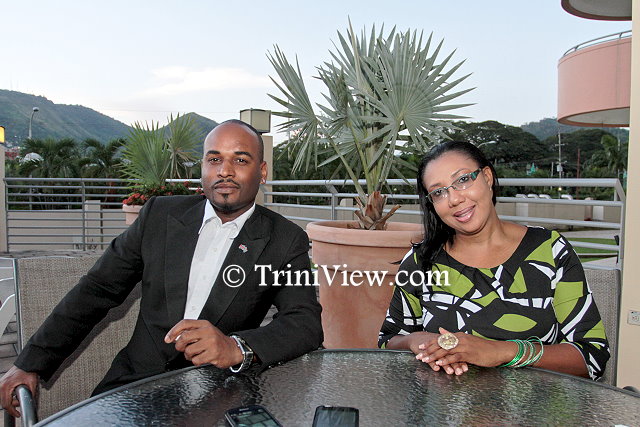 John Campo and Stacy Perez of the Trinidad Hilton
Mr. John Campo, the Food and Beverage Supervisor of the Trinidad Hilton and Ms. Stacey Perez, Food and Beverage Manager of the Trinidad Hilton were also guests at Party 67. Mr Campo noted that Mandela's struggle for human rights was not merely a South African issue but a global one. He further stated that despite the many roles he played in his life, it seems that he never lost the values he learned from his grassroots beginnings. Therefore, naming a park after him is apt since it trademarks a space for him in our national community for what he achieved in the struggle for freedom. As to the negativity from some parts of the national community with regard to the naming of the park, Ms. Perez assured that this wasn't necessarily about Nelson Mandela but rather, a reflection of how the bureaucratic process allowed for the public to be excluded in the decision and this was the cause for the outcry.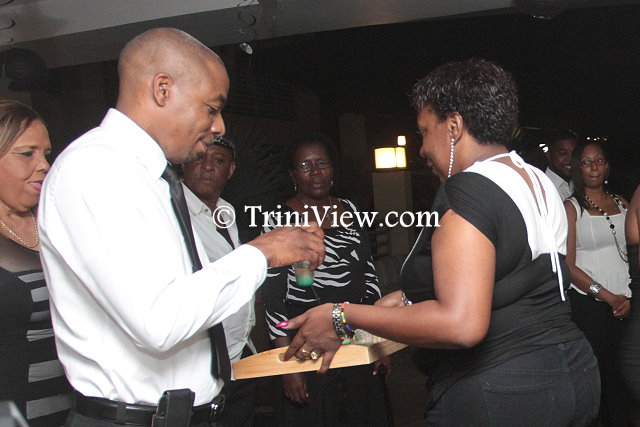 Guests being served Springbok
A traditional South African toast of springbok was given by Mr. Hopley later in the evening. Springbok is a South African drink made with crème liquer. The beverage is made from the amarula fruit and crème de menthe, served in a shot glass and is meant to be taken as a single shot. In his toast, Mr. Hopley thanked the people of Trinidad and Tobago, explaining that he had learned over the last few weeks what contribution locals had made particularly through the art-form of calypso to the South African struggle for freedom. He stated that even though South Africa did not hear the music, the fact that the music was being played meant that the voice of their struggle was heard. Door prizes were also awarded to several of the guests amidst jovial banter from the crowd.

Dr Marcia Greene presents one of the door prizes to Stacy Perez
As the evening drew down, guests discussed the idea for Posse 67 and shared their views on the global legacy of Mandela. Rhana Sankar of Morvant commented that the evening's event was very interesting and informative. Apart from educating about the struggle in South Africa through Mandela's efforts, she found that the idea for Posse 67 was a great idea which promises to educate the young and help them by getting them off the streets and giving them something to look forward to. Marcia Greene from New York also lauded the idea for Posse 67 as an awesome one and expressed eagerness to get back to New York and attempt an implementation of Posse 67 in her community-oriented work sphere. Mr. Hopley's own interpretation of Mandela's legacy, was simply this: "The knowledge that peace is possible, change is possible irrespective of what the situation is. Race does not have to divide."
Party 67 hosted by Mr. Rowland Hopley in pictures:
www.triniview.com/gallery/main.php?g2_itemId=766811