Cubes in Space 2014 Awards Ceremony
By TriniView Reporters
Event Date: September 26, 2014
Cubes in Space Awards Ceremony 2014 in pictures
On September 26th 2014, Trinidad and Tobago was the host of the Cubes in Space awards ceremony which was held at the residence of the Canadian High Commissioner in Fairways, Maraval, to celebrate the victors of the competition and to launch the 2015 programme. The results of this competition, which is an initiative of the internationally renowned Canadian firm idoodlesoftware inc., revealed that North Gate College of Trinidad and Tobago was its winner. This victory, the first of its kind for the Caribbean region, was even more remarkable since the school had only learned of the programme some two weeks before its deadline.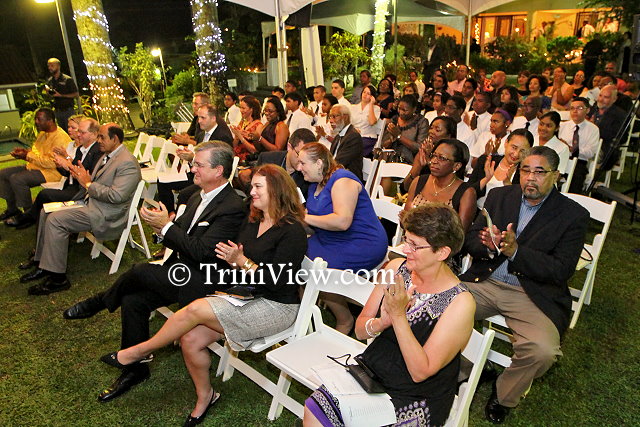 Cross-section of the audience at the Cubes in Space awards ceremony
The evening's assemblage of luminaries celebrating the school's achievement included the Trinidad and Tobago Minister of Education Dr. Tim Gopeesingh, NASA astronaut and feature speaker for the evening, Dr. Roger Crouch, Chief Executive Officer of idoodlesoftware inc. Mr. Robert Sowah, Executive Director of BrightPath, Mr. Bevil Wooding, Managing Director of Flow, Mr. Brian Collins, Ms. Frances Seignoret, Deputy Permanent Secretary with the Ministry of Foreign Affairs and the founder and Chairman of North Gate College Dr. Noel Woodroffe to name a few. The event was well-attended as the winners of the competition, along with their parents, teachers and principal were on hand to receive their awards.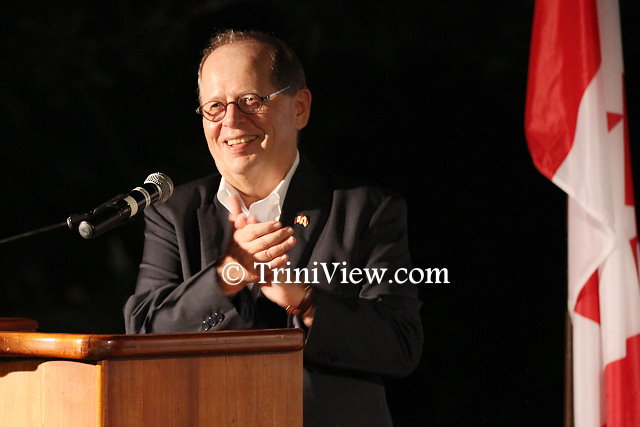 His Excellency Gérard Latulippe, High Commissioner for Canada to Trinidad & Tobago
The High Commissioner for Canada to Trinidad and Tobago, His Excellency Gerard Latulippe was pleased to welcome all to this historic occasion and spoke warmly of North Gate College students' accomplishment. The school had emerged as the winner of a global competition and, in so doing, had also drawn the attention and accolades of the international aeronautical community with their innovation. His Excellency recognized the CEO of idoodlesoftware and his staff, commending them for the educational software that is now global, saying,
"Their specially designed curriculum and software has paved the way for students around the world and particularly for the students of North Gate College to design and compete for the chance to launch their experiment in space and this is remarkable."
He continued:
"It is premier Canadian educational software that has gone global. Steve Jobs once said, 'Innovation distinguishes between a leader and a follower.' It is innovative ideas like Cubes in Space that will drive innovation in the future, creative innovation solutions of idoodlesoftware that will bring creativity in the classrooms and will change the way educators and students experience learning. The future of the classrooms has to be fun and full of passion. The company has made enormous strides with its impressive array of products and its products have [even] been placed on the Space Station. It is a privilege for Canada to congratulate the students of North Gate College for winning the award."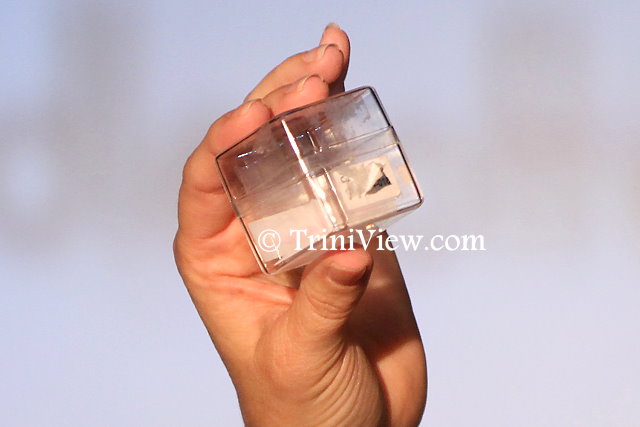 The 40mm cube: the winning design of the 2014 global Cubes in Space science experiment
He further disclosed:
"The design was described as quite spectacular and has been noted by the professionals at NASA. Their success will serve to encourage more youngsters to take part in the Cubes in Space programme. The programme is an example of how science and technology can be used to expand horizons. It is also hoped that the students of North Gate would consider continuing their education in Canada in the future."
He articulated his delight at the opportunity to support the Cubes in Space initiative, noting, "Partnerships are key to successful ventures and support from groups such as Columbus and Bright Path foundation also makes ventures like this possible."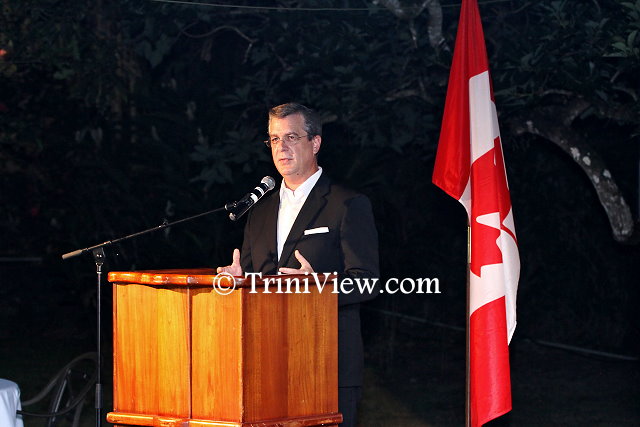 Mr. Robert Sowah, Founder and CEO Chief of idoodlesoftware inc. delivers remarks
When the CEO of idoodlesoftware inc., Mr. Robert Sowah first approached the Canadian Embassy, he didn't disclose the enormity of the project. As founder and CEO, he has over 30 years' experience in software development and his educational software can be found in schools in several countries. When he took to the stage, he elaborated on the success of the North Gate College students:
"Dedication, teamwork, professionalism and a sense of wonder are the four cornerstones that build, not only a good company, but extraordinary individuals. Those are the traits demonstrated by this fine group of students and teachers. What I want to do is that I want to tell you what we've learned from these incredible students from North Gate and from the other students from the Cubes in Space programme from around the world: the wonder and excitement of exploration! You saw it in the eyes of the youth and you saw things differently through their eyes. The programme that our Chief Education Officer designed was one that did not tell the students the answers but gave the students the tools and explained on how to question and analyse the task that's in front of them and that kick started their curiosity to go and explore. Cubes in Space is a unique programme in the world, giving students eleven to fourteen the chance to learn skills and new ways of approaching problems; to develop experiments in space flight, and all of this at no cost to the schools or to the students. It was designed this way so that students from around the world from any socioeconomic background could compete on a level playing field and it was a very successful programme. Experiments from the hundreds of [countries] around the world . . . from the effects of light on a marshmallow, to the self-contained biosphere, to the design that we're here to award tonight."
He further explained that the award was given to the North Gate students' design which showed "the effects of an ionosphere on a coil and the potential to generate electricity which would be possible for future flight of powering small satellites. Their experiment was to see if you could generate electricity flying through space." He lauded their efforts and pointed out, "Trinidad is very proud of them."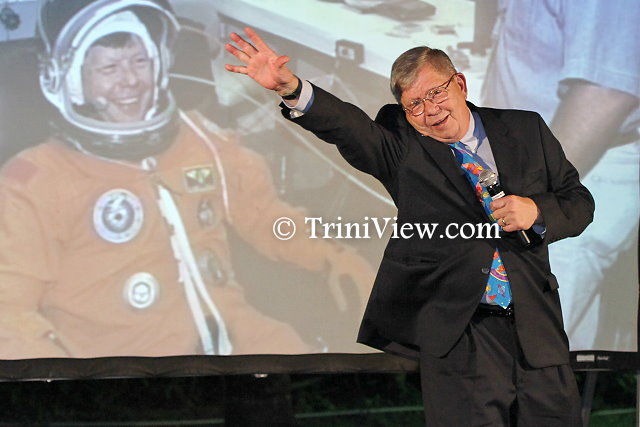 NASA astronaut, Dr. Robert K. Crouch delivers the feature address
NASA astronaut and Payload Specialist Dr. Robert Crouch echoed those sentiments. In his address, he chatted easily about his experiences as an astronaut and he treated the gathering to a lively discourse on how he came to be interested in the field of aeronautics. He also described the challenges that he overcame to achieve this dream. Dr. Crouch joked that the students could one day start "The 100 Year Old Man on the Moon" programme so as to give him another opportunity to travel into space. He encouraged the awardees, noting:
"We're here to honour these students who have submitted this unique proposal and I mean it's totally unique. In all the years I've been working in NASA, I have seen hundreds of proposals that students have, like the effects of space on a marshmallow or a cookie and things like that, and didn't show the hard work that the students did before their proposal and didn't show the persistence that they made in doing the exploration. I also want all of us to realize how important exploration is to all of us. We're all born as innate explorers; when you bring a child into the world, they don't know how to talk, they don't know how to walk, they don't know how to do anything and so they start exploring and learn that there's value to this exploration stuff. In some cultures, when children get to be six to eight or ten years old people start to say 'that's not good enough,' 'you failed,' 'you didn't do it right,' 'you can't do that anymore,' and the ones that resist that input, and continue to explore, increase the quality of life. If you look at all those people who've taken chances in their life, they've explored an area that was unknown to them and they were willing to take that chance. And by taking that chance, they improved the quality of their life; they improved the quality of life for the people around them. So all of you, be an explorer. NASA has a saying, 'failure is not an option; failure is only a failure if you quit.' If you don't quit, then what failure is, is a lesson learned, and you can move forward with that and it's a step in your exploration to help you get to where you want to go."
He went on, "What the Cubes in Space programme is, mostly, it's an exploration programme." He declared that of all the proposals submitted in the world, the ones submitted by the North Gate College students were the best. He added:
"I got to tell you, that is a very high accomplishment. I salute them and I hope that they understand that. He also advised, "The lesson I've learned in my life is that you have to take risks and you have to ask questions; don't be embarrassed. You never learn unless you ask questions and it's not embarrassing. I once heard someone say it's not a sin to be ignorant; it's a sin to stay that way. Be flexible. The first idea is not the only idea in the world. And have responsibility; take responsibility for your life not from where you came but from where you are and where you can go. That's the way you're going to move forward; and forever be persistent. Never ever give up, just keep trying and trying and trying. Don't try to do things just to impress other people; do things because you think they're right."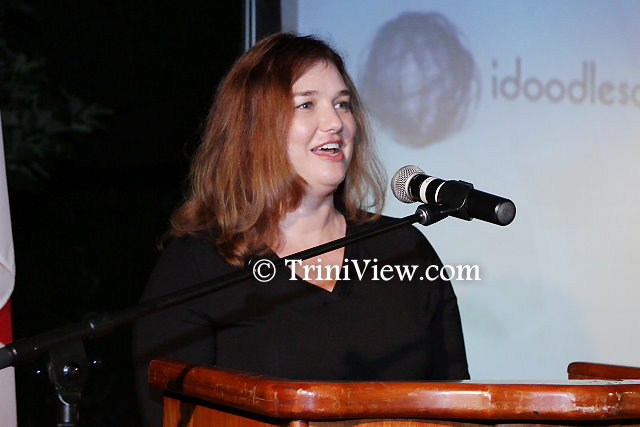 Amber Agee-DeHart, Founder of the Cubes In Space program delivers remarks
Amber Agee-DeHart, Chief Education Officer of idoodlesoftware inc. then took to the podium and conveyed gratitude to Mr. Bevil Wooding, Executive director of BrightPath for his support in this venture. She then commended North Gate College teachers Janelle Ruby and Ruth Rudden who had stood as advocates for the programme, recognized the uniqueness of this special opportunity and understood that the students were capable of rising to the challenge. She acknowledged, "I was the one that reviewed all of the applications from around the world and honestly, what you all need to understand is that you can really do anything. You rose to this challenge beautifully and the quality of work and what you submitted, it so far surpassed anything that I saw in my home country. You raised the bar so high for the next round of students; this is a tough act to follow. Another thing I wanted to bring to you: the other engineers that I've worked with were so incredibly impressed with your experiment because you did really look at something from a unique perspective and we had never thought about that. It was a great idea. This evening, this celebration, is the end of your beginning and we truly, truly want to see what's going to come to you next. We're most excited. So with that, I'm happy to announce the 2015 programme for the Cubes in Space."
She continued, "Your experiment was so beautifully designed and I understand that you all had the opportunity to learn how to solder and to really learn the art of configuration." She shared, "What they submitted was in a 40mm plastic cube. This experiment that they designed – the sheer ingenuity and innovation – this is what they had to fit their experiment into. And they had to understand the sheer forces that were going to be acting on it this way and to survive the sheer shaking as it launched and its return back to earth. This design was so elegant and so perfect, it fit in here and it survived the trip."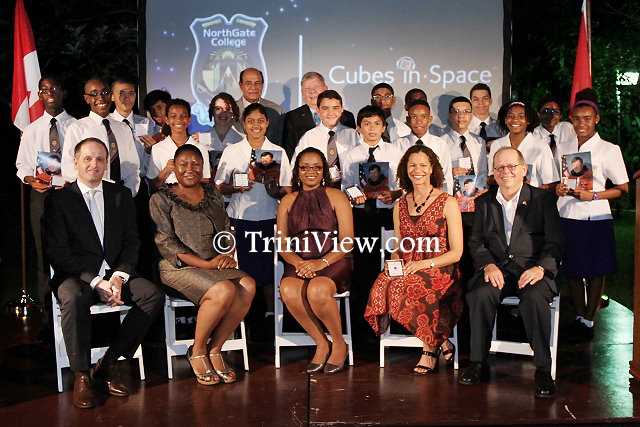 Northgate College students and teachers, winners of the 2014 global Cubes in Space science experiment design contest
The presentation of awards commenced after her address with Dr. Crouch presenting each recipient with a signed lithograph and a coin that flew with him on his mission in space. The North Gate College recipients of the Cubes in Space award were as follows:–
1. Shanade Ali
2. Jenae Edwards
3. Daniel Harper
4. Phillip Janes
5. Zachary Joel
6. Deron Khelawan
7. Charise Laveau
8. Nicholas Maharaj
9. James Mohammed
10. Arendel Owen
11. Brian Ripoll
12. Shaniah Rudden
13. Sebastian Rudden
14. Conrad Taitt
15. Ethan Wilson
16. Brandon Wooding
17. Chaela Wooding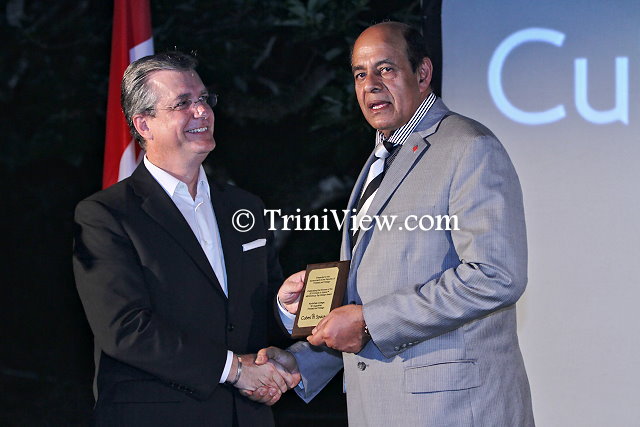 (R) Dr. Tim Goopeesingh accepts a congratulatory plaque from Mr. Robert Sowah
Thereafter the Minister of Education, Dr. Tim Gopeesingh took to the stage and offered his thoughts.
"It is important for me to celebrate with our brilliant students and to express my gratitude for their victory and the award that they have received this evening, and for yet another time this year we see the excellent achievement of Trinidad and Tobago's youths. This year we had the best performance ever in the education system in the history of Trinidad and Tobago in all three examinations – the Secondary Entrance Assessment (SEA), the Caribbean Secondary Education Certificate (CSEC) and the Caribbean Advanced Proficiency Examination (CAPE) examinations – and it has really been an unbelievable year. It is said that excellence can be obtained if you care more than others think it is wise, risk more than others think is safe, dream more than others think is practical, and expect more than others think is possible. My dear children, you are being awarded here tonight and I wish to express my sincerest congratulations to you for your achievements, and know that you have made us all proud, especially in the tradition of accomplishments this year with the students of every level. It is times like these that we become inspired. I want to congratulate the teachers and the parents and, of course, the Principal of North Gate College for encouraging our students to move into that realm of science. We thank all our sixteen or seventeen thousand teachers and the thousands of parents and our principals for their dedication to their students so that we can bring about such achievement here today. Your Minister stands proud with you and will continue to stand with you and encourage you along the way."
Mr. Gopeesingh then accepted a plaque from the Cubes in Space programme on behalf of the country and its students.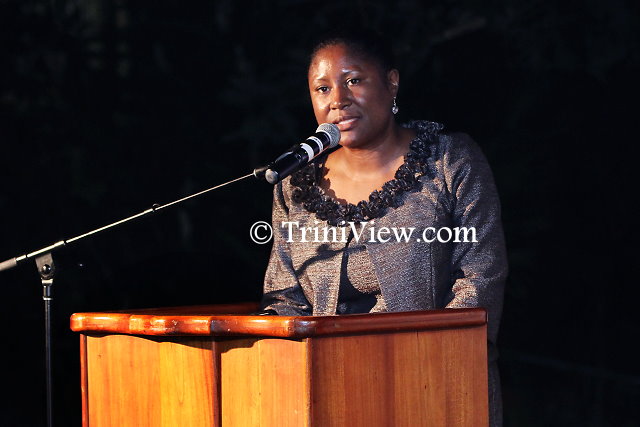 Northgate College Director, Yoland La Pierre delivers remarks
The Principal of North Gate, Yolande La Pierre, then addressed the audience:
"For us, the success of the North Gate College in the Cubes in Space programme 2014 is a story of exploring and learning. It is the beauty of allowing our children to dream in the safety of community. The lasting lesson for us from Cubes in Space 2014 is the value of helping our children to become critical thinkers, to take them beyond the curriculum and allow them to apply their fertile minds to real issues in the real world. We have to let our children know that they are not limited by their geographic context; they are not limited by the physical resources that they have; they are limited only by what they allow themselves to see as the things that seek to hinder them. Inside of North Gate College and inside of our wider national context, we want to let our children know that you are not to be limited except in those things God says you are not to do. Our children have learnt to be better persons as a result of the hard work, the diligence and the thoroughness they had to develop to emerge as the winners of this global Science, Technology, Engineering and Math (STEM) competition. Our children must not be taken lightly, try them, stretch them and they can come up with amazing things like what they did for Cubes in Space. So we really want to thank idoodle, Rubric's Learning, the Waldorf Space Academy, Columbus Communications and all the partners for allowing our children this opportunity to show that what they can accomplish in the right environment with something that is lasting and something that will have a real impact on the world."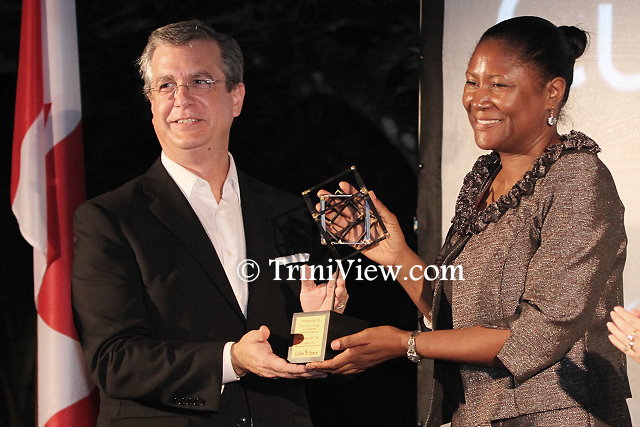 Robert Sowah, Founder and CEO of idoodlesoftware inc. presents the first ever Cubes in Space Award to Northgate College Director, Yoland La Pierre
La Pierre then accepted the Cubes in Space award which was announced as having particular significance, not only in its presentation because of the efforts of the students, but also for the fact that it is the first Cubes in Space award to be given.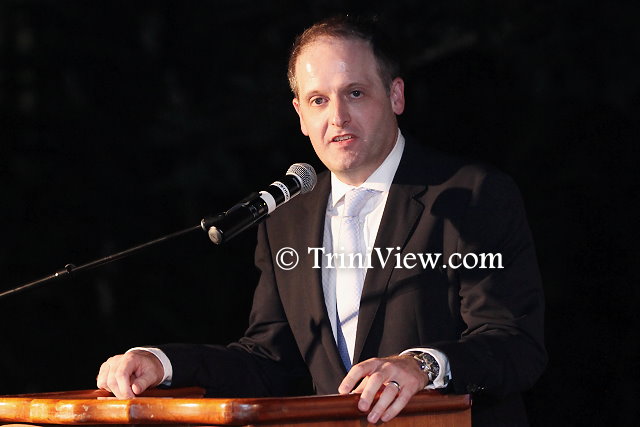 Mr. Brian Collins, Managing Director of Flow also had a few words to share
Mr. Brian Collins, Managing Director of Flow also a few words to share: "Columbus Communications is thrilled to be a part of this very special occasion to honour these very special young Trinis and their teachers and North Gate, who, with their contribution to an exciting competition, have put Trinidad and Tobago firmly on the map." He noted that North Gate is one of the newer secondary schools in Trinidad and Tobago, yet had made a mark that would put it in the ranks of the more established schools in the country. The importance of technology in achieving this monumental milestone was not lost as he went on, "Columbus is committed to facilitating programmes which are directed towards youth development and we've been involved in many types of these initiatives since we've arrived in the Caribbean. We have a programme called the 'Triple A' programme which is Aim, Aspire and Achieve. In the last four years we've actually connected four hundred schools free of charge, offering them free internet and our goal is to connect the remaining two hundred within the next twelve months so we take this very seriously. To the awardees at North Gate, you are an inspiration and you're already a success. You're the very first people in the entire world to achieve this. So take that and build upon it. I'm quite certain that this is going to be the first of many dreams which you will achieve. It would be remiss of me to not thank the teachers and the parents for the tremendous support for all the children and I think that your hard work and passion has not gone unnoticed. So I thank you very much for that. I'd like to congratulate the winners again and I would like to take a quote from the first Prime Minister of this great nation who said 'The future of this nation is in your schoolbags.' I would agree and say, yes, that's true. And I'd like to add a little bit and say that the future of the nation is contained not just in the schoolbag but in the inspiration and the opportunities that you receive that are all around you and how you apply to contribute to these developments of yourself and by extension Trinidad and Tobago."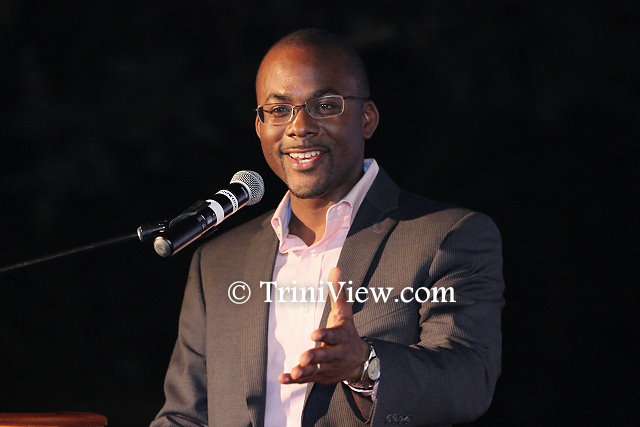 Mr. Bevil Wooding, Founder and Executive Director of BrightPath Foundation delivers remarks
Chief Knowledge Officer Congress WBN, internet strategist with Packit Clearing House and one of the seven people in the world entrusted with the key to the internet, Mr. Bevil Wooding, also weighed in. He congratulated the students for their achievement and observed that they had done something extraordinary. He then hailed the power of partnerships which had taken place to allow for this achievement to occur. "Only together, only when we collaborate, only when we believe in the essence and the power of the intangible that is so often forgotten, the intangible of trust, the intangible of sharing, of creativity set alight by the right environment that we can accomplish the things that we know we can do."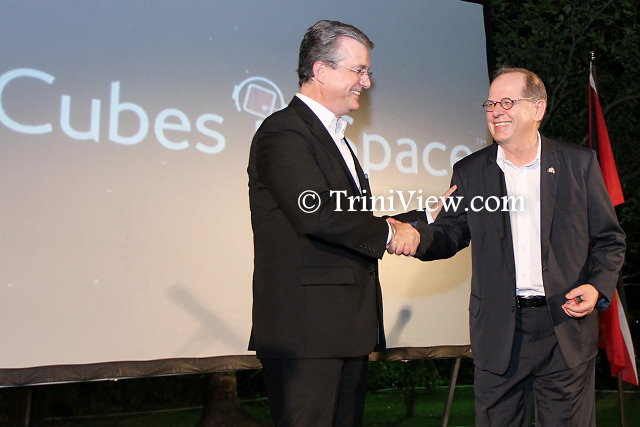 Mr. Robert Sowah, CEO of idoodlesoftware inc., presents token of appreciation to His Excellency Gérard Latulippe
His Excellency Gerard Latulippe was then presented with a token of appreciation from the idoodlesoftware inc. for his support in this venture.
The students showed their joy with the success of their venture. Arendel Owen, aged twelve, was one of the North Gate recipients. He felt that the award meant a lot to the people of Trinidad and Tobago because, "It shows what young people can do. These days, they don't say good things about young people but it shows that we actually have some [good] potential." He shared that his parents were very happy when they heard about his achievement and his mother was there that evening to witness her son receive his award.
Form four student Charise Lavea, aged fourteen, shared that winning the award was, "Eye-opening because you wouldn't think that such a small country could win such a big award on a global scale." Charise also joked that when her parents learned about the success of their entry, they teased her about being a celebrity but they were, in fact, very excited and proud of her.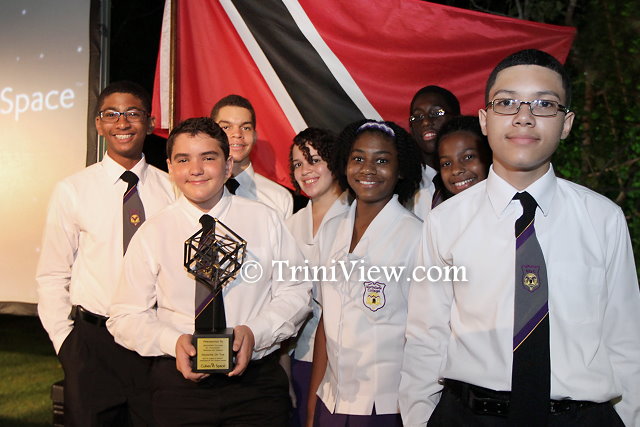 Students who participated in the venture
Shaniah Rudden aged twelve of Form three spoke about the encouragement that the students received from the school. With the added impetus from her mother, Mrs. Rudden, she decided to take part in the programme. Said Shaniah, "I thought we were doing it and that it would be a fun experience." When she learned that they had in fact won the award she thought that it was wonderful since, "it was an opening for Trinidad because Trinidad never thinks that it can do anything. Some children in my class said some Japanese place might win it; but we won it. And that means that it might give, in Trinidad, more encouragement, and it might encourage more schools to enter more global competitions."
English-born Giddings James, Form four student aged fourteen admitted that he was attracted to the project when he first learned of it because "I have an interest in space; I have an interest in rockets." He likewise expressed astonishment at their win. He explained, "I was very excited and quite surprised as well. I heard there were schools in the United States that were doing it and I was sure one of them might win because they would have had access to better equipment, but apparently they didn't." He also shared that he was finding his Trinidadian experience to be "nice" and confessed that he liked the climate.
Kayla Wooding, Form two student aged twelve, expressed excitement at her achievement.
"It's the first time I've ever won something and this project was both fun and important to the college and to Trinidad and Tobago. It was important to me because it was important to my school. My brother also took part in the project and my parents were both happy and excited when they heard that we'd both won." Her advice for anyone wanting to participate in any such programme was, "Don't give up; nothing is too big for you if you just focus on it."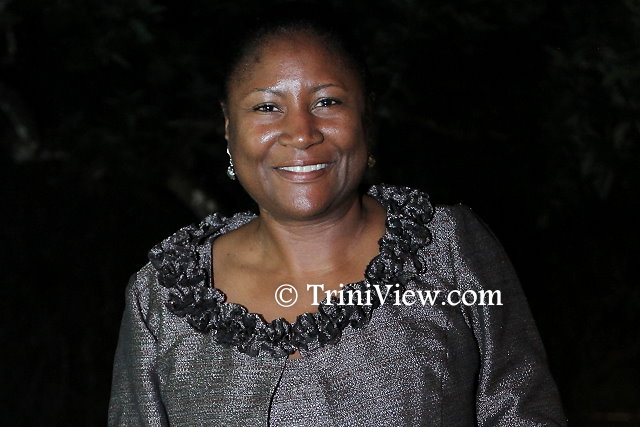 Ms. Yolande La Pierre, Principal of North Gate College
Ms. Yolande La Pierre, Principal of North Gate College took the time to discuss her thoughts on winning the project:
"I talk about it being a validation of what we always tell the children: you are not to be limited by your geographic context, by the resources that you do or do not have. Winning an award like this shows that with the little that you have and the right application you are able to make a large impact on the world. Sometimes as West Indians, people tend to think that only good things can come from outside of our region and outside of our territory. So for me this is a very, very important stamp that was put on the children to let them know that you are young, you come from a region of the world that not everybody knows but you can make a significant impact."
She acknowledged that it was not always easy for the children who engaged with the project:
"It was difficult in one sense because we got the information a lot later than people in other territories. When the Ministry of Education sent it out, it was literally about two weeks before the deadline. It meant that it was very intense. The teachers who worked with them, Mrs. Rudden [and] Mrs. Lupey, did a tremendous amount of work in organizing and getting material for the kids to be able to read to understand what STEM meant. And the children themselves, they just took to it like ducks in water. They gave up their lunch times, they stayed back after school, they went home with stuff they had to research and came back the next day . . . so it was very intense; but I wouldn't say difficult as insurmountable. I think it should inspire all other persons who may have limited resources to say, "You know what, my resources are really not an indication of what I can achieve." We often use the phrase 'putting Trinidad on the stage.' I don't know if we can say that because I think we have been on the world stage long enough, but we just have to recognize the importance that we have. I mean, we live in an age of globalization which literally means that you don't need a lot but you can have a bigger part. So that is the message that I think it should have for every Trinidadian."
She also offered this advice for teachers:
"Look for opportunities to carry your kids beyond the curriculum. Don't teach to the test; don't get so bogged down in, 'we have to make distinctions in CXC,' that we forget about these activities that can help our kids to really be prepared for life. And that's what this project was about; it was about finding a real life solution and thinking big and dreaming big beyond, 'Let's do something for Trinidad and Tobago.' Instead, let's design something that can go into space. So I would want our teachers to relax the boundaries of the curriculum and give the children the chance to really dream big and come up with things that can really be amazing."
Cubes in Space Awards Ceremony 2014 in pictures:
www.triniview.com/gallery/main.php?g2_itemId=775624