NACC Generation Next Calypso Tent Judging Night
By TriniSoca Reporters
Event Date: January 25, 2015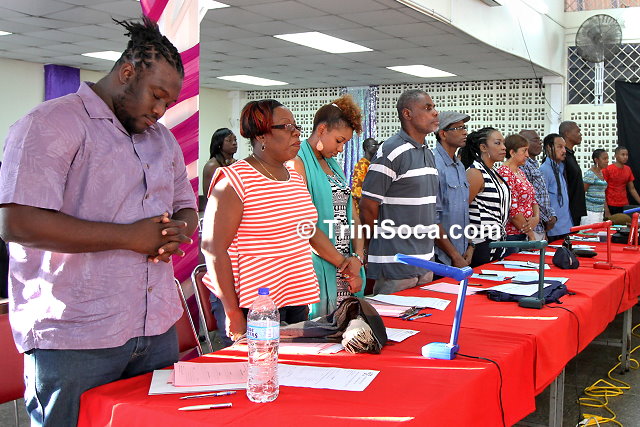 Judges
On Sunday 25th January 2015, the National Action Cultural Committee (NACC) hosted its Carnival Calypso Competition at the National Union of Government and Federated Workers' (NUGFW) building, Union Hall on Henry, Port of Spain. The live band of eleven musicians and the youngsters came out to represent in musical splendor as kaiso lovers began to arrive dressed in their Sunday best as early as an hour before the scheduled 5.00 pm commencement. The animated chatter amongst the patrons belied the competitive nature of the evening as the competitors assembled in readiness for the competition. The Generation Next Calypso Tent differs from the other tents in that it provides a platform for up and coming artistes to make a stand, seeking to groom and nurture them in preparation for the Big Yard.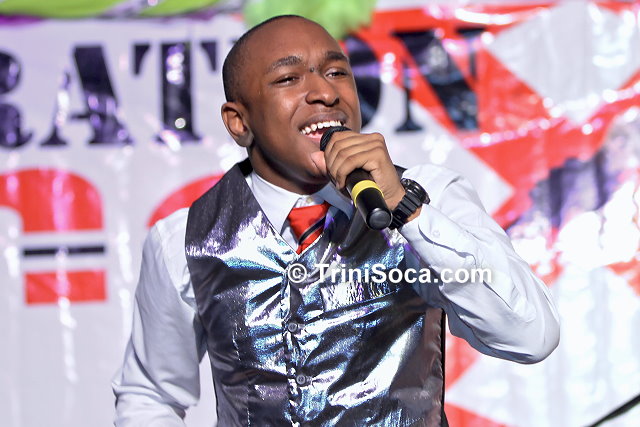 Ezekiel Yorke performs "Equality"
As the audience milled sociably, twenty-one year old Ezekiel Yorke of Petit Valley was there preparing to perform. He chatted lightly, explaining the inspiration behind his composition, "I'm analyzing the concept of social justice, inequality basically among different societies, among different groups." He chose to use calypso as his artistic medium, "Because I know that the definition of calypso is a conversation in song. Calypso traditionally has always been a way in which if anything were to happen in Trinidad and Tobago those who are in the realm of calypso would always convey or convert whatever news was there and broadcast it in song and that is what they relate musically to the audience." His own need to relate likewise is what he explained brought him to the Generation Next Calypso Tent.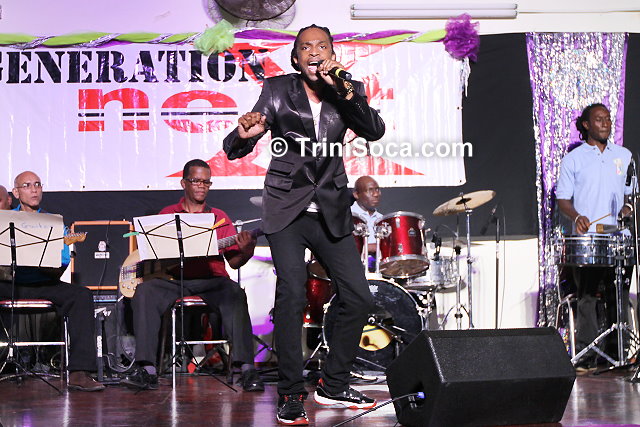 Jerry Dane 'Jadee' Sellier performs "Don't Trouble Trouble"
Another performer on hand was a Young King's Finalist, Mr. Jerry Dane Sellier aka 'Jadee'. He too affirmed his love of the art form and explained that he wanted his own composition to stand as, "a reminder to this generation of the old sayings like local proverbs that we grew up on," as an encouragement to the youth. He continued, "When I look at this generation and I just see that we grew up with a sort of a covering, with a responsibility, we were accountable to somebody, even if it was a stranger down the road and we might be doing mischief in the road and somebody will say "ay ay, don't trouble trouble cuz trouble will trouble yuh." He clarified why calypso was his medium saying, "Well it's part of my culture. I do calypso to soca to gospel like the positive and inspirational so that's my forte but around this time I think it's a good opportunity for me to spread a positive message. And because we are Trinidad and Tobagonians this is our music, so I choose that." He further lauded the tent for its positive mission, stating, "It's an excellent platform, just the name, Generation Next, to encourage the generation of now. The music has a beginning and gives a unique platform to come and express ourselves through calypso and not only in dance but in different parts of the art form."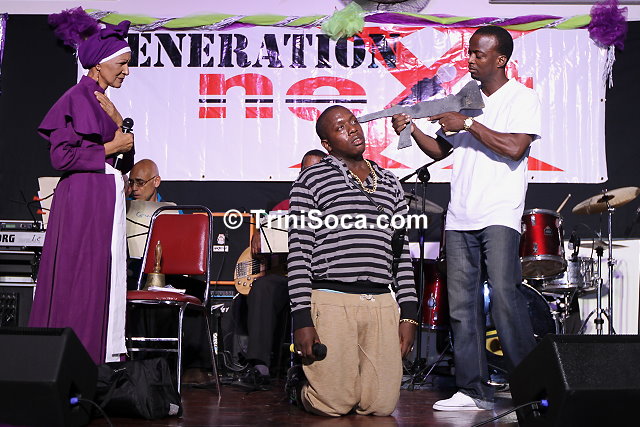 (Center) Arnold 'Jaw D' Jordan performs "Dis Is My Life"
Mr. Arnold Jordan aka 'Jordy' has been performing for at least 17 years. This native of Sangre Grande, who considers himself a stalwart of the arts since he has also competed in The Chutney Monarch Competition (where he placed 5th), Digicel Rising Star and the Synergy Chutney Star, to name a few, has said that his attraction to the Generation Next Calypso Tent was "the love of the art itself, I love calypso. I don't only sing it, I write it also. I write, I sing, I act, I beat drums, I play pan with Neal and Massy All Stars. I have been the reigning [Calypso] Monarch in Arima, Grande and Cumuna." This year he is also set to defend the Sangre Grande Calypso Monarch as well as the Cumana Calypso Monarch.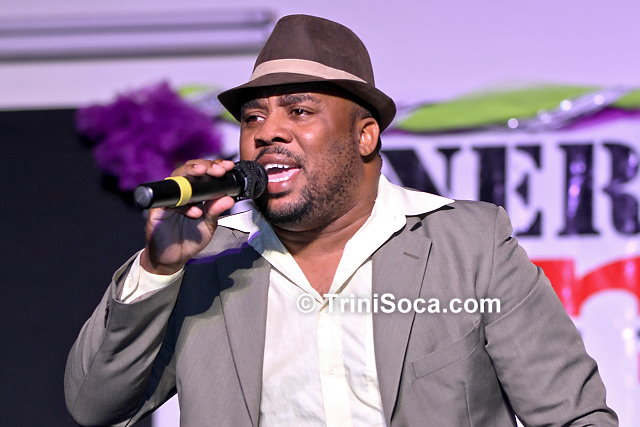 Rohan 'Fireball' Richards "Winners"
Another performer on hand was Mr. Rohan Richards aka 'Fireball' who has been performing his whole life. "I came on the scene professionally probably about 1996 back on Party Time. Since then I've been performing. Calypso is just one of the things that I do. I do all kinda different music. My style of calypso is very questionable as well. That type [of calypso], it have people who say dat is not calypso, it have some who beg to differ so I have a different style of calypso. It new on the scene so it would take some getting used to." He has some history with the tent, having performed under its auspices for the last five to six years and he noted that Generation Next was "full of variety because of the youths. The youths have a lot of reggae influence, a lot of hip hop influence and a lot of R&B influence so because of those influences you hear it in the calypso that the youths bringing out."
Of his own composition, he shared, "I'm performing a song by the name of "Born to Win." It was a personal song at first. I was selling CDs on the highway and somebody say, "Fireball why yuh reach to dis? Why you selling CDs in the hot sun? You too big for dat!" I say well look how big Michael Jackson is and he dead now. So I find that if I am alive and I doing my ting people need to understand that is progress. So I was like, "Well I sold twenty CDs for the day at $50 so I already make a $1000 for the day, yet somebody asking me why I reach to dis but I know them didn't make that for the day. So I was like, "See me fighting, and, think I'm losing but, I losing not," and then I realize but wait, is not me alone fighting, is everybody fighting. So I make it a whole general song and something to defend the people, because everybody like to say black people like to wait until we reach but is only down and down we going, but we surviving still so we winning the battle."
He offered this advice to young persons interested in getting into the calypso arena, saying, "My advice for young artistes is to master your craft. Out here is full of talent and it's full of critics as well. So, master your craft and be the best that you can be because you never know who watching and you never know how far you can reach because I reach billboard charts worldwide. I was on top of artistes like Rihanna and Beyoncé. I was number one, they had to settle for whatever number. So having that experience, and being from Laventille in Trinidad, I know anything is possible once we put our best foot forward. So master your craft!"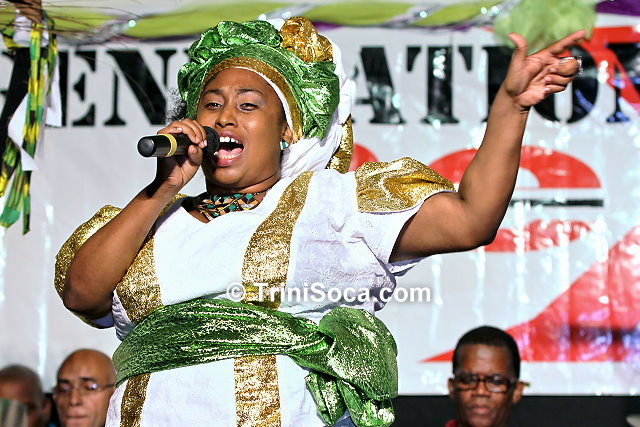 Ife Alleyne, reigning National Calypso Queen
Ms. Ife Alleyne is the reigning National Calypso Queen and winner of the National Stars of Tomorrow Calypso Competition. She too, commended the Generation Next Calypso Tent as a tremendous opportunity for young artistes to sing and interact with an adult audience in a manner which allows for young talent to build their craft with guidance from the experienced organizers National Women Action Committee (NWAC) and NACC, cultivating a wealth of experience. Her contribution to the evening's competition was in the form of a cultural song which she said, "speaks of the way our [African] history has been twisted and the fact that we must appreciate our history that did not begin with slavery. Our history began millions of years before that. We tend not to speak to our children about [that] and our leaders tend not to push that in schools and this is what they need to know in order to have a sense of pride and really appreciate who they are." Ms. Alleyne, a long time competitor herself, disclosed, "I've been competing from age thirteen and my first competition would have been at the Sangre Grande Junior Secondary entering into the Secondary Sangre Grande Junior Calypso Competition. I would have won that twice. I moved on to enter the senior category also winning that and a lot of my development would have come under the nursery of competitions hosted by the National Youth Action Committee." She noted that the Generation Next Calypso Tent has been evolving since its inception in 2006 and as a community oriented outreach. It has performed various genres such as raga, soca, reggae, calypso and chutney in places like Beetham, St. Baabs, Point Fortin, La Brea, Mathura, Sangre Grande, Grande Riviere and Mayaro. While many who had performed in the tent had gone on to become monarchs, some, such as Sheldon Reid, have gone on to become writers.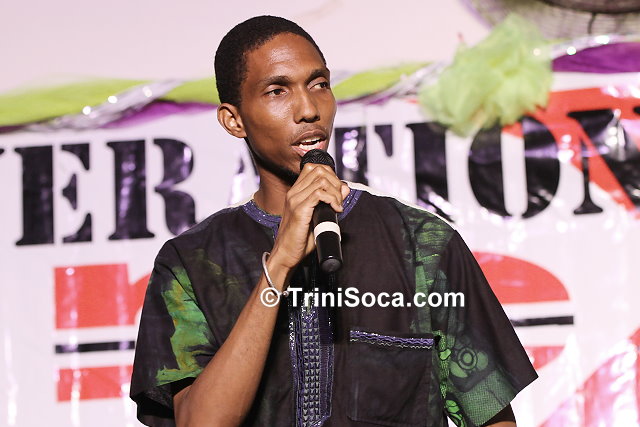 NACC Marketing Survey Director Ahkeneton Daaga
Marketing Director for the National Action Cultural Committee, Mr. Ahkeneton Daaga took the time to discuss the tent's development. He stated, "The tent is eight years now. We first started in the St. James Amphitheatre and from there we have maintained the determination to carry out the vision that we have which was to really provide a platform for younger artistes who are looking to transition into whatever is the next step of their career and by having them at this venue. Some of them already have done well in their career but some are now up and coming. This is sort of like a nursery until they can go on to the other phase of their career. Basically, the NACC has a wide exposure to all of the artistes through their various auditions and the competitions. We have an idea of the artistes who are good material for the year coming so what we do, we invite them to the tent. Some of them are already engaged with other tents but those who are not of course we would try to hire and have them as part of the cast for Generation Next." He noted that the tent is not exclusive to calypso and other genres are welcome. Reggae, gospel, stick fighting and sailor mas is also included to showcase a more comprehensive spectrum of local culture and it is viewed as an opportunity to expose the public to aspects of the local culture that they might not ordinarily access.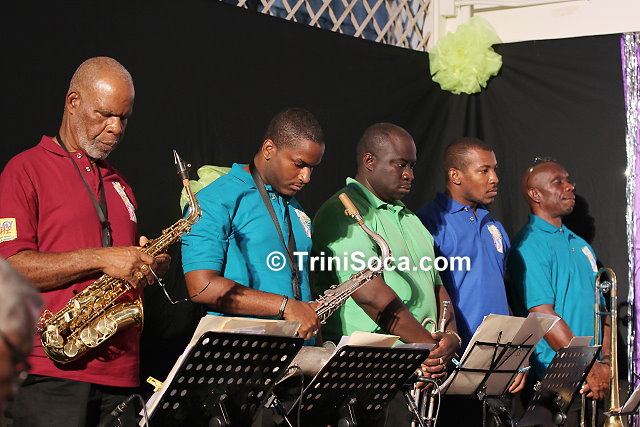 Members of the Earl Knight and the Services Brass Band
The show started shortly after five with the National Anthem being played by Earl Knight and the Services Brass Band. A short speech was given by NACC Chairman, Mr. Aiyegoro Ome, and the audience was invited to stand for a minute of silence in honour of NACC stalwart, Brother Anum Bankole who recently passed away. Notably present in the audience was Mr. Makandal Daaga. Thereafter, the show commenced and performances flowed from youngsters on the stage who offered an education via kaiso. Calypsonians have been touted as musical historians and truly the youths who performed offered a moving mixture of poignant observation and commentary in their songs, a very different menu to the wine and jam affair that has become typical of many Carnival shows. The preparation which had gone into each performance was evident and singers displayed a sophisticated understanding in their tuneful deliveries and powerful messages speaking to national themes were aired on the stage. After the first ten acts, the intermission was called and patrons flocked to the food stalls for hot, savoury corn soup, tasty potato pies dressed with dark, rich mango chutney and hotdogs which were generously drizzled with an assortment of ketchup, mustard, pepper sauce and the ubiquitous garlic sauce. The crowd was not huge but it was certainly enthusiastic. Cold, sweet aerated drinks were the popular choice, pairing the culturally popular staples into a meal and happy patrons munched their way to the second half of the show. True to form, in addition to the calypso pieces on offer, two dance groups were invited to perform which certainly added increased diversity in the line up for the evening, much to the pleasure of those in the audience. The second half of the show closed with Ms. Ife Alleyne performing her "Child of Destiny" which left many in the audience visibly moved. The show was well orchestrated and ended shortly before 8.00pm.
Performers / Songs:
Mark Eastman – Is This The End
Khadja Antoine – Water Confusion
J Dane Sellier – Don't Trouble Trouble
Rondell Greaves – Integrity
Natifah Phillip – Talk Bout Dat
Kibwe Prescod – Always There
Ezekiel Yorke – Equality
Kyle Cowie – The Web
Ife Alleyne – Child of Liberty
Arnold 'Jordy' Jordan – Dis Is My Life
Rohan 'Fireball' Richards – Winners
Jamie 'Massive' D'Angelo – Work It Out
Phil 'Philman' Brown – Doh Let Them Fool You
Guest Performers: New Butler Associate College (NBAC) Dance Troupe and Vikash Dance Company