TUCO's 2014 Annual Boat Ride Party
By TriniSoca Reporters
Event Date: November 08, 2014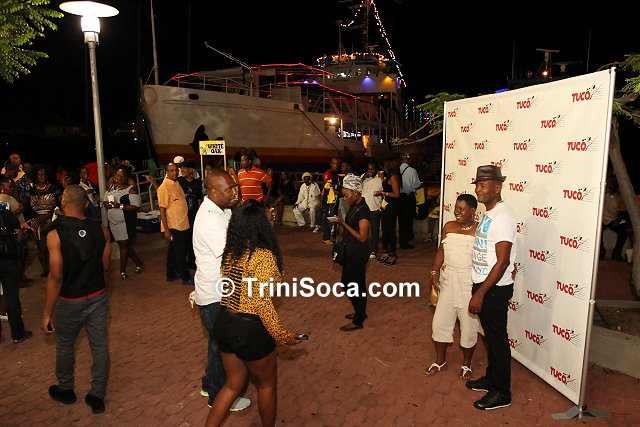 Patrons at the waterfront, Wrightson Road, Port of Spain before boarding the Coral Vision Boat
On Saturday 08th November 2014, the Trinbago Unified Calypsonians' Organisation (TUCO) held its annual Boat Ride Party on the Coral Vision as the crowning close to Calypso History Month. Attendees included calypsonians and lovers of the art-form including TUCO President, Mr. Lutalo 'Brother Resistance' Masimba. One of TUCO's dedicated employees, Ms. Beverly Martin of Cocorite, was on site ushering guests as they arrived, offering assistance where it was needed.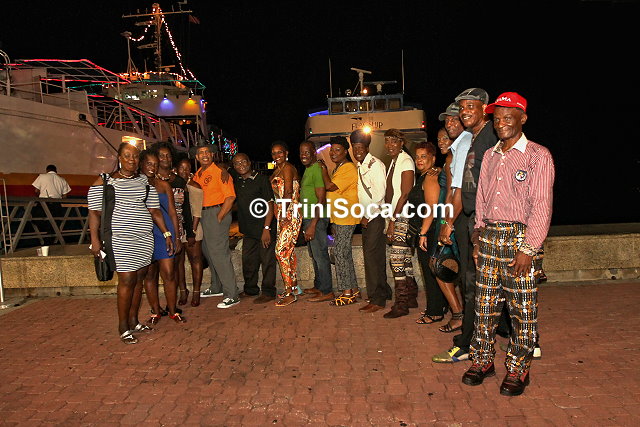 Members of TUCO
Indeed, it seemed that TUCO's membership from all zones came out in substantial numbers for this venture which was not exclusively dedicated to entertainment. PRO, Mr. Mandela felt that times like this are important to the fraternity because, "We need to socialize a bit more; tonight is to socialize and not about competition. This is about freeing up and listening to some music from Trinidad and Tobago." The atmosphere was indeed warm and the close knitted relationships in the calypso fraternity were clearly evident as guests hailed each other with familiar ease. He confirmed that the event was also aimed at raising funds to further TUCO's Welfare Fund.
He also made mention of the most recent historical shift in the public perception of the calypso fraternity via the award of an honorary doctorate to Calypso Rose, noting that this was a positive for not just calypsonians but for women in Kaiso. Said Mr. Mandela, "Kaiso has always been a mouthpiece but I think that the lecturers are now understanding that Kaiso covers all the aspects of life; any subject matter, Kaiso can deal with that." This adaptability of the art-form is what he attributes to the new-found respect from the academic institutes and this is what they are now giving credit to: not just the art-form but its pioneers as well. He further elaborated that Kaiso promotes Trinidad and Tobago in a way no other tourist-geared marketing can do. The level of work that calypsonians do in flying the local flag internationally and promoting the Trinidad and Tobago brand for little financial gain is something he lamented but said that it was all done for the love of Trinidad and Tobago.

Calypsonians, Edwin 'Stockings' Brown, William 'Dr. Wilby' Bannister, Curtis 'Dirty Curty' Conyette and Phillip 'Black Sage' Murray
Through this boat-ride, as indeed with many other ventures, TUCO was trying to give the needed support to an aging population of artistes who have, to this date, received little support from the greater community and suffer tangible losses from the onslaught of musical piracy. He underlined how damaging piracy is to the local fraternity, noting that large amounts of money are expended but there is little return on account of the pirates who copy and sell the music for little or nothing, leaving very little for the entertainer who had sacrificed greatly to produce his product. He ruefully admitted that while it should be stopped; the organization is mostly powerless when pirates come out in broad daylight and the police do little about the situation. Police seem to treat it as a non-serious crime when compared to banditry so they "pass up and down looking for thieves" and ignore the pirates. He mused that this lawlessness [piracy] is present in many countries but "it isn't as open as it is here."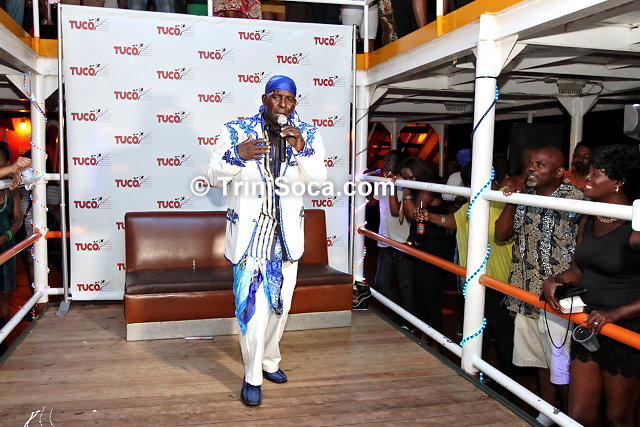 Austin 'Super Blue' Lyons
While TUCO tries to shore up the lack of support from the greater community for its artistes, he noted that there were other challenges for artistes to contend with in a country that is rich in material development. Mr. Mandela pointed out that there aren't enough concert halls to cater for performances from the artistes, saying that they usually performed shows in the stadium which is designed for sporting situations. He also decried the lack of local content on the local radio stations, saying that when foreign songs are played and promoted, the earnings from those songs go out of the country which does not happen if local music is promoted. The local artistes, the cultural aspect of the art-form and the public are then the beneficiaries. He iterated that local musical content doesn't have to be limited to one genre since there are so many (jazz, funk, chutney, soca, pan, pop, kaiso, rock, etc). However, he was optimistic that change would come and life would improve for the artistes. He declared, "Long live Kaiso! Love Kaiso and you will love yourself, because Kaiso is the voice of the people; Kaiso is where our stories are told!"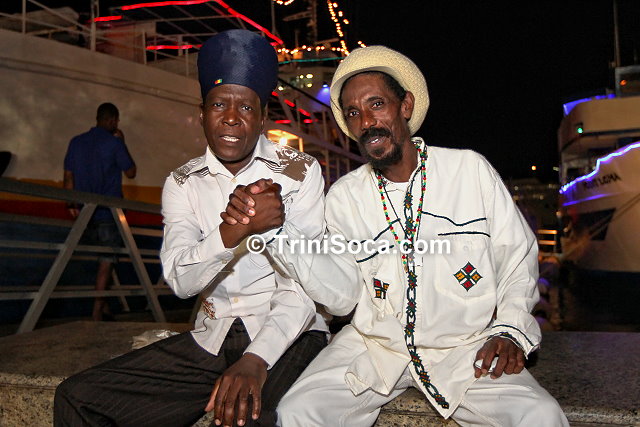 (L) Steve 'Ras Kamanda' Pascall and friend
Mr. Steve Paskall, also known as 'Ras Kommanda' was another early bird at the event. He is the Chairman of TUCO South/Central Zone, a position which he holds with pride. Mr. Paskall has been with TUCO from its inception since 1992. His message for Trinidad and Tobago was simply to "love your own, love your art-form and respect it. When we the artists do the songs please purchase the original; it's a very expensive art-form or pastime. We struggle for years and one day get a hit and you let the pirates sell you it for twenty dollars; that's unfair. So support your own and love your own because without your own, you can't be loving nobody else."
Kaiso stalwart and treasurer for the TUCO East Zone and office administrator, Mr. Curtis Conyette, known by the stage sobriquet, 'Dirty Curty' was also present. He spoke frankly about his commitment to his craft in the calypso arena saying:
I does do the work and it very, very hard. I love the art-form, and I do it also because of the people who went before me. Dirty Curty is my name and when I sing on you, you'll wish I washed my mouth out with soap because there are no sacred cows excepting religion … but politics? That's my baby. Because politicians does make promises and as soon as they get elected, what happens to the promises? Nobody knows.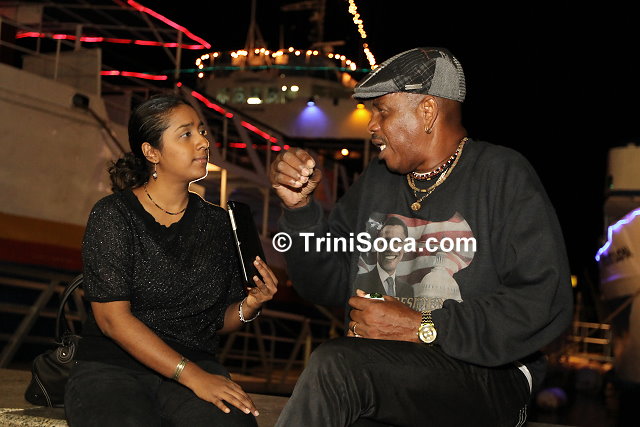 William 'Dr. Wilby' Bannister chats with a TriniSoca reporter
Mr. William Bannister, also known as 'Dr. Wilby' is one of the trustees for the TUCO North Zone. He indicated that he was one of the oldest original members of the North Zone and has been a trustee for over twenty years. When TUCO holds workshops for children he also assists here by teaching the children the fine art of hand-painting. Mr. Bannister is an avid supporter and advisor to the Belmont community, trying in small ways to make the area a better experience for the children living there, whether through sponsoring a ball or buying a child in need a pair of sneakers. He notes the shift in community mores and bluntly stated that young people cannot achieve success if their parents aren't helping them. He was soundly of the view that poor parenting is responsible for much of the ills facing the society today saying, "All the delinquency we seeing there; check the home situation, check the parents."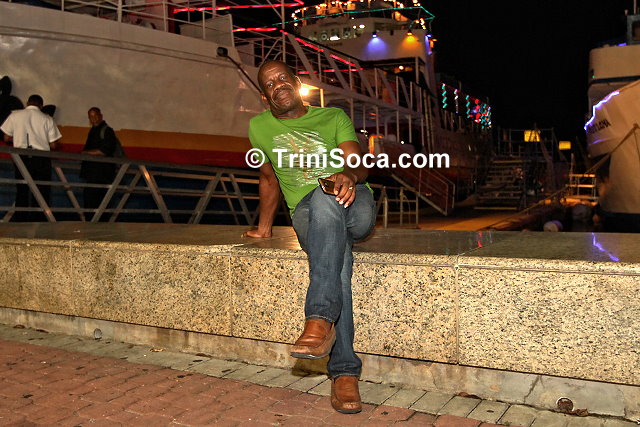 A TUCO trustee, Mr. Joseph Adams
Mr. Joseph Adams of Couva was another of TUCO's trustees in attendance. He averred that calypso and the calypsonian has gotten the mainstream acceptance which is long overdue. However, with the advent of an ever-evolving technology, coupled with the popularity of social media, he is of the opinion that young people now have increased interest in local music and that the technology will in fact enhance the product.

Ms. Enisha Clairmonts, an accountant with TUCO
Another TUCO employee on hand was accountant, Ms. Enisha Clairmonts of Arouca. She beamed that, "The theme of the boat ride this year is 'celebration'… celebration of Calypso History Month, and it's to get everyone together out to the boat ride and just celebrate life." She felt that the theme was in keeping with the local joie de vivre of Trinidad culture. She, like Mr. Joseph Adams, expressed that social media supported youths' interest in calypso. She indicated that TUCO is instrumental in working with artistes who would normally not be heard by getting their music on YouTube so that it could reach this wider audience in a world that is reliant on communication through technology. She also described Calypso Rose as "phenomenal" for her contribution to the field, declaring her recent achievement as "Fantastic! It is a great feat and I know it will encourage others." She offered her perspective on Calypso saying, "Calypso is a history; it's a culture … it's our culture and we should preserve it. Our Calypso History Month is really to showcase our calypsonians, the love that we have for them, and the love that they have for us."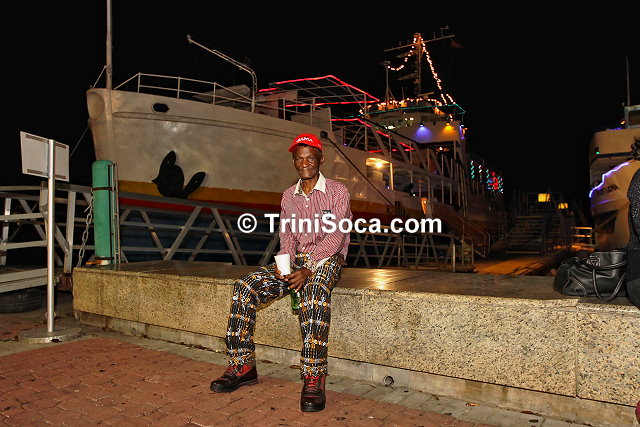 Edwin 'Stockings' Brown
Bound by a common passion for their art, the guests mingled and cheerfully joked with each other. Another Calypsonian at the boat party was Mr. Edwin Brown also known as "Stockings." He'd left his Belmont home to join in the evening's festivities. He gleefully shared that he'd gotten his stage name from a good friend because he used to dance a lot in his younger days. He was excited about attending the boat-ride. The loquacious artiste offered that any person seeking to join the industry should "use their own imagination and somebody would help them." He himself stands as a living testament of a product from a self-made age and he avowed firmly in originality, expressing that talent is not something all comers have. Youths who carry this precious gift must be picked out of the crowd since the art of creation is not something all can understand. He further added that, "Who want to learn you have to keep them, who don't want to learn, you have to bat them." He was of the opinion that not enough is being done by the country to support its calypsonians, but he also felt great pleasure about Calypso Rose's recent achievement, saying, "She work hard; it's nice that they give her something."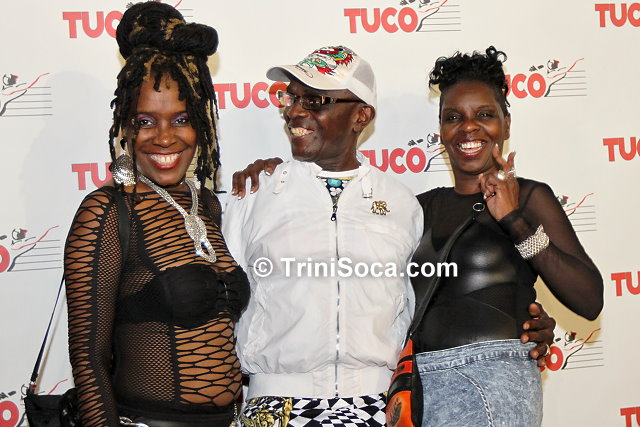 Shirlaine Hendrickson, Anthony 'All Rounder' Hendrickson and Diane 'Lady Wonder' Hendrickson-Jones
Mr. Anthony Hendrickson, also known as All Rounder, arrived in the company of his two daughters, calypsonians Diane Hendrickson-Jones also known as 'Lady Wonder' and Ms. Shirlaine Hendrickson, his manager. He jovially discussed his longevity in the calypso and soca arenas, saying that, "soca and the groovy soca came from the calypso. They are the branches, the children and the grandchildren. I am the oldest man around here as far as age is concerned singing soca.
Mr. Hendrickson is indeed one of the more senior artistes still competing at a professional level. He has stood as mentor to many of the younger heavyweight artistes in today's musical field including Machel Montano, Kerwin Dubois, Sherwin Winchester and Kes to name a few of the more recent acts. He expressed great pride in how well they perform in this field that he loves so dearly. He further reflected that parents are more instrumental in their children's success than is publicly acknowledged, referencing Machel Montano's parents as an example of how a family can work together to ensure their children's success. He waxed philosophical as he lamented that in today's society parents are throwing their hands up and declaring to their children that "they ain't able" with them. This, he feels, sends a poor message to the child, and his firm belief is that if parents held their children close and prayed with them, they would certainly do much better for themselves. He cited his own relationship with his wife, children, grandchildren and his great grandson as an example of how well this model could work. He gave thanks to the power of prayer and his faith in God for how well they were able to weather most storms in life. "Neglect your children," he said, "and they will walk out. Children are getting all the blame and the government isn't doing enough."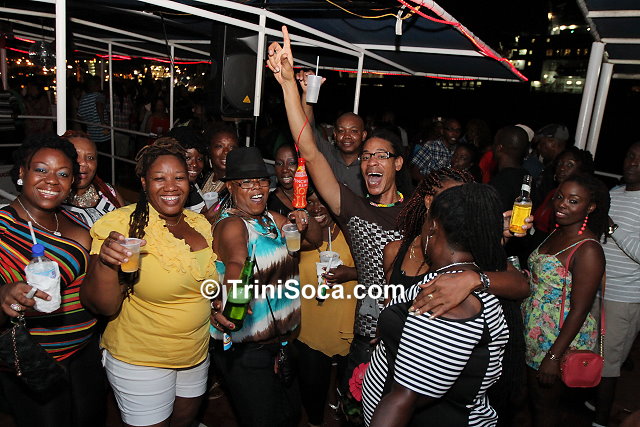 Kaiso lovers celebrating aboard the Coral Vision
The boat soon opened its gangplank and eager patrons climbed on board for a musical experience out at sea. As the Coral Vision slowly slipped across the calm water into the Chaguaramas Bay, a mixture of vintage Kaiso and contemporary Soca pumped through the quiet air, enervating the crowd before the live entertainment commenced. The highlights of the boat party were the performances by Denise Belfon, Chucky and Super Blue. The boat party, as many partakers would attest, was successful in keeping with its theme of celebration.
TUCO's 2014 Boat Ride Interviews
TUCO Boat Ride 2014 in pictures:
www.trinisoca.com/gallery2/main.php?g2_itemId=354816