SHAKTIYANA – The Primordial Energy
By TriniView Reporters
November 28, 2014
Nrityanjali Theatre Institite for the Arts and Culture: Shaktiyana in pictures
On Saturday 11th October, 2014, Nrityanjali Theatre (Institute for the Arts and Culture), in collaboration with Mahatma Gandhi Institute for Cultural Co-operation, hosted its annual Classical Indian Ballet. Classical dance enthusiasts journeyed to Queen's Hall where this year's offering, themed "Shaktiyana – The Primordial Energy," a classical dance drama, was being hosted.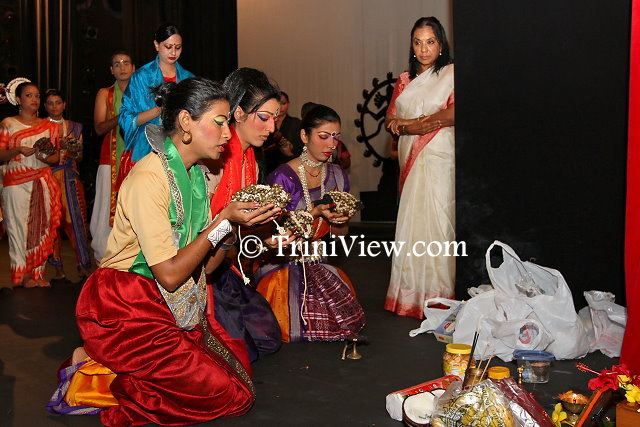 Members of the Nrityanjali Theatre participate in a puja before the show
While the patrons began to arrive, the artistic director of the theatre, Mrs. Mondira Balkaransingh, officiated a puja with the dancers under the soft stage lights before the start of the show. The sweet smell of incense wafted across the stage as the dancers sang in gentle, lilting tones while they queued in front of the lit deyas to perform aarti. They knelt in turns, offering their anklets on upraised palms for a blessing before gliding backstage to put the final touches to their costumes. The stage was bare, save for the central ornamentation of a large, silhouetted figure of the Hindu Goddess Durga in a position of dance.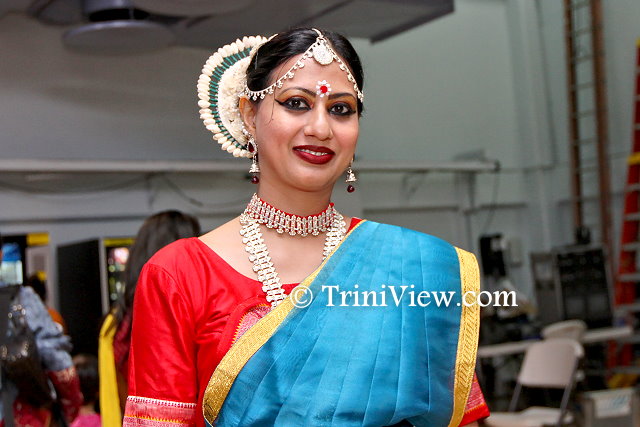 Ms. Priya Ramlakhan, secretary of the Nrityanjali Theatre
Long-time member of the Nrityanjali Theatre and secretary of the production team, Ms. Priya Ramlakhan started dancing when she was six years old and by the age of eight she began to make appearances on stage and television. A resident of Chaguanas, she has been committed to the Odissi dance and avows her complete enjoyment of this particular style of dancing. She reminisced about the troupe's training leading up to the event saying, "We've dedicated a lot of hours, a lot of hard work, a lot of training into this production, and as always, there is always room for improvement."
She hoped that young people seeing the show would become more aware of the different styles of dance in the local paradigm noting:
Hopefully they'll be more aware of what is classical dance. Everyone thinks that anything on stage is dance but they do not understand pure dance which is what we do. So hopefully there will be an awareness of what we do which is pure classical dance…the beauty of the art form. It's not about moving the hands or moving the feet. Every movement has a deeper meaning and it's all about awareness of classical dance…discipline in the dance. It takes a lot of time-management as well so for young students. For young people, it's all about an overall management of yourself, work and family.
She extended advice to any person looking to receive formal training in Indian Classical Dance to "Try it, you will enjoy every moment of it. It's a lot of hard work but it is worth it."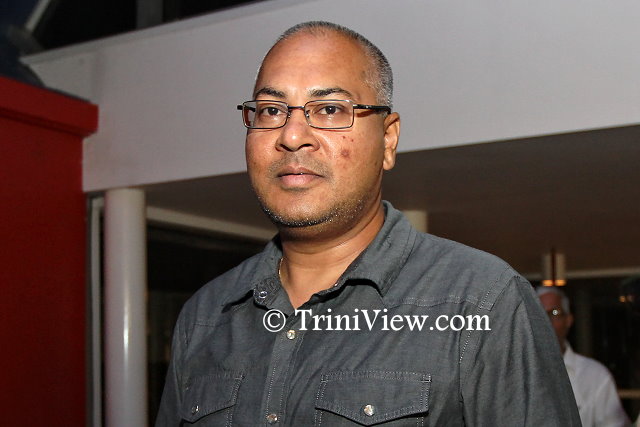 Mr. Anand Ragbir of the National Gas Company
Her sentiments were echoed by Classical Indian Dance devotee Mr. Anand Ragbir of the National Gas Company, a major sponsor for the evening's event. He was in attendance with his wife and son Aryan who shared his anticipation for the show. His daughter, Aditi Ragbir was performing that evening with the Nrityanjali Theatre and he proudly shared that she had been dancing since she was three years old. He was delighted at the prospect of the show since the performance was said to accurately portray the story of Mother Durga. He added, "We are just looking forward to enlightenment."
He admitted that this performance would mark young Aditi's first appearance at Queen's Hall since she predominately performed at the Naparima Bowl. Now aged thirteen, she rarely becomes nervous before a show since he estimated this to be her "tenth concert in total." Indeed, his excitement was not exclusive as patrons openly expressed their eagerness for the show.
Ms. Roshni Balkissoon of Arima was richly dressed in jewel-toned East Indian wear and she stated:
I like East Indian culture and I enjoy oriental dance, especially Odissi dance. It's a nice way to spend an evening and I've been coming to every show for the last few years and it's always been enjoyable. I used to [dance] but I haven't kept up with it. I enjoy looking at it. It's a nice theme they have this year: they're focusing on the Shakti. And it's very appropriate considering that it's the time of Divali and we focus on the female aspect of god so it will be nice to see how they portray this or how they bring about the story concerning the female aspect of god.
Mr. Wayne Homer of San Fernando was another keen guest who stated, "I'm looking for a high quality performance. They have good classical dancing, good music, colour; overall a good quality performance. I've been to it (this concert) about three years ago and I thought it was well done and I'm really looking forward to this one."
His wife, Mrs. Radha Homer, a teacher at the Gasparillo Secondary School expressed that she just wanted to "enjoy the classical dance and relax. I like the ballet-type performance that they do, the different costuming and the story."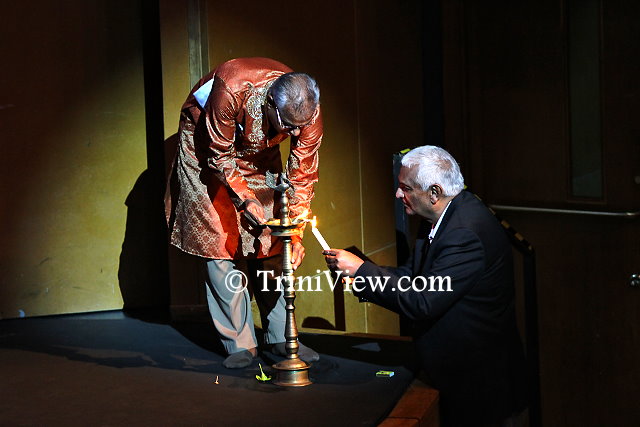 (R): Minister of Foreign Affairs Winston Dookeran joins Mr. Vishnu Musai, Chairman of the Nrityanjali theatre in the lighting of the lamp
The show opened with a short preamble by the chairman of the Nrityanjali Theatre, Mr. Vishnu Musai:
Today we present Shaktiyana – The Primordial Energy, the Universal Truth. This message has always been about the permanent existence of truth. The Ramayana features Rawan who dipped himself in truth and gained immense boons but when he allowed his ego to digress from truth and cause disharmony, he fell. Similarly, the Puranas conveyed the same message and this is portrayed in Shaktiyana. In the ocean of truth you cannot go for one dip and then dry yourself, you must immerse fully and experience it and I'm sure that after that experience you wouldn't want to change.
He went on to thank the High Commissioner of India to Trinidad & Tobago, His Excellency Gauri Shankar Gupta who had graciously consented to allow the Mahatma Gandhi Institute of Cultural Cooperation teachers to participate in the production and the director of the Mahatma Gandhi Institute of Cultural Cooperation, Mr. Jagdish Prasad Arya, who had facilitated the teachers. The Minister of Foreign Affairs for Trinidad and Tobago, the Honourable Mr. Winston Dookeran was then asked to assist in the lighting of the lamp before the starting of the show.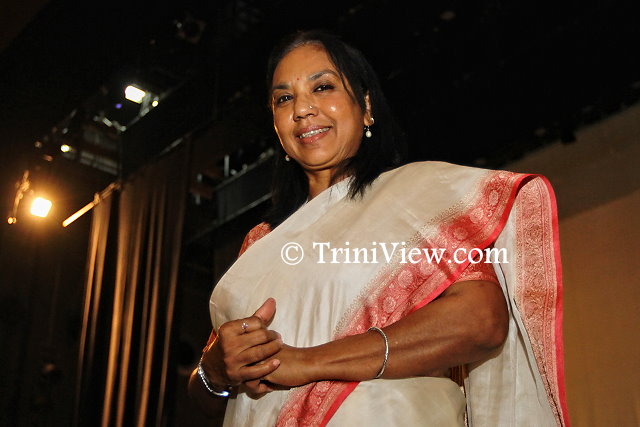 Mondira Balkaransingh, Artistic Director of the Nrityanjali Theatre
The show was touted as an exploration of the concept of the Divine Feminine through veneration of the Goddess Durga since she is the embodiment of feminine and creative energy also known as "Shakti." Mrs. Balkaransingh explains the purpose of the ritual in calling the divine energies.
She stated:
We touch the ground; Mother Earth. We touch the Guru and Master and then the Goddess. We are dealing with Shakti and everything for us is energy. And positive energy to guide us through because that is how our sacred texts are, and dance is a sacred text. You invoke God to help you do your dancing and support you and bless you. So it works in a cycle: it starts with a prayer and ends with a prayer. The prayer was offered to Goddess Durga, the anklets are offered for blessing… the bells are the sound that we create for dancing so that is our way of asking them to bless our bells to make it better.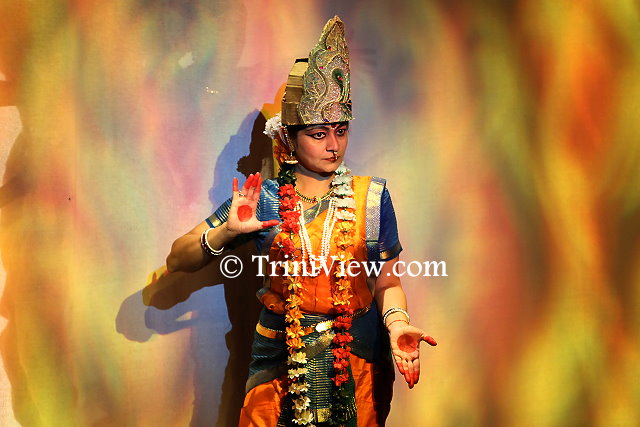 Performance of "Creation of Durga" – (A powerful mass of energy from the many Gods created a female energy Durga/Chandi. Dancers while portraying their prayers invoke her many attributes)
Mrs. Balkaransingh offered further detail on her thoughts saying, "I am always interested in the scientific and spiritual side of nature and I felt that this was one of the most potent themes one could work on." She continued, "Durga personifies energy that has direction…everything that has to do with positivity. It comes [as] Durga, [then] Kali…all the Devis. They come from the tantric tradition of energy and what the Tantras say is that this energy is a conscious energy. It's not just you switch on a light and the electricity comes on; you can see that's all it does. This is actually harnessing one's own energy to be more evolved and so there are lots of stories and lores from different sources that we have read."
She acknowledged the challenge in creating a classical ballet on such an intricate subject musing, "It's difficult to do a ballet on what is energy, but because it's personified in terms of Durga and her sisters and her husband Shiva. Everything is a play so we have taken those sources and stories and we've created a ballet out of it."
Mrs. Mondira Balkaransingh is a classical dancer from India but she has lived in Trinidad for many years. She is the founder of the Nrityanjali Theatre which has been operating in Trinidad for over thirty years, offering formal training in the field of classical Indian dance. To date, the Nrityanjali Theatre has done over thirty productions throughout the years and they boast a strong following among the local audiences. Their productions are unique in that they are purely classical in their offerings. Mrs. Balkaransingh notes that the "movements make a story: all of it is classical dance drama." Their dancers have been to India periodically and they have been trained to teach as well as perform. She regrets that, "There's no national trust with Indian Classical Dance. When they have a programme, they have a piece of modern dance, African dance, Calypso, Steelpan and in between that, one Indian dance: one Chutney dance or maybe one classical. But the thing that is now popular is film and chutney dance."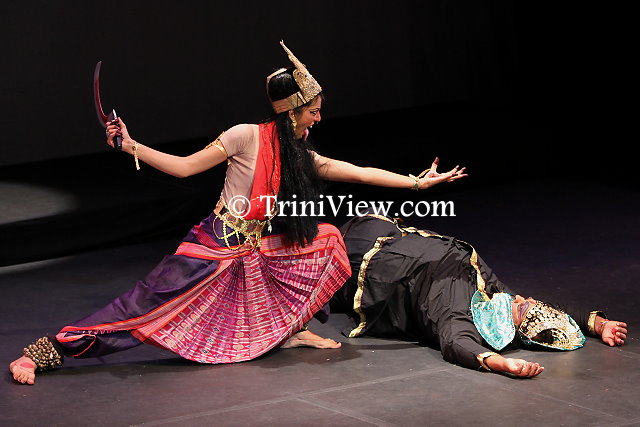 Dance performance of "Mahishasura Mardini" – (Mahisha and his armies battle with the mighty Durga. Kali the ferocious unfettered energy is created to slay the mighty asura Raktabeeja. After a long battle Mahisha is also defeated by the Devi)
She mused that young people locally seem to be more interested in pursuing the Bollywood-style dances and local dances but those who are interested in classical Indian dance take it up "with their life and soul." Her commitment to the art form is firm as she declares, "Once you've trained as a classical dancer you don't want to go any other way. I've been an Indian classical dancer from a very young age. I was trained and then I came here and I continued. I go back to India for refresher courses because I'm teaching."
Her goal in coordinating the evening's event was:
To make people aware of our dance theatre once again and the kind of work that can be done in Trinidad. All the dancers are local. We have invited the Mahatma Gandhi Institute to be part of this production and we always invite teachers because they are from India and they are highly trained. And it's always to uplift the whole show [since] they bring a little something that is always new.
Mrs. Balkaransingh observed that Indian Classical Dance was "totally different" to what is locally offered and for that reason, she hoped to add to the cultural landscape.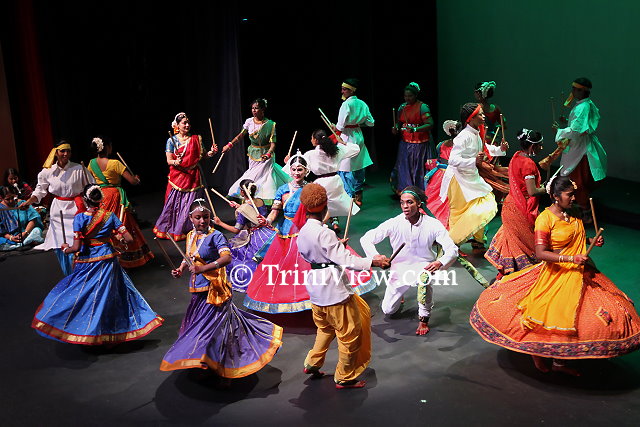 Dancers in colourful costumes celebrate the victory of good over evil and thank the Goddess by dancing the Dandia Rasa
The audience applauded loudly in admiration as the Troupe concluded a beautiful show of disciplined synchronicity. The Director of the Mahatma Gandhi Institute of Cultural Cooperation, Mr. Jagdish Prasad Arya declared his approval of the event stating:
This show was organized by two organizations, the Nrityanjali Theatre and the Mahatma Gandhi Institute for Culture and we have been practicing for this show for the last year. [Both] day and night our artists have been practicing for this show. I am very pleased and very happy that the show has gone well and it is the applause of the audience [which] is the evidence of the success of the show. So I feel everybody is happy.
The musicians also came in for high praise over their faultless renditions of the classical tunes which set the tone for the event. They were Mr. Prashant Patasar (tablaist), Dr. Sharda Patasar (sitarist), Dr. Nageshwar Lal Karn (tablaist), Mr. Surja Chakrabarti (vocalist), Kassandra George (tablaist) and Pandit Beesram Sewdat (composer).
The event ran for two days and closed on Sunday 12th October, 2014. Sponsors included the High Commission of India to Trinidad and Tobago, The Mahatma Gandhi Institute for Cultural Cooperation, The National Gas Company of Trinidad and Tobago, First Citizens Bank, Unicom Limited, The New India Assurance Company (Trinidad and Tobago) Limited, Ministry of National Security of Trinidad and Tobago, Cantrex Limited, Ace Printery, Fed-Traders Limited, electronic and print media Mr. Edison Boodoosingh.
Nrityanjali Theatre Institite for the Arts and Culture: Shaktiyana in pictures:
www.triniview.com/gallery/main.php?g2_itemId=791857