Smaran – "40 Years of Artistry"
TriniView.com Reporters
Event Date: November 04 – 05, 2017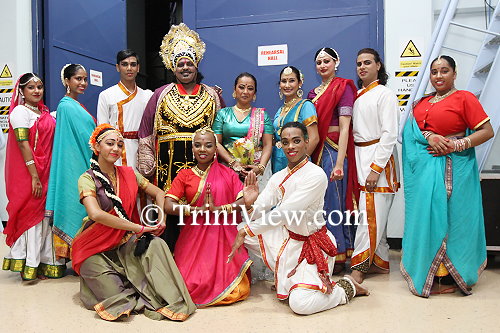 Members of the Nrityanjali Theatre
On Saturday 4th and Sunday 5th November, 2017, Nrityanjali Theatre (Institute for the Arts and Culture), in collaboration with Mahatma Gandhi Institute for Cultural Co-operation, commemorated forty years in the arts with an outstanding classical Indian Ballet production. The annual production, themed "Smaran – 40 years of Artistry" was presented in two segments. The first half showcased classical performances in Orissi, Kathak and Kuchipudi. Ballets from the past, which were presented in folk and classical dances, followed in the second half. Musical accompaniment for the evening was provided by Harinath Jha, Shashi Kant Pathak, Neval Chatelal, Kaveesh Maharaj, Ani Maharaj, Anup Ramsundar and Narendra Maharaj. The production's choreographers were R. Seenath, M. Balkaransingh, S. Balkaransingh, Raag Kalawatee Tarana, Guru Pradeep Shankar, Ashok Chakravarti, V. Seeramlal, S. Ramnath, Guru Mayadhar Raut, Guru Birju Maharaj and Debolina Paul. The show was held at Queen's Hall, Port of Spain.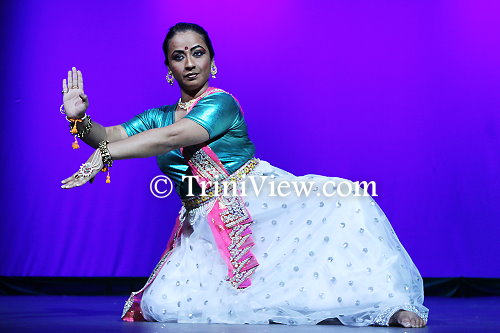 Deboleena Paul from India during her dance performance
Nrityanjali Theatre was founded in 1977 by Sat Balkaransingh and Mondira Balkaransingh. The theatre is currently managed by a board of directors and is chaired by Vishnu Musai and Mondira Balkaransingh. The activities of the theatre include: teaching of classical dance based on a prescribed syllabus, inviting and presenting international artistes, and staging ballet dance drama annually. Nrityanjali Theatre received the national award, the Humming Bird Medal (Gold) for its contribution to culture and was incorporated by an Act of Parliament in 1994 as a non-profit organisation. The theatre has produced more than forty full-length stage performances during the period of its existence.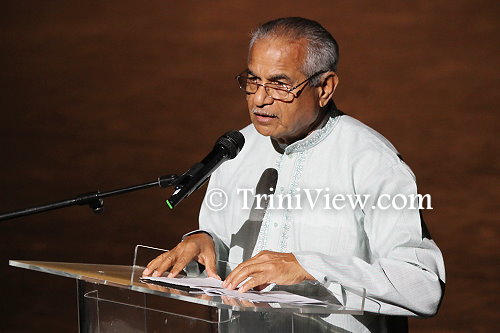 Chairman of Nrityanjali theatre, Mr. Vishnu Musai
The shows, which began with the traditional lighting of the lamp, was performed by Mrs. Zalayhar Hassanali, former First Lady of Trinidad and Tobago on the first day, and by the High Commissioner of India to Trinidad and Tobago Mr. Bishwadip Dey, accompanied by his wife Mrs. Mayura Dey and Chairman of Nrityanjali theatre, Mr. Vishnu Musai on the second day.
Following the brief ceremony, Mr. Musai addressed the audience. In his remarks, he expressed his joy about the production: "I am happy to witness the presentation of Smaran 40 years of Artistry as it shows snippets of the popular performances done by the theatre during its lifetime."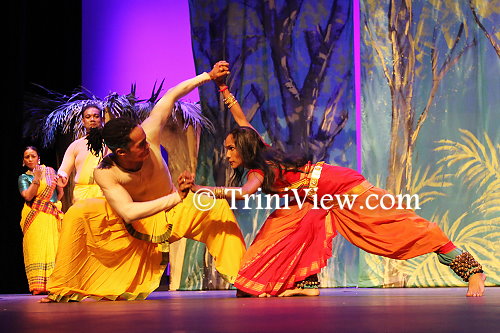 Dance performance
He further went on to explain that Nrityanjali has been focusing on religious presentations, as part of its contribution to the world to help reduce atrocities being committed by man on fellowman.
He added, "The main message is that good always triumphs over evil and that one should appreciate the spiritual road also instead of only a material one."
In closing, he congratulated everyone for their efforts and for a job well done in the production of over forty ballets during the organisation's forty years of existence.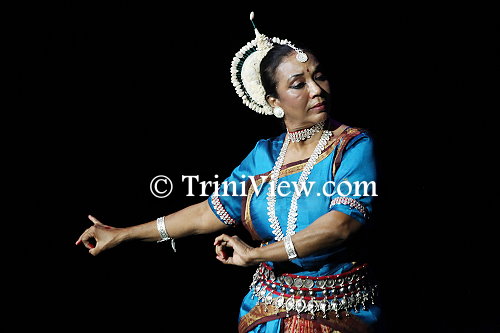 Co-founder and artistic director of Nrityanjali Theatre, Mrs. Mondira Balkaransingh during her dance performance
Mondira Balkaransingh, who is also the artistic director of the theatre, is a native of New Delhi, India. She was trained in Odissi (ancient Indian classical dance) under Guru Mayadhar Raut at the Bharatiya Kala Kendra and in Indian folk dance from the Natya Ballet Institute in Delhi. She holds a BA (Hons) in Philosophy, an MA (Philosophy) from Delhi University, and an Advanced Diploma in Odissi Dance from the Bharatiya Kala Kendra.
Balkaransingh extended greetings and welcomed members of the audience. She stated that it was a long journey for a theatre company: "I must confess, it has certainly had its share of highs and lows. I want to particularly thank all our supporters from Rio Claro where we first started to teach and [where] a performing company was born."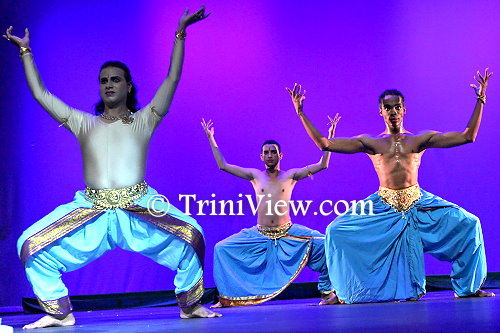 Dancers during their performance on stage
According to Balkaransingh, the theatre's 2017 production "Smaran – 40 years of Artistry", highlighted performances of the last forty years, thereby allowing the audience to be included in the journey from start to present. She added, "A deep sense of gratitude to all dancers, all musicians' past and present, thank you. To the administration from the Chairman to members, just remember this would not have been possible without you. To the Indian High Commission, The Mahatma Gandhi Institute for Cultural Co-operation, I thank you for your support over the years and for bringing a sense of quality to the Indian Classical Arts in Trinidad and Tobago."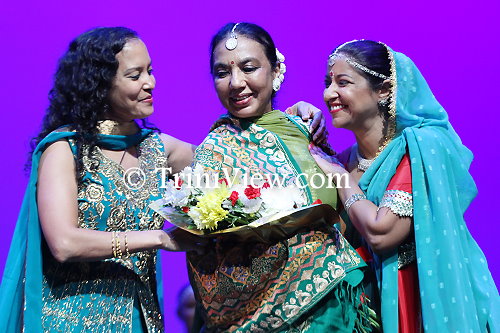 (Center): Mondira Balkaransingh receives the shawl of honour during an Angwastram ceremony
Mondira has been dancing for more than forty years and is a choreographer, dancer, teacher and researcher. She has performed, directed and choreographed several dance productions and ballets, conducted workshops and lecture demonstrations. Her travels have taken her to the UK, USA, India, South America and the Caribbean. She has partnered with the University of West Indies to promote Indian Classical Dance. Numerous accolades have been bestowed upon her and the Government of Trinidad and Tobago formally recognised her as a National Cultural Icon in 1992. She conducts regular classes at the theatre.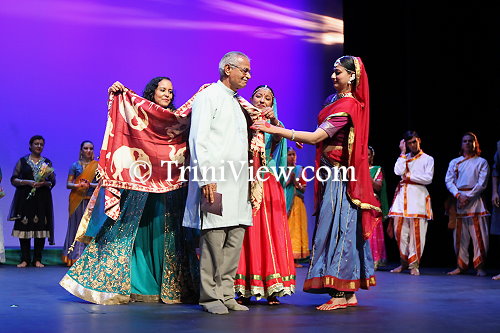 Mr. Vishnu Musai receives the shawl of honour during an Angwastram ceremony
The theatre has undertaken conferences and exhibitions on the arts, performed the "angwastram" ceremony (shawl of honour) for eminent artists and cultural pioneers. It has also organised Arangetram/Maneh Pravesh, a ceremony for young and promising artistes who have completed their training by the Theatre, as per the syllabus. It has worked with several local and international organisations and has done numerous fusions and crossover works in conjunction with other dance companies. Artistes from the Theatre have performed locally and internationally, representing the country on many occasions.
Smaran – "40 Years of Artistry" in pictures:
www.triniview.com/gallery/main.php?g2_itemId=882207