Professor Dave Chadee has died
By Akilah Stewart
June 22, 2016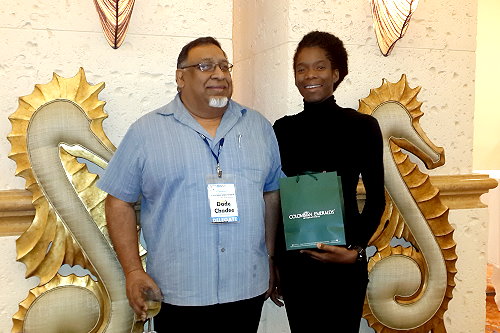 Professor Dave Chadee and postgraduate student Akilah Stewart at the closing ceremony of the 23rd Annual Caribbean Water and Waste Water Conference (CWWA), Bahamas, October, 2014
Known by various titles, "The Mosquito Man" amongst others, Professor Dave Chadee, 62, has died. He succumbed to a massive heart attack yesterday, June 21st, at around 4:30 p.m.
Professor Chadee came from Tableland Village and considered himself a true "south man". He recently established his own brand of chocolate—Orlando Craft Chocolate—from his hobby cocoa estate located there. Chadee had always had a keen interest in academics and was a national scholarship winner in Literature from Naparima College, but his greatest interest was in science. He attained his B.Sc in Dalhousie University, Canada in 1977, his MPhil in Zoology at the University of the West Indies, St. Augustine Campus in 1984 and a PhD in Entomology from University of Dundee in 1987. He would continue on to attain other academic qualifications and scholarships such as the Wellcome Trust Scholar, Gorgas Memorial Institute Fellow, and numerous grants including the International Atomic Energy Agency and the Bill and Melinda Gates Foundation.
Before his current position at the University of the West Indies, St. Augustine, he worked at the Insect Vector Control Division from 1979 to 1997 and he was the Director of the Trinidad Public Health Laboratory (now CARPHA). He was also the chairman of the Scientific Review Committee of the South-West Regional Health Authority Clinical Governance Committee (of the Ministry of Health).
His passion for research always centred around Health, Epidemiology and Climate Change for which he was internationally recognised, especially for his work with the dengue, chikungunya and zika viruses. He has published some two-hundred and fifty papers and book chapters in international peer review journals including publications for the Intergovernmental Panel on Climate Change (IPCC). He has also been a part of expert panels for the World Health Organization (WHO) in Geneva and the Pan American Health Organization (PAHO) in Washington.
His research has resulted in him receiving many awards. Most recently, on Wednesday 8th June, 2016, at the UWI-NGC Research Awards Ceremony he received the Most Outstanding Researcher award; he was the recipient on three consecutive occasions. At that event, he was also recognized for the Most Outstanding International Research Project on the St. Augustine Campus which occurred in collaboration with peers from the International Atomic Energy Agency (IAEA).
Aside from various teaching positions locally and internationally, he was always interested in and eager to answer questions about his immediate environment. His research in the last three years based in the Parasitology Laboratory in UWI involved numerous local and regional projects such as the "The provision of baseline biological data for the Management of the Aripo Savannas Environmentally Sensitive Area" Green Fund funded project; the Global Local Climate Change Adaptation and Mitigation Scenarios (GoLoCarSce) European Union – Africa, Caribbean, Pacific group of States (EU-ACP) funded project; and the Sustainable Water Resources Management in Small Island States of the Caribbean (Water_aCCSIS), International Development Research Centre (IDRC) of Canada funded project.
Professor Chadee will also be remembered for his mentorship of various postgraduate and undergraduate students both in Trinidad and abroad, especially through his brainchild pet event, the Annual Department of Life Sciences Research Symposium, which had occurred successfully for the sixth time this year in collaboration with other departments in the Faculty of Science and Technology, St. Augustine Campus, Trinidad.
He is survived by his wife of close to thirty years, Joan Sutherland, his nephews Brian and Barry Samlalsingh, both of whom he was very close, and his sister Jasmine Chadee.
Professor Dave Duman Chadee was the academic supervisor for my MPhil in Environmental Biology, DLS St. Augustine Campus, UWI.