Calvert Sylvester Lewis' Send-Off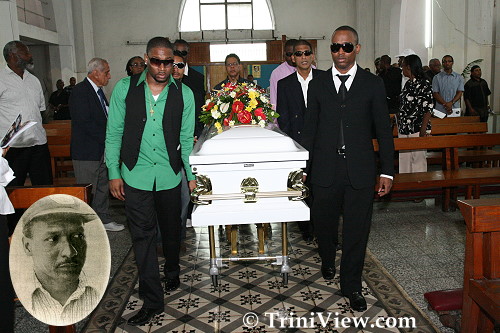 Former Trinidad and Tobago cyclist Carlvert Sylvester Lewis, born in Trinidad on the 21st of February, 1935, passed away on 29th December, 2009, in New York City. His remains were returned to Trinidad and laid to rest at the Lapeyrouse Cemetery after a service at the Rosary Catholic Church. Services were held on the 8th of January, 2010. Also called Carlos or Skinos, Calvert was a top national cyclist who went on to serve in the Trinidad and Tobago Cycling Federation while also coaching a number of young cyclists. In 1988, Carl migrated to New York to join his wife Olive and son Evey where he continued to coach young cyclists.

Eulogy
January 08, 2010
We are here to celebrate the life of Carlvert Sylvester Lewis, a son any father would be proud of especially our Heavenly Father, a brother who loved his sister, a devoted husband who cherished his wife, a father that provided for many, a grandfather lovingly called "daddy" by his grandchildren and an uncle who offered a place for shelter. He was a man who dedicated his life serving others.
His dream was to be an accountant one day so he pursued his studies in this area. He attended Wilshire Private School and Woodbrook Presbyterian School before studying at Progressive Educational Institute.
Carl, known by his friends as Carlos and Skinos, will be remembered by many because of his passion for giving back not only to a community but also to a nation. Carl served as a commissar with the Trinidad and Tobago cycling federation for a number of years. Through coaching he provided an outlet for many youths desiring to be cyclists.
During Carl's tenure with Solo All Stars he was instrumental in developing the skills of young athletes destined to become the next cyclist representing Trinidad and Tobago internationally. He poured into them unselfishly and diligently. To the many young cyclists who frequented his home he was a father figure, providing professional, personal and spiritual guidance.
Though many people may find it difficult to juggle career and family life, sacrificing one for the other was not an option for Carl. His family always came first. During his cycling career he met his wife, Olive, at a cycling meet in Tobago, where she resided. They were married on February 21, 1960 at Rosary Catholic Church where Carl served as an acolyte. They later had two children Geraldine (Annie) and Lavington (Evey).
In 1988 Carl migrated to New York to join his wife Olive and son Evey. Through humble beginnings Carl & Olive started their new life in Manhattan, leaving behind all the familiar comforts he was accustomed to. Carl pressed on never loosing faith and started his new career in 2000 with a law firm. Carl continued to pursue his passion for cycling and began coaching abroad. Under the expert training of Carl, junior cyclist Gabby Aleyoung was able to represent the United States in Trinidad at the Easter Grand Prix in 2007.
Carl remained involved in cycling throughout his life however God and family was always his first priority. He was a hard worker committed to his family. He would have been married for 50 years in February. As busy as Carl was he still found time to attend church. He was an active member of Mary Magdalene Catholic Church in Laurelton, New York. Prayer was an important part of Carl's life as was giving to various charities.
Through out his affliction he never gave up hope, in fact his faith increased as he learned to lean on God. In preparation to being called home, Carl sent his sister this poem two months ago:
When tomorrow starts without me and I am not there to see,
If the sun should rise and find your eyes all filled with tears for me;
I wish so much you wouldn't cry the way you do each day,
While thinking of many things we didn't get to say.

I know how much you love me, as much as I love you,
And each time that you think of me, please know I miss you too.
But when tomorrow starts without me, please try to understand,
That an angel came and called my name and took me by the hand.

The angel said a place was ready in heaven up above;
And that I'd have to leave behind all those I truly love.
I had so much to live for, so much yet to do,
It seemed almost impossible that I was leaving you.

When tomorrow starts without me, don't think we are far apart,
For everytime you think of me, I'm right here in your heart.