Cultural Icon Pat Bishop Passes Away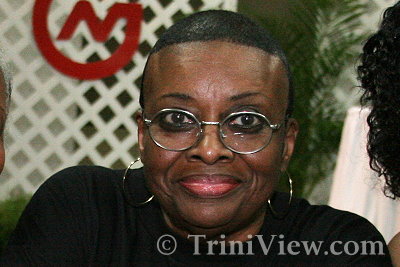 Dr. Pat Bishop's Memorial Service "In Pat's House" (in pictures)
Dr. Pat Bishop's Memorial Service "In Pat's House" held at the Holy Trinity Cathedral, Port of Spain on August 28, 2011
Cultural icon Dr. Patricia Bishop better known as Pat Bishop passed away today, Saturday 20th August, 2011. Ms. Bishop, who attended a meeting with a cabinet appointed committee of high level experts on culture and the arts collapsed from her chair. She died while at hospital where doctors' attempt to revive her proved futile. The cause of her death remains unknown at this time.

Pat Bishop, a business executive, painter, musician, historian, media commentator, choreographer and fashion designer, was also a renowned ethnomusicologist who, according to Dr. Selwyn Cudjoe, "sang with the Esso Tripoli in 1967; arranged music for Fonclaire, Birdsong, Skiffle Bunch and Desperadoes Steel Orchestra among other groups; conducted Trinidad All Stars, Phase II, Renegades and other steelbands; performed with Desperadoes at Carnegie Hall, New York, Brooklyn Academy of Music and the Philadelphia Academy of Music." She also directed music for the Morne Diablo Folk Performing Company, worked with Daisy Voisin's La Divina Pastora Parang Group and directed the Lydian Singers for the past eleven years.
She lectured History at the U.W.I. St. Augustine and Mona campuses as well as the history of art and design at the Jamaican School of the Art between 1970 and 1972.
Pat Bishop, whose paintings were exhibited in Jamaica, London, Grenada and Trinidad and Tobago, according to Dr. Cudjoe, has had her work "acquired by numerous local corporations such as the Central Bank of Trinidad and Tobago; Spelman College in Atlanta, Georgia; and various private collections in the United States and the United Kingdom." Bishop demonstrated that the hats she wore were many.
She is a recipient of many accolades and awards including Trinidad and Tobago's highest award (then named) the Trinity Cross. For her work in promoting and upholding the culture of Trinidad and Tobago and for showcasing it to the world, she will always be remembered.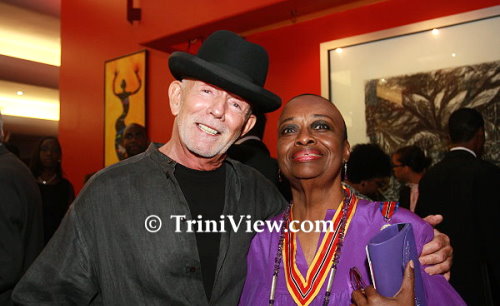 Peter Minshall and Pat Bishop at the 2010 Independence Day Awards Ceremony at Queen's Hall
UPDATE: August 21, 2011
…Pat Bishop Dies
Bishop, 71, passed away yesterday afternoon after she collapsed during a meeting in Port of Spain with Minister of Planning, Dr Bhoendradatt Tewarie, masman Peter Minshall and a number of her cultural colleagues.
'She will be missed'
One of this country's leading icons in the arts and music, Pat Bishop, passed away around 5.20 yesterday evening. She was 71.
Archie: An outstanding, unparalled contribution
'One of the most versatile women in Caribbean'
UPDATE: August 22, 2011
Praises, admiration for Bishop
From the Prime Minister to the Marionettes Chorale to the singers who knew her best, a wave of tributes poured in yesterday on the sudden passing of renowned musicologist Pat Bishop.
Govt: Bishop's legacy will live on
Pat Bishop's legacy will continue to bless the performances of future artistes according to Prime Minister, Kamla Persad-Bissessar.
'She was a friend to many a musician'
Pat Bishop was a cultural icon who was not afraid to tell anyone what was on her mind. She held to her views and went down fighting knowing she was right in her opinions.
Pat Bishop—an example to follow
Pat Bishop was one of the most versatile Caribbean women of our day. A citizen of Trinidad and Tobago by birth, she was a national scholarship winner from Bishop Anstey High School.
…Family, Lydians extend gratitude
A wonderful teacher, mentor and exemplar
It is sad and ironic that shortly before she died, Pat Bishop had been expressing doubts about her own achievements. According to Planning Minister Dr Bhoe Tewarie, Ms Bishop had been talking about past efforts to bring culture into the mainstream, and had said she was sceptical of their success.
UPDATE: August 23, 2011
Bishop left note on her funeral
The late Pat Bishop had described in a written note how she wanted her funeral service to unfold. The document containing instructions for her funeral service was found by her family among important documents at her home.
NCBA pays tribute to Pat
The National Carnival Bands Association (NCBA) has paid tribute to late cultural icon and Trinity Cross recipient Pat Bishop, who died on Saturday evening.
Abdulah: Bishop felt for workers
At the time of her death Pat Bishop was very concerned about the state of the nation and the way that many working people, through no fault of their own, were being marginalised.
Calls for Govt to honour Pat Bishop
The People's National Movement (PNM) is calling on Government to find an appropriate way to honour the legacy of the late cultural icon, Dr Pat Bishop.
Respecting Pat's wishes
The passing of Pat Bishop, as tragic as it must be to her family and friends, is also the end of a remarkable career in the arts in Trinidad and Tobago, one that is largely unparalleled in its polymath range, intellectual complexity and earth deep richness. Pat Bishop was an artist, a teacher, a musician and conductor, but those descriptions seem woefully inadequate in capturing the full range of the work that she did in those fields.
UPDATE: August 24, 2011
Gypsy: Bishop will be honoured
Arts and Multiculturalism Minister Winston "Gypsy" Peters has assured that under his direction "things would be put in place" to recognise for posterity, the contributions of Pat Bishop.
Salute to Pat
Cultural activist and icon, Pat Bishop died as and where she had lived, among the arts fraternity fighting for the recognition of local culture, and we can think of no greater acknowledgment of her contribution to Trinidad and Tobago than for the nation this year to pay tribute to Ms Bishop with choir and steelband at its 49th Independence celebration. A recipient in life of the country's highest honour, the Trinity Cross, (now named the Order of the Republic of Trinidad and Tobago), for her contribution to Art and Community Service, it is fitting that Ms Bishop's death be marked with music and song. Pat Bishop personified creativity, vibrancy, and patriotism. A musical memorial that celebrates the best of TT might also help to soothe and uplift TT's citizens, adjusting anxiously to living in a limited state of emergency.
UPDATE: August 25, 2011
Quiet funeral held for Pat Bishop
FOR a woman whose life's work affected the public so deeply, the funeral service for Dr Pat Bishop yesterday was as private and as simple as one could get.