Jazz Artists on the Greens 2009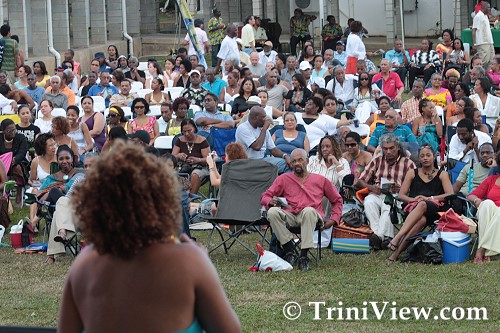 The 7th Annual Jazz on the Greens Festival came off on 29th March 2009, at the Center for Creative and Festival Arts in St. Augustine. Organised by Production One Ltd, the show featured an exciting cast of performers who delighted the audience who sat on mats and chairs on the grass in front of the stage.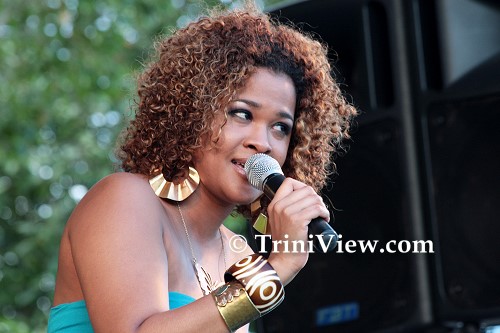 Caroline Mair
Caroline Mair was the first performer as she warmed up the audience with mellow Jazz love songs. Backed up by Ralph Davies on piano, drummer Jerry Banfield, bassist Lincoln Waldron and Dean Williams on guitar, Caroline performed several classics and one of her own compositions.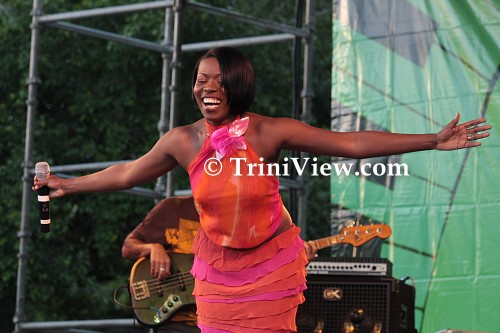 Vaughnette Bigford
Backed by guitarist Theron Shaw, Sean Thomas on drums and pianist Michael Low Chew Tung (Ming), the second performer, Vaugnette Bigford, belted out classics by Ralph Mc Donald, Duke Ellington, and Stevie Wonder as she thrilled the audience with her rich earthly vocals.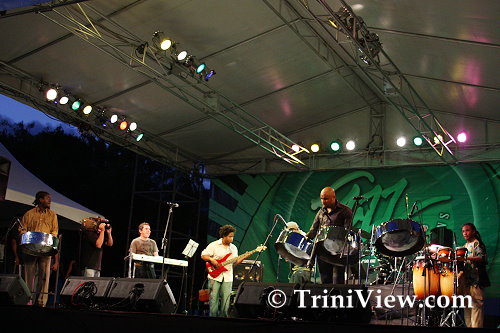 Jazz band, Blue Culture on stage
Blue Culture was impressive with their musical mix, featuring pannists Derron Ellies and Mikhail Salcedo, drummers Modupe Onilu and Karl Doyle, guitarists Jabari Fraser and Kevin Juman, flutist David Bertrand and keyboardist Simon Mendoza. The pannists Derron Ellies and Mikhail Salcedo added a nice dimension to the set as they closed with a piece composed by Derron Ellies and Karl Doyle. The Pan was also in the forefront of the set led by American pannist Jonanthan Scales. Ably supported by Russell Durity and Dean Williams on the guitar and Ryan Lassiter on drums, this set also went down favourably with the audience.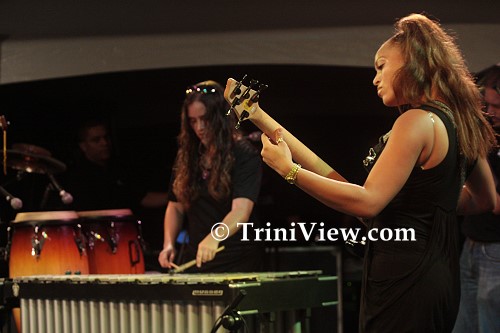 Vibraphonist Tamara Castaneda and bass player Zayda Rodriguez
The all-female Cuban Jazz trio of vibraphonist Tamara Castaneda, drummer Naile Sosa Aragonc and bass player Zayda Rodriguez Abreu also graced the stage. They brought a different Jazz flavour to the evening as the unique sounds of Castaneda's vibraphone danced beautifully with the heavy bass and the rhythms of the drums.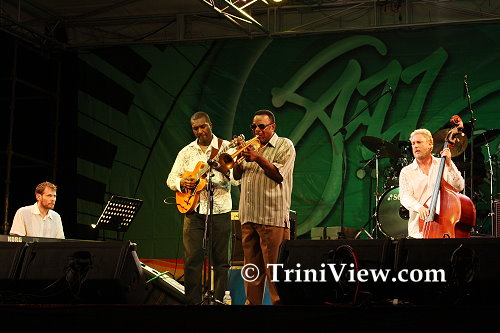 LEFT: Klaus Mueller, Theron Shaw, Errol Ince and Nilson Matta
Veteran Errol Ince got a rousing welcome from the audience as the sweet haunting sounds of his trumpet wafted across the greens. Accompanied by the rest of the Jazz Artistes on the Greens Quintet, they were the final band on stage. The JAOTG Quintet featured legendary Brazilian bassist Nilson Matta, Klaus Mueller of Germany on piano, trumpeter extraordinaire Errol Ince, guitarist Theron Shaw, and drummer Sean Thomas. The interplay between the musicians and their instruments wowed the audience; a fitting finale for a well-organised and tight show.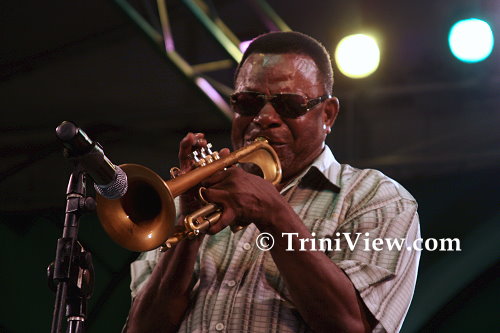 Errol Ince
Production One will next take their Jazz Artistes on the Green show to Tobago on the 25th of April, 2009, featuring Mungal Patasar and Pantar, local band Elan Parle, Canefire and the Cuban Jazz band Bellita y Jazz Tumbata. For tickets and more information visit www.jaotg.org
TriniView.com Reporters
Event Date: March 29, 2009
Posted: April 07, 2009
Jazz Artists on the Greens 2009 in pictures:
www.triniview.com/gallery/main.php?g2_itemId=353869