Jazz Artists on the Greens 2012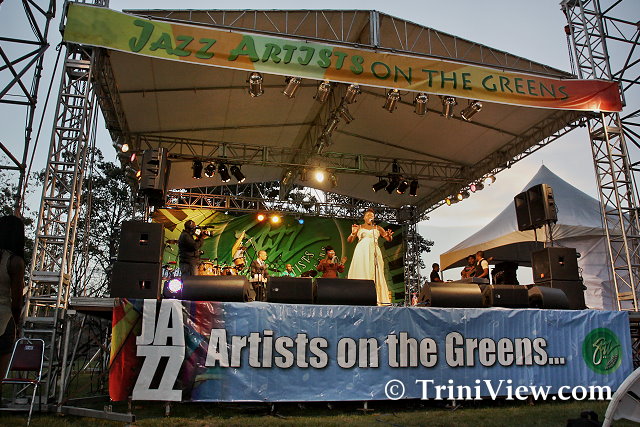 Jazz Artists on the Greens 2012
By TriniView Reporters
Event Date: March 24, 2012
Posted: April 09, 2013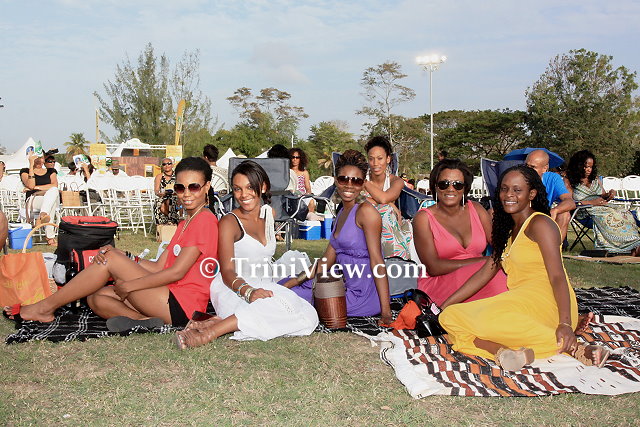 Cross-section of patrons at Jazz Artists on the Greens 2012
On March 24th, 2012, the 10th Annual Jazz Artists on the Greens (JAOTG) was held at the WASA Grounds, Farm Road, St. Joseph. This event, which was organised by Production One Limited, showcased the talent of five artists, incorporating various musical styles as well as a regional flavour. The stage was setup below a charming Samaan tree and had the usual picnic crowd with their baskets, wine glasses, lounge chairs and blankets cozily nestled in front on the grass. JAOTG was well-attended with the seating area packed to capacity and considerable patronage to the food stall area that included corn soup and bake and shark delights.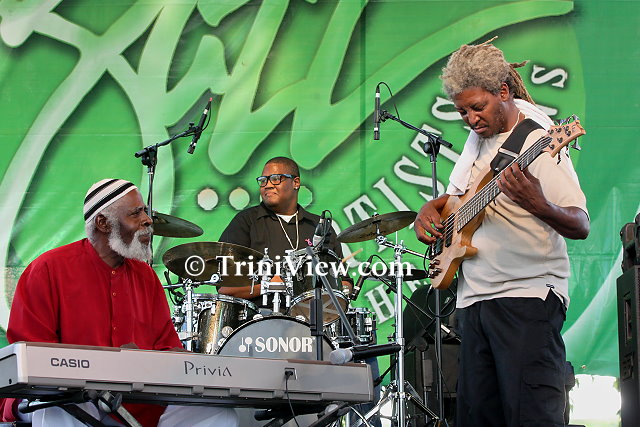 Carlton 'Zanda' Alexander on keys, Makesi Joseph on drums and Russel Durity on bass
The event commenced at 5:15 pm, with MC R.W. of Ebony 104 FM introducing the first act in the accomplished Trinidadian Pan Jazz piano arranger and prolific composer Mr. Carlton 'Zanda' Alexander. He was accompanied by the Cold Pot Band, which included Zanda on keys, Akinola Sennon on pan, Makesi Joseph on drums, Russel Durity on bass and Anthony Woodroofe on saxophone.
Their musical style included a fusion of mellow, breezy keyboard sounds combined with buoyant pan solos and a soothing saxophonist. The drumming added a distinctive character to the entire ensemble contributing to a very rich first performance. The compositions they performed included "Leave it" which was an original composition as well as "Tension" by Calypsonian Shadow and "Mr. Pan Maker" by Calypsonian Stalin.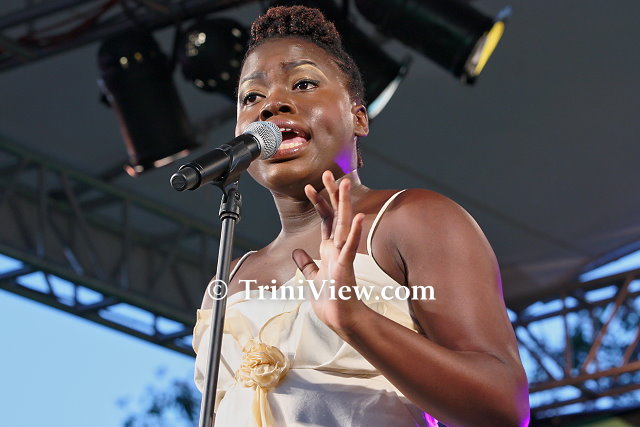 Vocalist Llettesha Sylvester performs at the Jazz Artists on the Greens Concert 2012
With the setting sun pouring its liquid, yellowy-orange rays on the greens, came the second performer for the evening. Trinidadian singer Llettesha Sylvester brought a very earthy, powerful voice that sounded like a combination of Jamaican reggae singer Etana and American singer Jill Scott to the stage. Her first renditions included "Ready or Not" by The Fugees and "Sweet Love" by Anita Baker which particularly suited her voice, beautifully transporting the audience into the essence of the ballad. She also sang songs from Lauryn Hill, Adele, Chrisette Michele, Alicia Keys, Jill Scott and "Ain't No Sunshine" by Bill Withers. Her accompaniment for the night included Dion Nora and Joshua Caines on keyboard, Alpha Simpson on drums, musical director Kevon La Fleur on bass and Nisa Nora and Aneesa Paul provided backup vocals.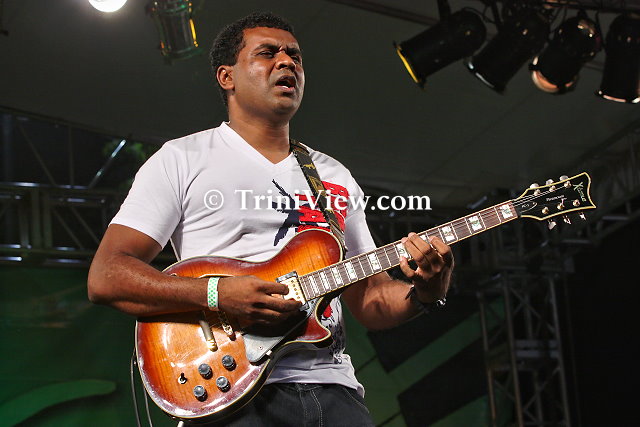 Jazz Guitarist Clifford Charles
At this point, the crowd had really been warmed up and was ready for more. They were satisfyingly wooed and charmed by the following musician Clifford Charles, a jazz guitarist, educator, producer, arranger and composer, who described himself as being influenced by the smooth jazz artist George Benson. His first song was "Strolling" which was an original piece, followed by "That Girl" by Stevie Wonder. His third song was the title track of an album that he chose to launch at the event, called "Songs from Deep Within". He also performed "Bounce" from the same album. He took the ambience of the crowd to another level with his rendition of "Dance with You" by Marshall Montano. His band members included groove-man Rodney Harris on bass, Shawn Friday on keys, Deryck Cadogan also on keys and David "The Baby Boy" Richards on drums. David's drumming was fiery, strong and punchy contributing his own character to the ensemble. They then performed "Bacchanalist" by Kerwin Du Bois, jazzed up of course and with ease. The crowd was invited to sing and dance along. It was very easy to want to get up and join in with the chorus and so the greens eventually transformed into a party atmosphere.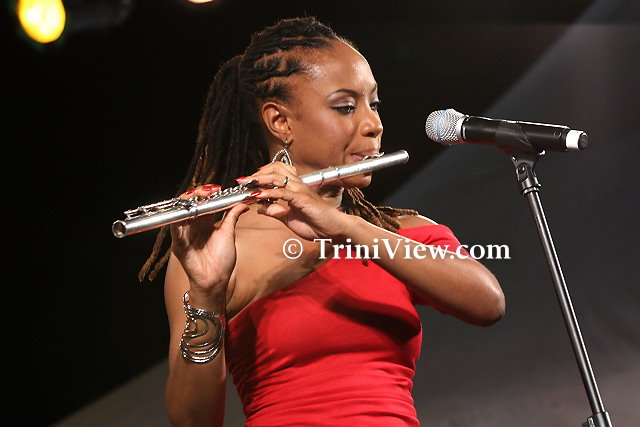 Michele Henderson
The most crowd stirring performer of the night followed. Dominican born Michele Henderson, who also plays the flute, was backed by the band Ming and Friends. Ming and Friends included Michael Low Chew Tung (Ming) on keys, Dean Williams on guitar, Kevon La Fleur on bass, Modupe Onilu on percussion and Richard Joseph on drums. Michele (pronounced Mikel) had the longest set which included "Misty" by Erroll Garner but also popularised by Ella Fitzgerald on flute. She had a crisp studio-sounding finish to her voice, with an impeccable vocal range that compelled the crowd to clap and cheer her on. She also performed "My Favourite Things" from the Sound of Music soundtrack and "Waiting in Vain" by Bob Marley. Her ninth song was dedicated to Production One Limited, the organizers of the event. This song entitled "Spain" was one of two songs she sang from American-Spanish jazz pianist Chick Corea who she was fortunate enough to have performed with on stage in the past.
Her rendition of "I Am Changing" from the Broadway musical Dreamgirls aptly demonstrated her vocal ability, with her receiving a standing ovation. True to her culture, she performed a number of creole pieces including "Pani Pawol", an original song from her last album Sa kaï. Finally, her lively rendition of "Do I Do" by Stevie Wonder resulted in an encore performance.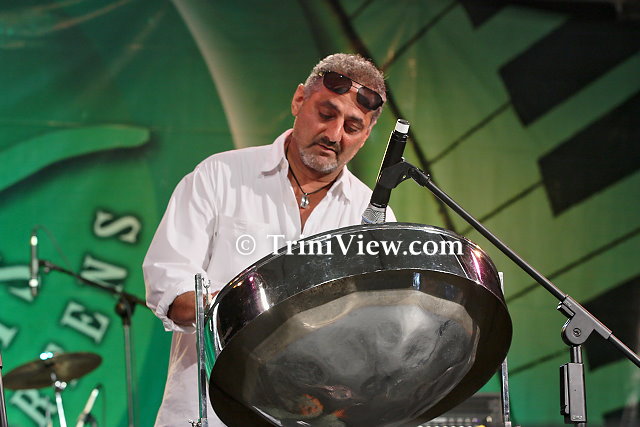 Trinidadian pannist and composer, Annise Hadeed
The final act of the night was led by the very confident London-based Trinidadian pannist and composer, Annise Hadeed. His set included a number of melodious original compositions such as "Spur of the moment", "Square up" and "Corner Talk". The drumming accompaniment of this set particularly shined, skillfully blending solos into each piece. Hadeed also performed a Brother Valentino classic "This Place Nice" from his 1979 album Third World Messenger. His music was tailored to a more mature crowd and he shared the stage with his accompanying musicians Richard Bailey on drums, Theron Shaw on guitar and Douglas Redon on bass. They finished up around 10 p.m. giving the crowd more than they had anticipated.
From the atmosphere and crowd response, Jazz Artists on The Greens proved to be a very enjoyable and refreshing Saturday outing. The organizers would be certainly pleased with their 10th Anniversary celebrations especially with the quality performances of the evening.
Jazz Artists on the Greens Concert 2012 in pictures:
www.triniview.com/gallery/main.php?g2_itemId=629144