2008 Sportsman and Sportswoman of the Year Awards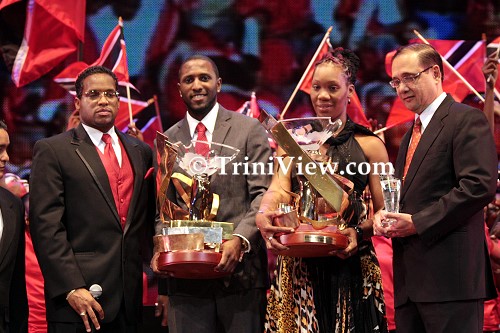 There was little surprise as Olympic double medalist Richard Thompson and the late, undefeated boxer Jizelle Salandy copped the prestigious 45th Annual Sportsman and Sportswoman of the Year Awards held at Queen's Hall, Port of Spain on March 25th, 2009. In this ceremony organised by the First Citizens Bank Sports Foundation, top sporting personalities from various sporting disciplines were recognized for their 2008 achievements.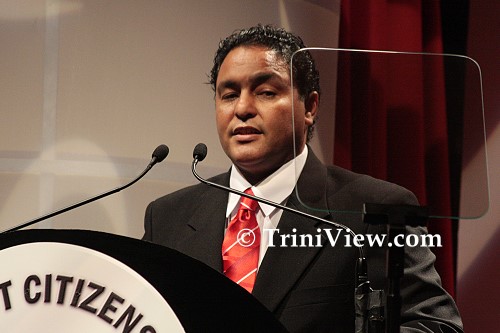 Hayden Newallo, Chairman of the First Citizens Sports Foundation
Hayden Newallo, Chairman of the First Citizens Bank Sports Foundation congratulated the nominees for being recognized as the top performers in their respective sports. He observed that the awards are not just a tangible acknowledgment of excellence but also a means of inspiring young sportsmen and sportswomen to excellence.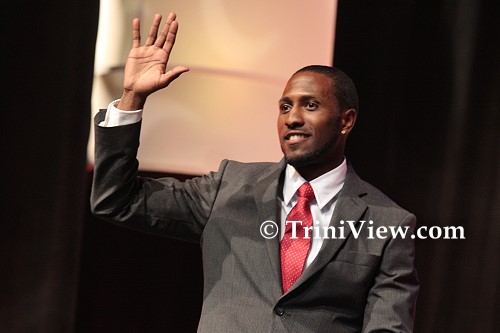 Richard Thompson
Richard Thompson, Olympic double silver medalist in the 100 metre individual and relay events in the 2008 Beijing Olympic Games, was recognized for his 2008 performances. Richard Thompson thanked the people of Trinidad and Tobago for their love and support and remarked that his Olympic success was a fulfillment of a childhood dream of either running in the Olympics or playing in the World Cup. Richard said that he is presently training hard as he looks forward to the upcoming meets this year including the Caribbean Games in Trinidad and the World Championship in Berlin. Also being recognized for their Olympic success were the other members of the 4 by 100 metre Olympic team, Marc Burns, Keston Bledman, Aaron Armstrong and Emmanuel Callender.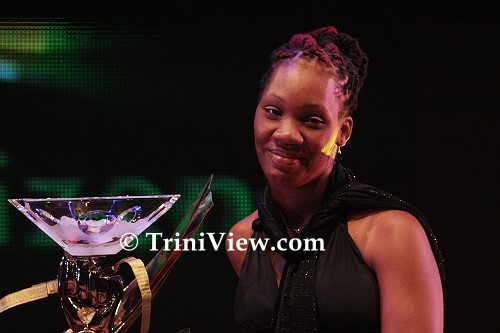 Josanne Salandy, sister of the late Jizelle Salandy, Sportswoman of the Year
It was the first time in the history of the Sportsman and Sportswoman Awards that a person won the top award posthumously. Jizelle Salandy, T&T's most successful female boxer, was the holder of eight international boxing titles including Women's International Boxing Association (WIBA), World Boxing Association (WBA) and World Boxing Council (WBC) titles, which she successfully defended in her last fight. In an emotional moment, older sister Josanne Salandy received the large trophy on behalf of Jizelle and remarked afterwards that her family was pleased that Jizelle was being honoured. "Jizelle's legacy will live on," she said.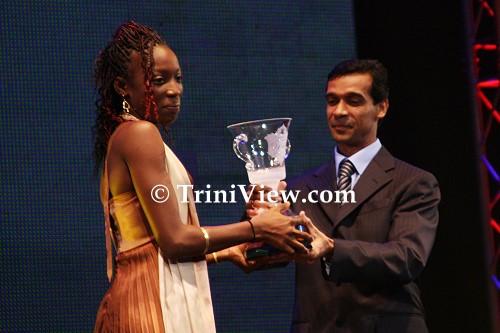 Junior sprinter Janiel Bellille(L) is presented with the Top Youth Award by
FCB Sports Foundation member Mark Mungal
The Jeffrey Stollmeyer Award was also presented to the T&T Cricket Board of Control for being the Outstanding Sports Association while young athlete Janiel Bellille, a Carifta 400 metres and 400 metres hurdle gold medal winner, won the Youth of the Year Award.
Full list of nominees for the 2008 Sportswoman and Sportsman of the Year Awards:
Women
Amelia Kimberly Corbie (Taekwondo), Nicole Lambie (Karate), Bridget Singh (Automobile Sports), Jizelle Salandy (Boxing, posthumous), Julianna Straker (Rugby), Ahkeela Mollon (Football), Anisa Mohammed (Cricket), Aditi Soondarsingh (Chess), Alanna Lewis (Hockey), Shelly-Ann Dhanraj (Rally), Kerrie Sample (Squash), Nancy Joseph (Volleyball), Kelly Ann Baptiste (Athletics), Rheann Chung (Table Tennis), Monifa Sealy (Golf), Carlista Mohammed (Tennis), Tamara Ribeiro Bailey (Bodybuilding), Sharntelle McLean (Swimming), Pietra Gay (Basketball), Ananda Fraser (Gymnastics), Crystal Ann George (Netball).
Men
Brendon Strong (Karate), Quinn Keron Cabralis (Chess), Sheldon Bissessar (Automobile Sports), Wayne Kelly (Rugby), Daren Ganga (Cricket), Lenn Hypolite (Taekwondo), Carlos Greene (Weightlifting), George Vire (Archery), Ricardo Jadoo (Horse Racing), Aaron Barcant (Sailing), Dwain Quan Chan (Hockey), Rezan Mohammed (Rally), Marc Anthony Honore (Volleyball), Richard Thompson (Athletics), Dexter St. Louis (Table Tennis), Alistair Espinoza (Badminton), Stephen Ames (Golf), Yohansey Williams (Tennis), Jason Scotland (Football), Christopher Sellier (Cycling), Dechon Durity (Bodybuilding), George Bovell lll (Swimming), Keron Bourne (Judo), Kievan Earl Bacquain (Basketball), Robert John Auerbach (Rifle), Tariq Abdul Haaq (Boxing), Colin Ramasra (Squash).
TriniView.com Reporters
Event Date: March 25, 2009
Posted: April 06, 2009
Sports Awards for 2008 in pictures:
www.triniview.com/gallery/main.php?g2_itemId=353220