Celebrating the Life of Professor Tony Martin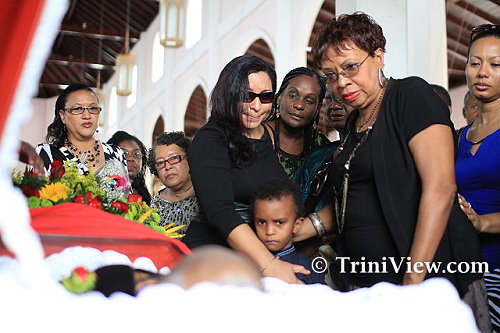 Family and Friends at Prof Tony Martin's Send-Off
Trinicenter.com Reporters
January 29, 2013
The Celebration and Thanksgiving Service for the life of Professor Dr. Tony Martin was held on Friday 25th January, 2013, at St. Theresa's Church Woodbrook. Friends, family, historians and activists gathered to pay their respects to the Trinidad-born scholar best known for his work on Marcus Garvey.
In attendance were Khafra Kambon, Chairman of the Emancipation Support Committee; Asha Kambon; Peal Eintou Springer; Atillah Springer; Rubidiri Victor; Deryck Murray; David Abdullah; Hollis 'Chalkdust' Liverpool; Professor Brinsley Samaroo; Professor James Smalls; Donna McFarlane, Director/Curator of Liberty Hall, Kingston, Jamaica; Professor Rupert Lewis (U.W.I. Jamaica); Sheldon Blackman; Hubert Peter Diaz, 'The Flagman'; Martin's ex-wife Dr. Paloma Mohammed and young son Shabaka Martin among others.
Fr. Clyde Harvey delivered the homily, extempo artiste David Bereaux performed Lord Kitchener's "Ole Time Calypso" and Mighty Spoiler's "Bed Bug", Ru-Anne Cabralis performed a hymn for the service and former president of the Joint Consultative Council, Winston Riley delivered the eulogy. Professor Martin was then cremated at the St. James Crematorium.
Martin has been described as a tireless soldier of African history, a brilliant researcher and a great friend. He was born on 21st February, 1942, and grew up in Woodbrook, Trinidad & Tobago. He was Emeritus Professor of Africana Studies at Wellesley College, Massachusetts, where he taught from 1973 to 2007. He also taught at the University of Michigan-Flint, the Cipriani Labour College (Trinidad), and St. Mary's College (Trinidad) and has been a visiting professor at the University of Minnesota, Brandeis University, Brown University, and The Colorado College. He also spent a year as an honorary research fellow at the University of the West Indies, Trinidad.
Professor Martin also compiled or edited 14 books in his lifetime. These include Caribbean History: From Pre-Colonial Origins to the Present (2012) published by Pearson Education, Amy Ashwood Garvey: Pan-Africanist, Feminist, Mrs. Marcus Garvey No. 1, Or, A Tale of Two Amies (2007), Literary Garveyism: Garvey, Black Arts and the Harlem Renaissance (1983), Race First: the Ideological and Organizational Struggles of Marcus Garvey and the Universal Negro Improvement Association (1976).
During his career, Martin lectured to university and general audiences all over the United States, Canada, the Caribbean, and England, as well as in Africa, Australia, Bermuda, and South America.
Martin's seminal contribution to the scholarship on African Diaspora history was his work on Marcus Mosiah Garvey. In fact, Martin himself once remarked, "I'd like to be remembered for my Garvey work". His book Race First: the Ideological and Organizational Struggles of Marcus Garvey and the Universal Negro Improvement Association can almost be seen as required reading for anyone interested in learning about Garvey's contribution to the cause of African advancement and the role of his teachings to propel independence movements throughout the African Diaspora. Despite this, much of what has been written about Tony Martin has referred to his role in the 1990s about a controversy over Martin assigning his students readings from a 1991 book published by the Nation of Islam, The Secret Relationship Between Blacks and Jews, Vol. 1. This brought him into conflict with Jewish organizations and Wellesley classics professor Mary Lefkowitz.
Martin added the little-known work to the reading list for discussion in a course that he had been teaching for over 20 years and ignited a firestorm of controversy in which he was labeled anti-Semitic by Lefkowitz, Dr. Selwyn Cudjoe, a fellow Trinidadian on the Wellesley faculty and other members of the academic community. Lefkowitz disagreed with Martin previously on his Afrocentric history lessons that underscored the Egyptian influence on the religion and science of Greece and Rome and wrote two books, both published in 1996, disputing this influence. Students who took his classes, however, cited him as a major influence and inspiration in their lives and on their academic work.
While for some this controversy may seem to overshadow other parts of his career, it represents Martin's stance against what he felt was a lobby to curtail scholarship and enquiry at the behest of the powerful Jewish lobby in the United States. To many, this marks him as a man of some courage. He has never recanted his statements or the assignment of the text as a minor yet legitimate part of the reading list.
After his retirement from Wellesley, Professor Martin returned to Trinidad & Tobago where he continued his research and devoted time to raising his young son. His passing on January 17th 2013 in Trinidad & Tobago at West Shore Medical Hospital has left a hole which one can only hope new and upcoming scholars can fill.
At Martin's funeral, eulogist Winston Riley and Khafra Kambon both charged Martin's son, Shabaka to carry on his father's legacy. Shabaka read a psalm and also received a gold medal from chairman of the Dr. Eric Williams Memorial Committee Reginald Vidale on his father's behalf. The medal was supposed to be given to Martin later this year.
Professor Tony Martin's Send-Off in Pictures
www.triniview.com/gallery/main.php?g2_itemId=701954
Also Read: