President's 2014 Calypso Reception
TriniView.com Reporters
November 26, 2014
President's annual Calypso Reception 2014 in pictures
On Friday 31st October, 2014, President's Annual Calypso Reception was held at the National Academy for the Performing Arts. Decorators for the event had done a remarkable job as gold covered tables stood at intervals accentuated with lovely, fresh floral arrangements under overhead murals floating on suspending wires in the softly lit Chinese restaurant. The buffet table stood in the vestibule with a wide selection of local savories as waiters stood at attention near the doors, offering guests an assortment of drinks in long stemmed, fluted glasses. The affair was hosted by His Excellency President Anthony Carmona and began at 7:00 p.m. and was attended by members of the calypso fraternity, shareholders in the industry and their guests.

Mr. Lutala 'Brother Resistance' Masimba, President of Trinbago Unified Calypsonians' Organisation (TUCO) delivers remarks
President of TUCO, Mr. Lutala Masimba also known as Brother Resistance, initiated official proceedings by greeting the President and his wife Mrs. Carmona, Justice Ivor Archie and Mrs. Archie as well as other dignitaries present. He spoke about the historical significance of the year 2014 to the calypso fraternity saying:
A hundred years ago the first chantwell leave the band and cut a record . . . one hundred years ago. Today, in this blessed republic, we have a collective, an organization with an understanding of the situation and with a will; a leadership which has the will to ensure that we celebrate this milestone in our lives. For calypso means so much to us as a people and so much to this society in spite of the fact that it is taken for granted in more than one arena in which we dwell . . . in spite of the fact that we deny the educational power, the educational qualities and the content of our music. It is the only music in the world that has documented every situation in human civilization. We celebrate one hundred years of the first vocal recording of calypso in this here time as we celebrate calypso history month. Let we do it with a joy and a spirit.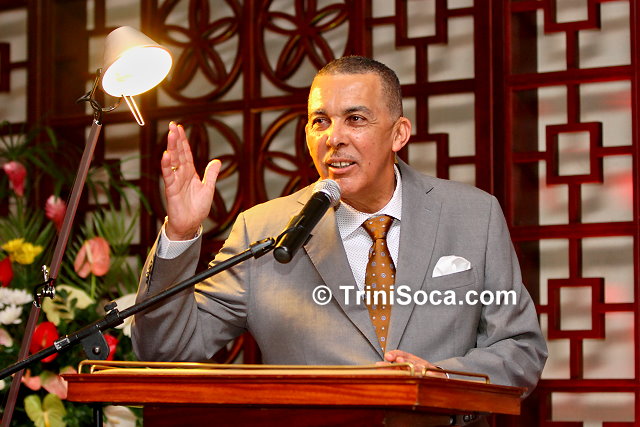 His Excellency Anthony Thomas Aquinas Carmona, SC delivers remarks
He concluded with the chant, "Long live kaiso!"
Patron of the evening, His Excellency president Anthony Carmona consented to say a few words thereafter. His address to the gathering was opened with him singing the line, "Are you a conscious man?" This was greeted with great enthusiasm from the assemblage of performers, writers and managers, since he seemed to be teasing the crowd with his calypsonian alter ego, The Prophet of Sisyphus. However, the mood soon became sober as he spoke about loss the to the entertainment field represented in the recent demise of Mrs. Hazel Redman and Brother Michael. His Excellency requested, "I would like you all in reverence, in emphatic affirmation of greatness to just have one minute of silence for Hazel Ward Redman and Brother Michael who was also into music. I don't know if many of you are aware but Brother Michael in fact offered a stewardship to Machel Montano and Kes who [also] passed through his stewardship." He further recognized the contributions of Hazel Ward Redman as a woman who had assisted in shaping the entertainment industry through the use of her 12 And Under show to highlight the local talent in all spheres. He asked of all in attendance, "In reverence to those two great persons, one minute of silence." The crowd complied and many bowed their heads in respect to the passing of two icons in the Trinidad entertainment industry.
The mood lightened thereafter as His Excellency Anthony Carmona shared his thoughts on the recent award by the University of the West Indies of an honorary doctorate to McCartha Linda "Calypso Rose" Sandy-Lewis. He stated:
I don't think in fact many of us fully appreciated what that meant. Yes, I know in fact that Sparrow had gotten his PhD., and yes I know Stalin had gotten his PhD., and yes, I know Chalkdust had gotten his PhD. but this was Calypso Rose. And I recall making a statement when I was giving the feature address; when I stated words to the effect that human rights is often seen in the context of atrocities and man's inhumanity to man. Equal rights is often seen in the context of political and economic subsets. But no one fully appreciates equal rights in the labyrinth of culture because when Rose came on the scene, equal rights did not exist. The role of women in the world of calypso was simply to be backup singers and also to be dancers wining low. Rose, with her sister Singing Francine, they basically invoked social transformation through music and culture to the point where now, unheard of [before], we have women in charge of an entire band. Women who in fact have ascended the heights of soca culture in the form of Destra, in the form of Faye Ann Lyons and others. So Dr. Calypso Rose engaged in a social transformation that we do not fully appreciate now and I want you all to give a hand of applause for this.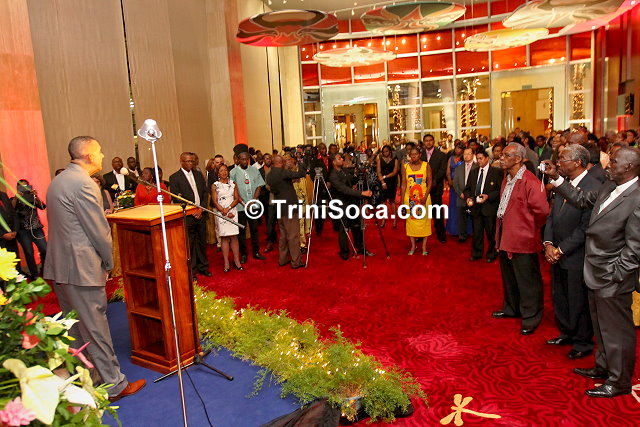 His Excellency Anthony Thomas Aquinas Carmona, SC delivers remarks
He continued:
Now I have always believed that the artist is the one who has his pulse on the society and who, in many ways, represents the conscience of the society in terms of engaging standards that we need to live by. And I can tell you in fact, having lived among calypsonians, having gone backstage, having prepared for shows, having seen the intensity, the verve, the rigour of professionalism that I am confident that you all here as a society can continue to advance the consciousness of the society. That is why my song to you was, "Are you a conscious man?" And consciousness has to do not only with local issues, but international issues. Because we need to fulfill our greatness as a people, and we are in fact so great that sometimes we don't fully appreciate ourselves. That we can spread a philosophy of inclusiveness, a philosophy of life, a philosophy that would tell the world that you can come to Trinidad and Tobago and here's a place called a rainbow country with cultures, with religions and with political affiliations, and at the end of the day in fact we are still one ladies and gentlemen; we are one! And this we must never forget.
His Excellency waxed philosophical as he reminisced:
The person who got the [national] award this year for music, this is Mr. Joseph. He got a bronze award, but man, he is a golden man! I can tell you that down in Siparia, he has played a major role in forging our musical objective. The thing about it though is that we need to remember in engaging our daily lives that we are one. I was just commenting this a while ago, that I lost friends back in the 70's. During the 1970's, during the period of the National Joint Action Committee, there was a military organization called NUFF, the National Union of Freedom Fighters. Most of the young men who died fighting for a cause, whether you believed in it or not, were from Fyzabad. And I can tell you up to now – I can remember, because we lived not too far from the cemetery, the bongo drums, the bells, the whistles, the tamboo bamboo – I can remember seeing my friends draped in the flags of NUFF, twenty or twenty-one years old, fighting for a cause they believed in. I felt proud to be from Fyzabad because I was living in the seat of social transformation and revolution. In those days, by the way, my afro was resting on my shoulder and I remember my mother telling me, "Boy you go get lock up, with this black power thing; you go get lock up!" and I said, "Mummy, my afro is not a style, it is a political expression." Because in those days we were talking, we were reading and living social transformation and that is so important in terms of your sense of growth. Those days are gone and we need in some form and fashion to retool our philosophies of life because, as I said, we are a great nation! I want to thank you all very much for coming and we shouldn't restrict this to once a year but we should do this more often. Continue to push the culture and continue to push the way of life and that great philosophy of life that we have that is sometimes referred to as joie de vivre, because we are Trinidad and Tobago and we are one!
At the end of his address, he was met with a warm round of applause as he departed the stage ending the formal part of the evening. Live entertainment followed in the form of 2014 Junior Soca Monarch, Ms. Sasha Moses, performing the song, "Red, Black and White." She was followed by the 2014 Junior Calypso Monarch, Ronaldo London as he gave a spirited performance of his hit song, "Hear My Cry." Mr. Anthony Hendrickson, better known by the stage sobriquet All Rounder performed his rendition of "We Gotta Have Real Love." The entertainment ended with a performance by 2014 National Calypso Monarch Roderick 'Chucky' Gordon who performed his 2014 hit song, "Wey Yuh Think."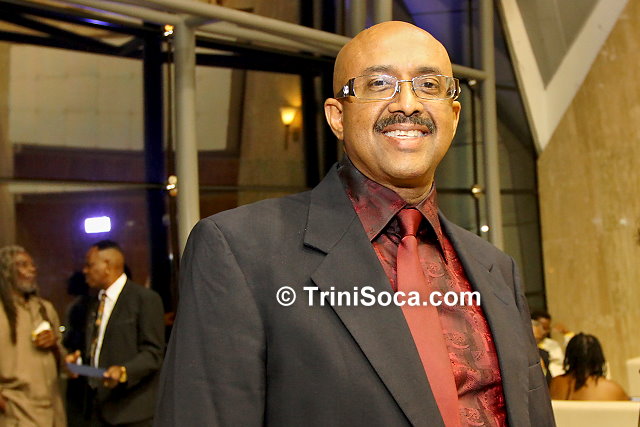 Mr. Ryan Romany, President of the Copyright Organisation of Trinidad and Tobago (COTT)
As guests mingled over drinks, Mr. Ryan Romany, President of the Copyright Organisation of Trinidad and Tobago took the time to chat a bit about his role in the entertainment industry quipping, "Confucious once said there is nothing greater in life than to pass on to others what one has learnt for oneself." Himself a Technical Drawing teacher and Dean assigned to the San Juan South Secondary School, he shared that he'd been a teacher since 1979 but still has much to offer. He acknowledged that he is at this time working on the development of intellectual capital which he says is still "in its embryonic stage," locally. However, he noted:
We in an exciting stage in mankind's history whereby, because of the impact of technology on our development, information is travelling at a much more rapid rate. The kind of things you can do . . . you just think about it and it happens. Being a teacher through times when we didn't have – resources were much more limited then – to being in a time when we have so much more opportunity, it is really a very interesting transition. I have seen education evolve from the acquisition of knowledge to whereby the focus is now on the application of knowledge.
Romany then described his professional evolution in the entertainment field:
With regards to music I've been there as a roadie, I've been there as a musician, I've been there as a singer, I've been there as an arranger, as a producer. I've managed many of the top artistes in the country and I'm now at a position where I can make a greater impact on the industry where I'm the President of COTT, where we take care of the intellectual property of writers and arrangers and hopefully we'll expand that a bit.
A jack of all trades, he is now finishing his MBA, ensuring that his legacy as a teacher can continue past his tenure in the Government system. He felt that the evening was an important opportunity for the members of the entertainment fraternity saying:
If you look around you will see interaction of all the different stakeholders so networking at this point in time is extremely important and there must be continuity in terms of what happens next. Meeting people is always a good thing because if you survey this place here, we have everybody from the president of Trinidad and Tobago, all the artistes, the people who tell life stories. This is our cultural industry. We need to meet and we need to be aware. My role is to deal with policies and making policies with how the organization is run and how do we go about collecting the rights of the members and so on. I'm hoping to meet a lot of influential people who, you never know, some idea something could spark and I am able to add more value to the positions that I hold. God is the boss. I am hoping that I am guided by God and can add some value in some way.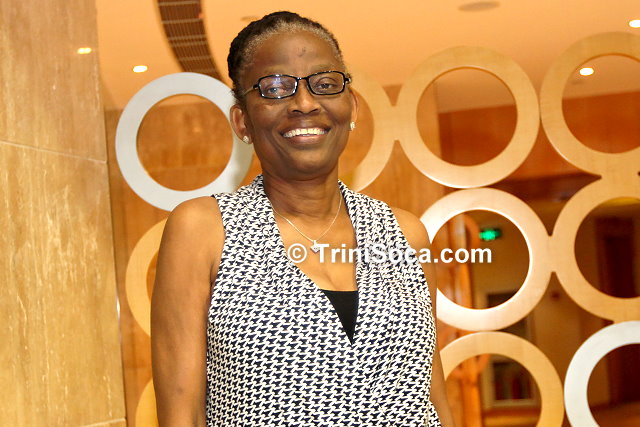 Mrs. Eizabeth Montano, mother of Soca star Machel Montano
Mrs. Eizabeth Montano, mother of Machel Montano was also present at the soiree. She noted the historical significance of 2014, not only in her profession, but also in her family's history saying, "I do things all the time [to celebrate Calypso]. Machel is celebrating thirty three years in the business in 2015 and he's going to be forty in November. So I'm going to do an exhibition which will show all his acts that we collected over the years: from the diaper to the Superman outfit . . . all his trophies. We want to do it a different way . . . very interactive." She also acknowledged that she had slowed down and that there was now a new management team on board: "We have a new key man, Che Kothari from India. He lives in Toronto but he's always with Machel. Now I just oversee everything and I can do other things like this." She then gave a sneak peek into Machel's next project, disclosing, "Machel is doing his first movie that is going to be shot in Trinidad and it is due to start filming in December this year. It's called Scandalous." Her advice to any person seeking to get into the field of music was, "Hard work, commitment and focus."
2007 Extempo King, Mr. Joseph "Lingo" Vautor-La Placeliere was in attendance with his niece Ms. Marissa Guppy. He admitted that he had not participated in as many of the activities as he normally would have on account of the ongoing impasse affecting the Blind Welfare Association. He stated:
At this present time the Blind Welfare Association is kinda in a crisis and if you've been following the news you would have seen me most present in the bacchanal, so I kinda had to move in between the association and TUCO. Given my position as Branch Secretary of the Association I had to take a leading role in what has happened and the issue has gotten worse. The PSC has shut down the association, so right now we out of work. So this Christmas is going to be boring and probably broken as well. I couldn't give as much time as I normally would to the Calypso History Month. I don't know what is happening right now, because they closed indefinitely and that could mean that next year this time we out of work. I can only speak for myself – I don't know any other person's situation, how bad it is – but I'm certain some of them, they have nowhere to go, no one to turn to.
Despite the gravity of the situation facing the Association and its members, he took the time to laud the achievement of Calypso Rose adding, "I would like to see more of that happening and I know it will and I hope that it happens much faster so that some of the icons would get what is their just due before they leave us."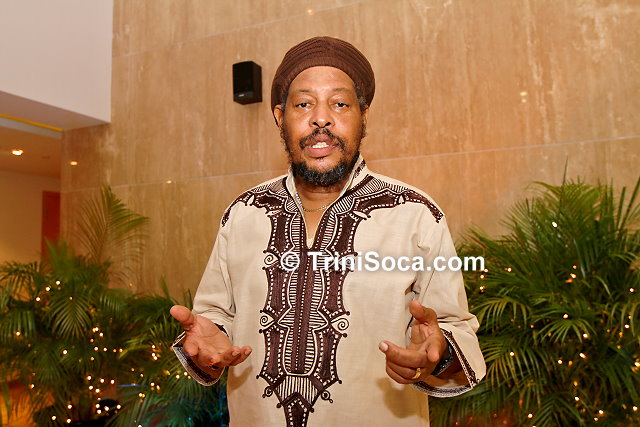 Mr. Karega Mandela, Public Relations Officer of TUCO
Public Relations Officer of TUCO, Mr. Karega Mandela was on hand and he discussed the various activities TUCO had organized in celebration of Calypso History Month, noting the significance of 2014 as the one hundredth year in Trinidad and Tobago's history since the first kaiso record in the world was recorded in 1914. The song was Duke of Iron by Julien Whiterose. He pointed out that while there were a number of songs recorded that year, Duke of Iron is distinctive in that it was the first." He added, "We think history is important. Kaiso is a performing art and the history of kaiso needs to be told; it needs to be taught in schools. So we had a number of workshops for school children to go to the library. There was also a lecture series and a quiz on the radio and we asked each radio station to do their own interpretation of kaiso so each will have a significance of its own. We didn't want to dictate the pace of how it's celebrated. We want people to celebrate kaiso how they see it's best to celebrate. We don't want to impose, because people will have different ideas and we don't want to stop the flow of ideas on how we celebrate kaiso."
He lamented the shortage of local music on the radio airwaves saying, "More can be done; we need more support on the radio stations, more local content, because local content is very important. When I say local content, I'm talking about parang, chutney, rock, soca parang; all local content. Kaiso might be the dominant music in Trinidad and Tobago but there is also a lot of different music. It have pop, rock, it have soca, it have chutney, it have parang. So when we talk about local content we talk about kaiso as the modern music but we talking about music that was born in Trinidad and Tobago. So we need to support. When we say fifty percent local music, we don't mean fifty percent particularly kaiso, we mean local content; music that is born and bred in Trinidad and Tobago."
He laughed at the idea that kaiso might be dying, joking, "They saying since I small that kaiso dying. Some people even say that it die already, but no. Much more can be done to lift the profile of the music but to say it's dying . . . I mean, kaiso been here one hundred years ago and it still here."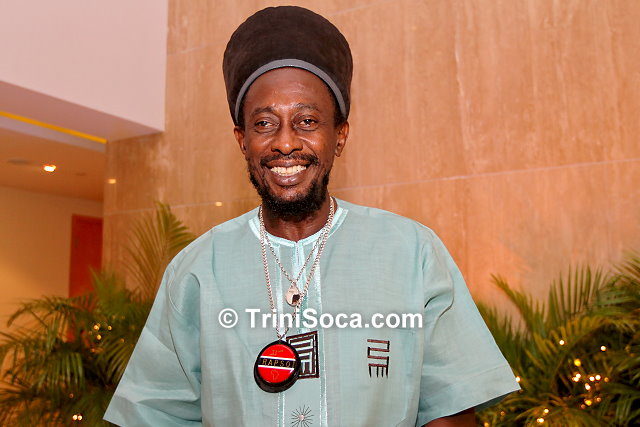 Mr. Lutala 'Brother Resistance' Masimba, President of TUCO
President of TUCO, Mr. Lutala Masimba reiterated what Mr. Karega Mandela stated and he also commended Calypso Rose on her PhD. He stated, "I think that it's a very important occasion in our cultural history, in general for calypsonians and for the entertainment industry but even more so for the women in the industry. Calypso Rose has been a trailblazer for many a year and the fact that she is recognized in such a way speaks volumes for our young women who are now pursuing that journey." He added that his advice to anyone seeking to get into the entertainment industry was, "You should have a sense of belonging; a sense of what you getting into and have plenty belly to stay the distance. It's a difficult journey; it's a beautiful one and a fulfilling one spiritually. So once you're on that frame you can go the distance." He further added:
As a nation we have supported to my mind, every other industry, from the energy sector to agriculture but there has never been a concerted and a holistic plan of state facilitation for the entertainment industry and it's a sad thing. And I think it's something we need to look at as a nation because the entertainment industry has been cited by more than one government as one of the pillars upon which we should base our moving away from a dependence on the gas and energy sector.
However, he is optimistic about the future of the local entertainment industry, noting that for the young people seeking a career in entertainment:
They have a great future. As we stand here in National Academy of Performing Arts, we have a number of music programmes [here] and in so many different areas between the University of Trinidad and Tobago, COSTATT and University of the West Indies. And that's important because it's known that they not coming in blindly; they coming in and can be certified with the talent and skill that they have as a good foundation from which they can pursue their career.
He ended with the observation that, "Tonight is an appreciation from the highest office in the land and it is also to take a time and celebrate ourselves."
President's annual Calypso Reception 2014 in pictures
www.trinisoca.com/gallery2/main.php?g2_itemId=353389