Monk Monté – Machel Montano in Concert
By Nakandi
A Carnival visitor from Uganda
Event Date: February 09, 2015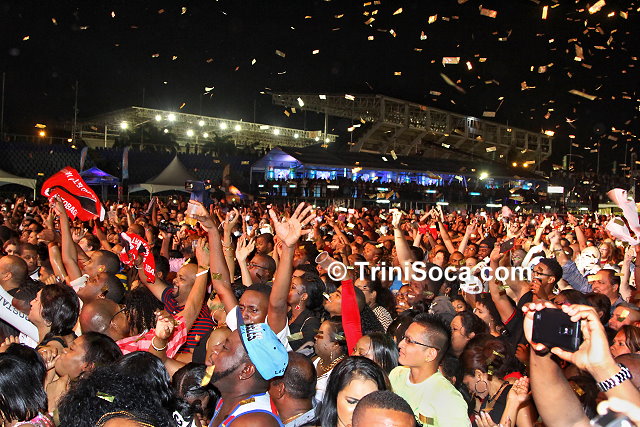 Thousands of patrons at the Hasely Crawford Stadium for the Machel Monday concert
I was introduced to Machel Montano's music in 2013 when I started listening to Trinidad and Tobago radio stations. Songs like "Happiest Man Alive", "Shameless" and "Ministry of Road" were played over and over. I soon learnt that Montano was a popular artist. His videos of concerts showed huge crowds jumping, screaming, dancing and singing along with him. They painted an image of ultimate enjoyment and indeed played into the title of his 2012 hit, "Mr Fete". Attending his concerts looked like a work-out at the gym without the painful lactic acid.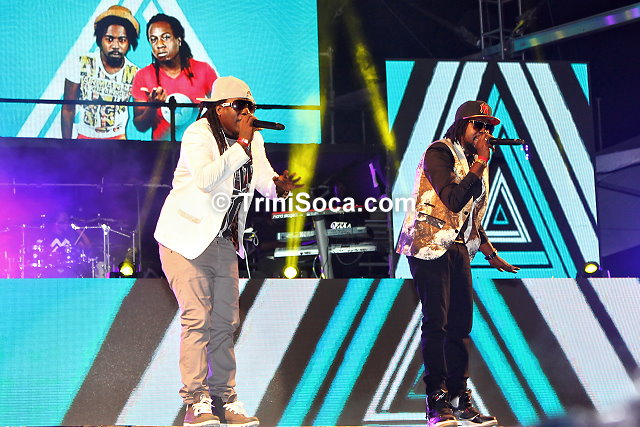 Lead Pipe & Saddis
Days before Monk Monté – Machel Monday 09th February, 2015, social media advertised intensely for the annual concert which was to take place at the Hasely Crawford Stadium, Port of Spain. The line-up of performers included local, regional and international artistes. It included Sean Paul, Orville Richard Burrell (Shaggy), Anthony Moses Davis (Beenie Man), Kerwin Du Bois, Destra Garcia, Gamal Doyle (Skinny Fabulous), Angela Hunte-Wisner (Angela Hunte), Darryl Henry (Farmer Nappy), Patrice Roberts, Isaac Freeman III (Fatman Scoop), Enetimi Alfred Odon (Timaya), Alison Hinds, Chris Martin, Nadia Batson, Nava, Papa Jay, Ravi Bissambhar (Ravi B) and the band Karma, Olatunji Yearwood, Jesse James Enoch (Lyrikal), Osvaldo Reid (Lead Pipe) and & Reshawn Ince (Saddis).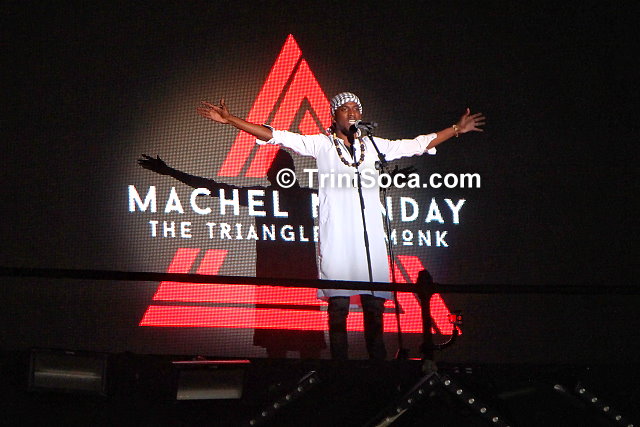 Jimmy October did a spoken word segment
As a previous dancer, and one who enjoys Soca music played loudly, I was looking forward to the experience. Before the "Like Ah Boss" singer took to the stage, the audience was treated to a performance of Chutney Soca by Rikki Jai, Ravi B and the band, Karma. They tried to warm up the audience, but it was evident that the crowd was there for Machel Montano/Monk Monte (MM). Following a few minutes of waiting, a young lad came on stage and performed a segment of spoken word. This left me wondering whether MM was aiming for a "deep" concert: one more than screaming and wining.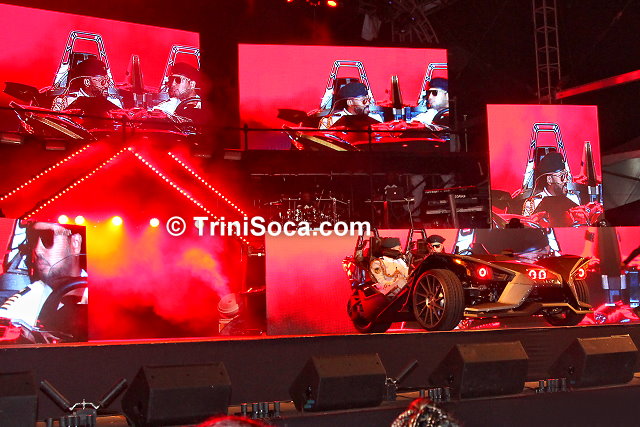 Machel Montano – Monk Monte makes a grand entrance on stage
The screens on stage showed a watch counting down from ten minutes. The audience gave off an audible sigh as it felt like MM was taking too long to make his entrance. The countdown did not reach 00:00:00 before it was replaced by images of a corps band hitting away on their drums, all dressed in white. Monk was nowhere to be seen yet. The drum corps marched across a track, revealing more of its long body, another group dressed in blue. The audience gave off screams of what seemed to be excitement. As they marched on, Machel Montano/Monk Monte/Mr Fete came into view on the screens. The crowd threw their hands up and it seemed like their energy reached MM from where he was as his face showed a look of satisfaction. The corps marched on to an unidentifiable rhythm, but any MM fan knew that it would soon turn into the intro of "Like Ah Boss". A Batman-like mobile rolled out on stage and out came MM, dressed in a light suit with golden army boots and sunglasses, sending the crowd amok. Shortly after his entrance, the familiar intro most were waiting for boomed through the speakers and confetti blew up from the stage. The concert had officially started.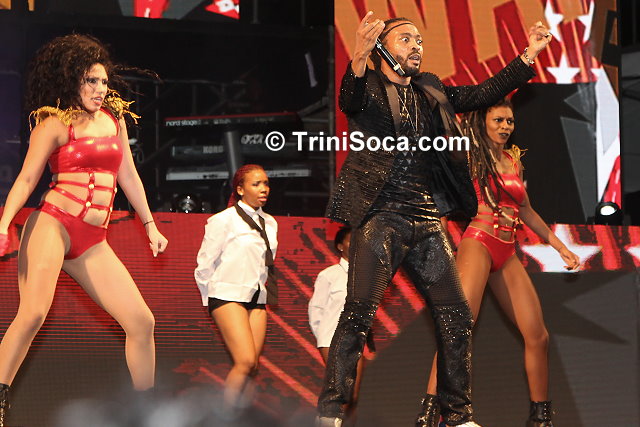 Machel Montano – Monk Monte
MM had an energetic presence from the first song to the last. He kept tempo with his dancers and every guest artiste. His vocals were strong and did not struggle with lyrics to any song. He had a wide smile throughout his performances and made it a point to acknowledge his fans. He kept the crowd on its feet and the vibes high.
The international artists did not deliver as well as the local artists. Their presence was not as high-powered, some more noticeable than others. Timaya, the Nigerian artist whose hit song "Bum Bum" secured him a spot on many Soca playlists, was to return to this year's Machel Monday. However, he did not perform and neither was the reason for his absence mentioned. Although Nicholas Joel Sealy (Fadda Fox) was not on the line up of artists on the official website of MM, he was there and gave a sprightly performance.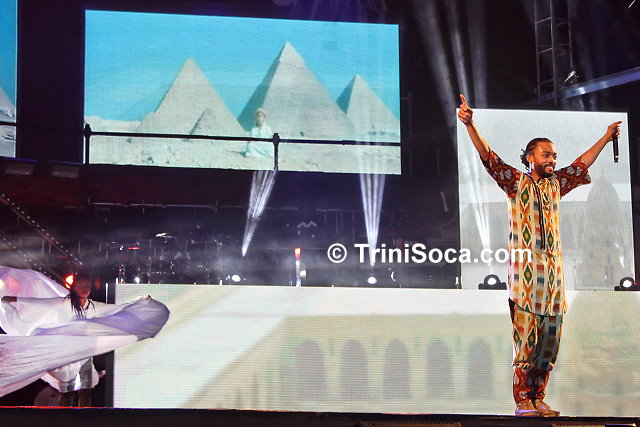 Machel Montano performs "On My Way"
An Egyptian theme was prominent in the promotion of MM's new album, Monk Monte, and an African theme continued in the first segment of the concert. The concept of Monk Monte reflects Machel Montano's attempt to recreate his personality towards becoming a messenger of new knowledge. This he explained is based on his growing spirituality that is a part of his new mission. As the new track "On My Way" started, the screen flashed scenes from its corresponding video. Pyramids and MM's father's and son's faces filled the screens. The African symbols, in the form of mostly West African wear, continued into the following performance with Kerwin Du Bois. Towards the end of Du Bois and MM's performance, a number of Ankara and Kente patterns flashed across the screens at an increasing speed. Given the number and length of their display, it brought into question whether there was indeed a message Montano wanted to get across. A reminder of his African roots, perhaps . . . an attempt to keep an African awareness alive.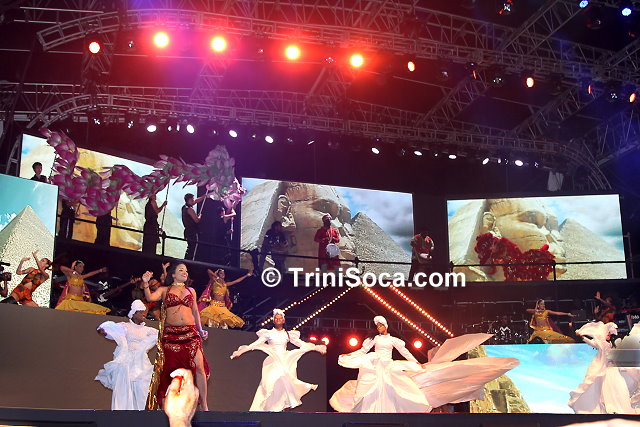 A diversity of Trinidad and Tobago culture
During the "On My Way" performance the diversity of Trinidad and Tobago culture was celebrated. Through displays of Chinese dragons, Indian (female) wear and dance, (a diluted) African wear and dance and first people's wear. The message was clear, but contradicted by the fact that there were no dark skinned female dancers throughout the show.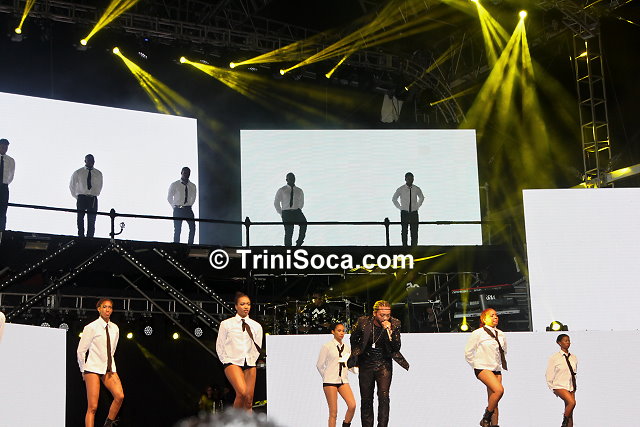 Machel Montano and his dancers
At a glance, the audience did not seem to be bothered by the invisibility of dark skinned females. They were more concerned with keeping their alcohol, which there was plenty of, in their cups as well as jumping up and waving as instructed by the performers. I suspect that the limited space, due to the big crowd, had an effect on how much people moved. When the end of the concert was approaching some people left, freeing up some space. When "Like Ah Boss" played again, marking the end of the concert, most people jumped and danced like the show was just starting. After the chorus of the song was repeated a number of times, Machel thanked his fans once again as he exited the stage. The audience kept yelling "party done", in the voice of the hit "Party Done", as they made their way out in rather spry spirits.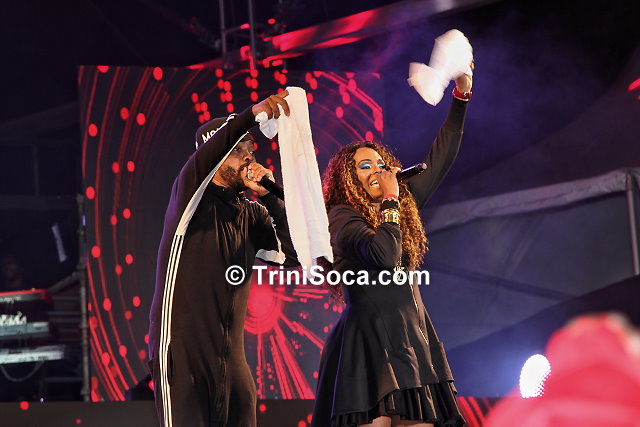 Angela Hunte and Machel Montano
Out of twenty-two main performers, there were six female artists: Nadia Batson, Alison Hinds, Patrice Roberts, Angela Hunte, Denise Belfon and Destra. The unevenness did not stop there as the female artists shared the stage and only one, Destra, got to perform on the Machel Monday stage alone. Although MM did a song with most performers, the male artists got to do their own hit song (or two) alone.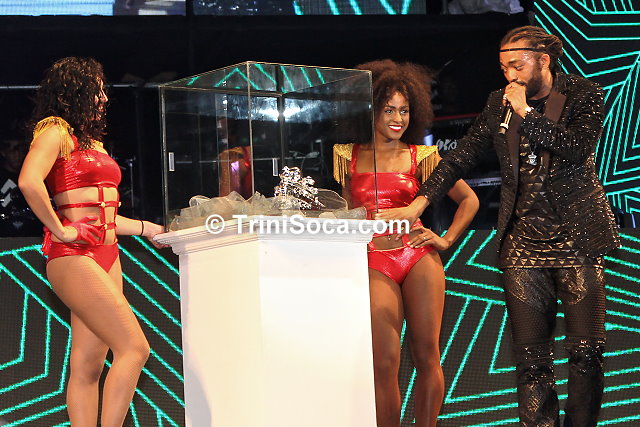 MM on stage with his Soul Train Award
MM brought out his Soul Train Award in a glassed box and mentioned how he was taking Soca international. The box came to stage alongside Ryan Leslie, "the greatest producer in the world", as Machel made a point of. He reminded the crowd how Bunji Garlin brought it home last year and was now overwhelmed to continue the trend.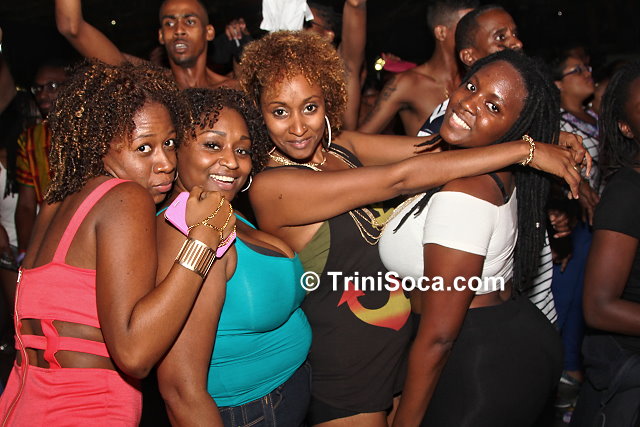 Patrons having fun
With the costume changes, the stage paraphernalia, the popular artist line-up and the cheerful crowd, the concert was in line with Montano's reputation of delivering well. Most people made their way from the venue dancing, wining or singing one of MM's hit songs.