A Christimas Party in Scorpion Alley, Carenage
By TriniView Reporters
Event Date: November 23, 2014
On Sunday 23rd November 2014, the recently reactivated Scorpion Revival Youth Group joined hands with the community Sunday school to have a Christmas party, concert and dinner for the children of Scorpion Alley, Carenage.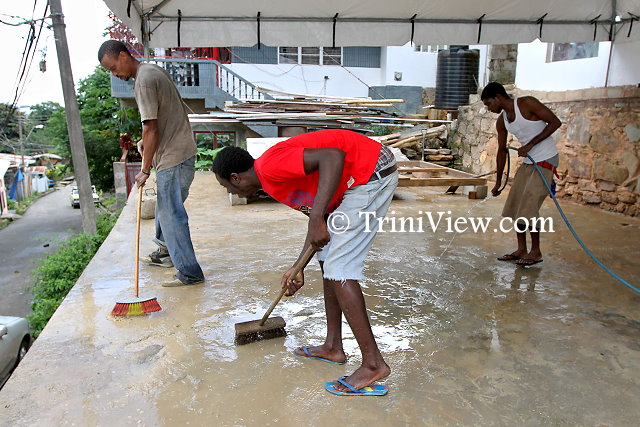 Residents of Scorpion Alley, Carenage assist with the preparation for the party
Final preparations were ongoing from early in the morning, with some of the young men in the community volunteering to scrub the yard with brooms and buckets, and touch up the walls with paint donated by a well-wisher [Brother Alvin] in the church. The event was set to be held at the home of community activist, Mrs. Donna Mark. The house was a hive of activity and despite heavy rainfall earlier in the day, spirits were cheerful and optimistic. Mrs. Mark was instrumental in the reformation of the Scorpion Revival Youth Group and as she sat in her living room, surrounded by her children and grandchildren assisting her to blow balloons and wrap presents for the children, she took the time to explain how this party came to be.
"We looking at the spiritual aspect of it. I wanted to keep the holistic side seeing what had taken place within the community through the past years. It was just sadness, murders, burials, the boys going into a sort of depression, frustration, who mourning and it went on for a while. People tend to push and gravitate towards this jam and wine thing. I did it over the years and it doesn't make sense, the jam and wine. I decided that I would take this approach and give them a word. Give them a word so it would touch their hearts, bring them into reality so they would see that there is hope, and it has another way. So I decided that we would do it through gospels and through the children in songs and prayers and a sort of thanksgiving then to sort of revive the youth group. The name of the group is The Scorpion Revival Youth Group. Same name, just the members would have changed."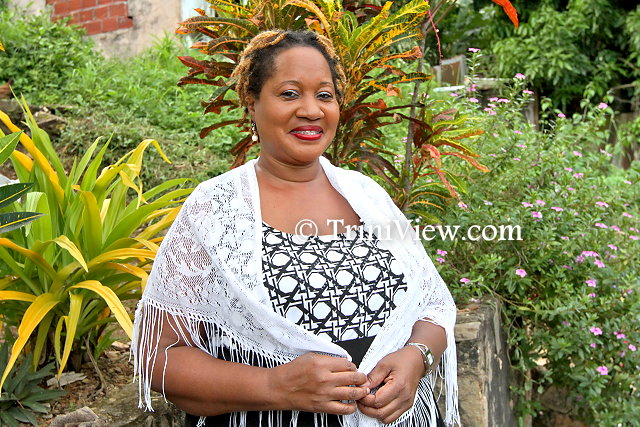 Mrs. Donna Mark
She further disclosed that with the change in the political administration during the last election, the previous funding for the group had been dropped. This has so severely diminished the activities the facilitators were able to accomplish that the youth group's original membership drifted away. Having witnessed how detrimental the lack of support and purpose had been for the youths in the community over the last few years she decided to personally make the effort to reactivate the group in the hopes of shoring up the frustration she was witnessing from the young people and she even linked her efforts with the recent formation of a Sunday School two houses away. This party was not merely designed to provide for those less fortunate but to also offer some much needed stimulus and inspiration to the children and adolescents. The timing of the party was also a collaboratively decided date planned around the activities of the Sunday School since it's teacher was due to go on a missionary trip at the end of November. Said Mrs. Mark, "We decided that we would incorporate the youth group into the Sunday school for the treat." Her expectation was that forty five to fifty children from the area would be attending. "We sent invites and told some by word of mouth." She frankly stated that it was her wish that the public would visit the online page which was dedicated to the youth group and view what events were forthcoming if any well-wisher wanted to assist.
These events are calculated to draw its numbers from the community, the Sunday school and from the group's previous membership. As she spoke about the group's earlier members she said, "They are all grown into teenagers now and they will be coming back to spend time with us." Pastor Bishop Junior Anthony Malony and Reverend Daniel were carded to be the main speakers officiating at the service which was supposed to start later in the afternoon. Mrs. Mark praised the efforts of the religious role models who had come forward to assist in uplifting the people in the area, particularly lauding those of "The Prayer Warrior," as she termed the Sunday school teacher and founder, saying, "She brought this idea of the Sunday School Christmas concert. Her name is Duanta. She has a lot of interest, she has a lot of patience concerning teaching the children." As the group revives, Mrs. Mark acknowledged that some of the activities she is hoping to pursue with the children include Etiquette classes and Homework classes. Her maternal instincts are strongly evident as she wistfully described how positive an influence the planned activities would present in improving the lives of so many in the neighbourhood.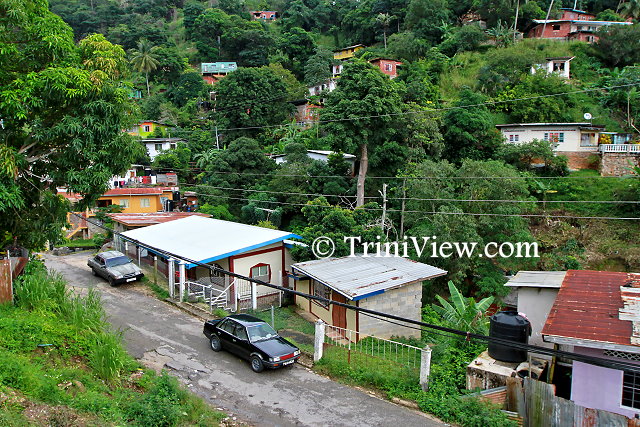 View of Scorpion Alley, Carenage
She went on to share that the stigma of the area caused much suffering, so much so that residents experienced difficulties in obtaining jobs when they gave their address. As a result, the Pastor Bishop had prayed upon the community and renamed it "God's Valley" in the hopes that this would add an upliftment that could be both spiritual and psychological for the people in the district. However, not all were in agreement with this. Mrs. Mark's daughter, Renee Mark, was quite vocal in her view that the name of a place did not necessarily make a place bad and she condemned those who would seek to disassociate themselves from the community by hiding behind a different name. According to Ms. Renee Mark, "I live in El Dorado and when people ask me where I'm from I say Carenage and when they ask which part I say Scorpion. I don't agree with what they say. I understand the stigma, I understand what they say when they say stigma attached but I don't believe that it's because of a name a community is the way it is. I believe it's the people that make community, not houses, not trees and coffee-mugs and stuff like that. People make [a] community so therefore when a community is bad it's because the people are the way they are. I am not ashamed of where I come from. When I'm out there I carry myself a certain way. I disagree with renaming and being ashamed of where you come from, like Laventille and the Beetham, and I am proud to say I am from Scorpion."
However, Mrs. Donna Mark was able to provide some added details to this recent development saying, "We reside in the ghetto but the ghetto does not reside in us. That is the motto of the Scorpion Revival Youth Group. But there is another side to it, because you see now a lot of red tape at the Ministry of National Security and perception and the system, they have it that these areas, Mango Alley, Centipede Alley, Snake Alley, they want to align that with Scorpion Alley." She asserted that this negative stereotype is detrimental to the many efforts of residents to uplift their lives. She went on to share the family lore of how the community gained its name.
"This is a valley, we're between two mountains, it's not an alley. It was given the name by my father. We were the second family up inside of here. I was born 1962, that is somewhere about three years before '62, when daddy and they were cutting down all the big trees. It was forested area in the entire community and when they were cutting the trees to build houses and build our home and make tracks, he said that there were the biggest scorpions he ever saw. All colours, he said don't let nobody tell you it don't have a pure red scorpion with green, all colours, he said you name it, you see it up here. His name was McSween Mark. There was a drive named after him down the road by the Adventist church, McSween Drive, because he built the road to go in there. We are Carenagians, we are from the early years and we have a lot of history in Carenage. Hence the reason why I see this urgency to take up the mantle in my community.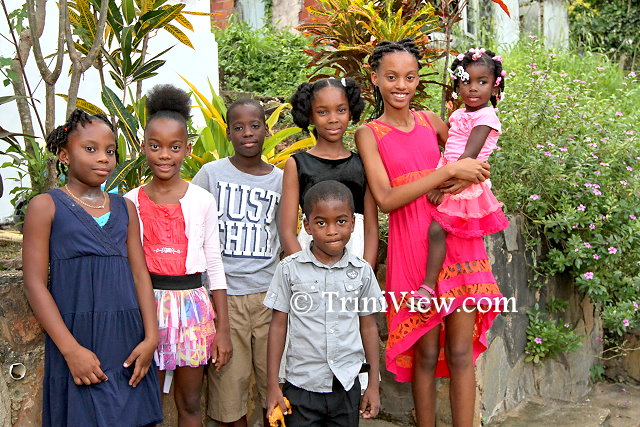 Young residents of Scorpion Alley, Carenage
During the days of the State of Emergency it was easy going for them to say this was a hot spot because of the name. They didn't really go in and investigate. They don't really care so we have to do the caring and loving and nurturing here in the community and prove them wrong. A lot of good things come out of Scorpion. Most of these young people doing academics now, they looking to climb to higher heights. My daughter, she did her degree and she says that in the next two years she's looking to do her Master's…good things. The little ones, we're nurturing them. So good things come out of Scorpion." She mused on the efforts at changing the name in the hopes that this would change the community saying, "I believe the spiritual side of it. Bishop explained that life and death lie in your tongue. So when everybody with this "Scorpion is a bad place, Scorpion is a bad place," people really act out things. When we really started declaring stuff, and calling it God's Valley, I seeing a lot of changes." "Not," she quickly declared, "that I'm ashamed of where I came from."
This sense of pride in home and community was not exclusive to the founding families of Scorpion Alley. The young Sunday School founder and teacher, Ms. Duanta Chew also took the time to share what inspired and motivates her efforts in the community saying, "I grew up in the Tunapuna constituency, and I relocated here earlier this year, around February. I'm thirty one and I'm a Christian six years now. I tell everybody that Christianity, it's a personal walk with God. So you know there would be times where you wouldn't be so steady but you know in who you trust. When God relocated me here he gave me a mandate. He said "I need you to start a Sunday school with the kids," and I will be honest, I was a bit fearful at first. For me it was something of new beginnings in the sense that you're being asked to do something where you have to open up more of yourself to people and for me I was a bit fearful of doing that, but then God has a way of penetrating an individual when he wants something done. So in July I got confirmation and actually started. He gave everything to be done but I was holding back, so when the word came forth, I started the exact Sunday after I got the word on the Friday and I started the Sunday and up until this day, it has been a tremendous success in the sense that I've seen children's lives change; their personalities, I've seen them pour out, in me doing it, what God had me do was actually guide some of them who were experiencing things that I went through emotionally and we all tend to have our hidden struggles.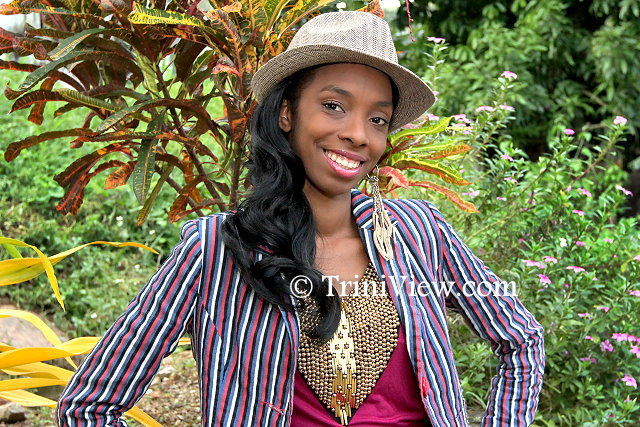 Ms. Duanta Chew
When a farmer plants a seed, it's in its most precious stage and that's when you need to water it timely, you need to feed it, you need to fertilize it and so forth and if it is you don't do such then you wouldn't reap a good crop. So what God had me begin to do was have me actually have to work on his seeds because the word of the Lord is "suffer not the little children so that they might come unto me." And when I began seeing the work actually coming forth I said, "Wow!" I said, "God, you are so all knowing, all seeing you are so mighty," and I began working with them, doing one and one counseling sessions with them. Sometimes they would come to me, "Miss I could talk to you? Miss you will be home this evening? Miss I want to see you." I started to see what God wanted unfolding, which was really moulding minds which he wanted to do great things for him and that in itself made me feel very joyful. Up to this morning, I was a bit emotional because God is just showing me everything unfolding before my very eyes. I'm new to the community and it was really strange for me to launch out to the community and tell these people, "Send your kids to my home," with all that's going on around here."
Her passion for the work is rewarded with the positive results enjoyed by the youngsters and though she is not a born and bred Carenagian, she shared that she did have family roots in Carenage stating, "My uncle is Dominic St. Louis of the St. Louis family, they grew up in Carenage. I didn't really grow up in Carenage. I'm more of the younger generation and being able to give back, it's really heart-warming and it tends to make an individual enjoy life more because you get to see the true essence of life which is giving back and also aiding in the generation that's coming up because we are responsible for them. What we sow we shall reap, so if it is we don't sow positive seeds into the young minds of this generation what are we going to reap? We just gonna reap negative seeds and everybody will then look at them and say, "hey this child is a bad seed or this child is a gangster." But when we look at it in society, now the children that are being termed by these names are really loving children who were misguided because of early stages of abuse, verbal abuse and that kind of thing where they have a longing inside to reach out and really be loved because all children, and even adults, you know, I've seen it, they respond better and they work better when they are loved so it's a learning experience for me as well." While the age group of her students range from as early as two years old and goes all the way up to fifteen she disclosed that she was expecting the group to grow in numbers and in ages since the youths in the area are seeking to be taught and equipped for what they need to go further in life.
This hunger to do better for themselves manifests quite clearly in her classes which runs once a week, every Sunday. According to Ms. Chew, "The time is from four, sometimes four thirty to six o'clock. Because it's in the neighboring community you tend to find it's easy sometimes. There are kids that come from as far up as the hills. We have a time of worship, they share stories, they testify, they share some of their issues, sometimes I ask them who has a need today, who wants god to do something for them. And I'd have them write it down and then we'd pray about it." The children share tales on how to practice the principles they learn and how they help others in school based on the lessons they gain in Sunday school. "It's really informative within the two hours and sometimes they don't want to go home afterwards. There was one experience where I missed one class and I informed them and they were saddened by it, however, the next Sunday they were prepared to do a double session. These children, the passion they have inside! And it's really explosive and mind-blowing when you see what they can do! Most of the time kids are interested in getting toys and sweets and to see that these children love serving God and learning how to live and how to love, that's what God told me to do, teach them how to love. There is change, change can be done and it starts with us as individuals launching out, not undermining ourselves and knowing that we can do it but actually encouraging within ourselves "I can make a difference and the little that I can do will count."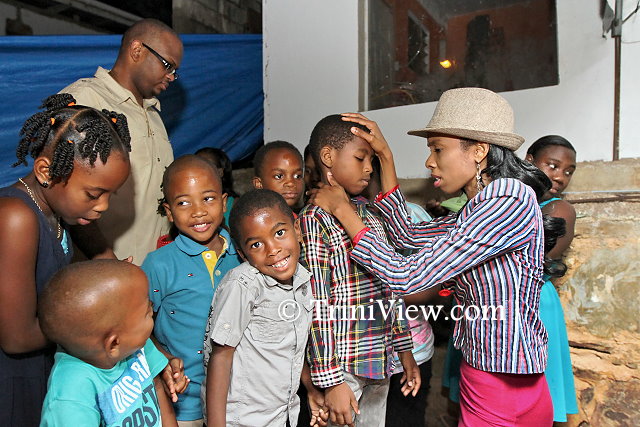 Sunday School Teacher, Ms. Duanta Chew and young residents of Scorpion Alley, Carenage
She also added that today's event would mark a closure for the year's Sunday school and there would be a display of what they have done in the way of artwork displaying the different types of angels God has created and what he has created them for, this exhibition is called "Divine Creations by the Creator." The children had prepared songs and presentations for supportive parents. Her patience developed from her experiences as a teacher which did not start within the church as she stated. "I taught once at Young Minds Early Childhood Centre. I taught for approximately a year. I worked with age brackets of three to five. I believe that I got a lot of experience there to apply here. If I didn't have the knowledge that I have from there I wouldn't understand some of the mindsets of children and that each child carries a unique personality, so sometimes what we might see as naughty is just how this child responds because they have a unique personality based on what they were taught and how they grew up. We all have different personalities so you may find somebody quiet or somebody who always cracking jokes, somebody who would be able to adjust easily, there would always be a unique personality."
As the day progressed, the chores attached to organizing such an event were performed by many a willing hand. In the kitchen, pots and bowls filled with various mixtures and ingredients, daughter Natiki Mark worked with quiet authority. Chicken sizzled in the oven as she deftly sliced seasoning in preparation for cooking the carrot rice. Tiny ornaments sat upon the windowsill overseeing the cheerful ambiance of the home as the bustle continued to get the food done in time for the arrival of the guests. Natiki, who's name had been given to her by the delivering Nigerian doctor and means both "first born girl" and "strength," said that she was looking forward to this evening's event adding that, "I give all the glory to God for this event happening and the Sunday school and the teachers and family members."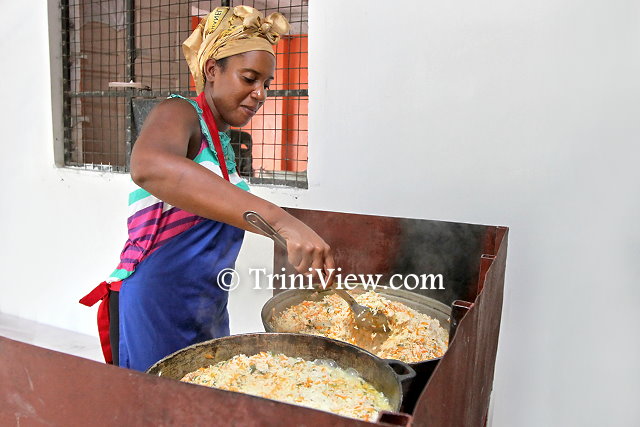 Natiki Mark cooking carrot rice
However, as she continued her swift movements in preparing the meal, Mrs. Mark proudly declared on her daughter's 'sweet hand,' praising Natiki's hard working ethic, insisting that her capacity for multi-tasking ensured that any job that she undertook would be successfully completed. The other two chefs were Ms. Amanda Pilgrim and Ms. Jocelyn. They were the two neighbours who assisted in preparing the food since the Mark kitchen could not solely handle the quantity of food to be prepared. The simple menu was a special kind of carrot rice specific to the community, baked chicken and macaroni salad with a vegetable salad, and was the result of donations which had been given by various interested persons in the community and supplemented by Mrs. Mark from her personal savings. She asserted that her entire family was as invested in not just the party but in the community as she was. Daughter Shadee Mark was out trying to procure a tent while her other daughter, Shakira, was assisting the Sunday school teacher in preparations as well. The effort was very much a family affair as well as a community effort. Renee spoke about her mother, describing her as "very selfless." She went on to disclose that the family would often need things but go without so that those less fortunate in the community would receive some form of assistance. Their needs would often have to wait and her mother philosophically mused, "We get no thanks but we get our blessings from God."
Boys on the block had tried to provide financial support and those who were working had chipped in to help buy drinks and toys. Mrs. Mark pointed out that the help was forthcoming so long as it was requested, saying, "We have to ask them and they would give it. All this effort, it's the [Mark] family financing and the Sunday school teacher." Since the event was supposed to be done later in the year, the corporate entities which had been approached for assistance did not get the support to them in time but what assistance they had pledged would be used for another church service for the community later in December.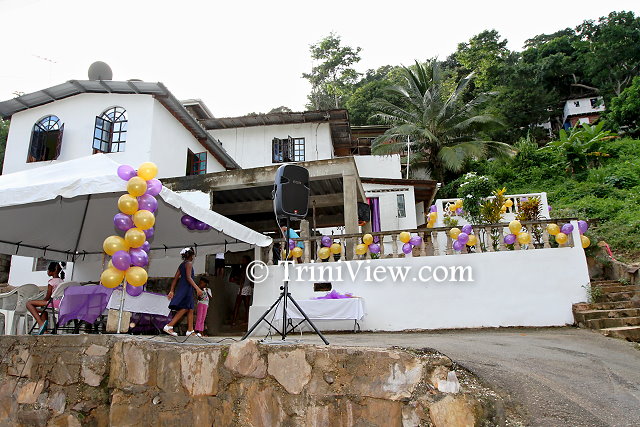 Venue where the Christmas party was held in Scorpion Alley, Carenage
The gold and purple balloons were bound together and strung with ribbons in festive clusters along the wall as a large crate of crushed ice was delivered from a truck. Daughter Shakira took the time to pack the bottles of smalta and chubby in an improvised igloo, this being a refrigerator sized cardboard box which had been painted white and then internally lined with an enormous sheet of plastic thereby ensuring that the moisture would not leak and dissolve its container. As she worked, youths in the area strolled by and neighbours hailed her as they passed in the road. The community is rustic and beautiful upon the lush green hillside with an abundance of surrounding fruit trees such as mango, banana and calabash, while hens scratched open the raw earth with their peeping chicks trailing through the surrounding grass. Though there is now running water and lights, there are still many developments which the community needs.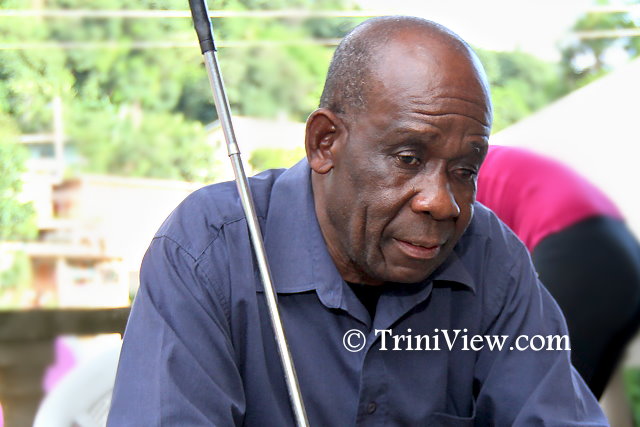 Mr. David Stanley McCloud, resident of Scorpion Alley, Carenage
Neighbour and long-time resident, Mr. David Stanley McCloud expounded on this, sharing that one of the first needs the community had was of an organized community group. He said, "Well one of the things this community need is a good community group. Whether it's junior or senior, everybody, so that we can have more events and bring the people together, get corporate sponsors to help to develop the community and many other things that we need." Events like this Christmas party worked to promote togetherness, "To bring the children together and grow up with the appreciation and respect and love for each other." He went on, "I'm living up here since 1965 and when I moved in we didn't have road, no streetlight, no water, no telephone, we had nothing. Cars weren't even coming up here but now the cars come right up. There is a lot of development taking place and with more expected to take place, this is why I saw we need a good community group up here. I am a founder and chairman for a group called the Trinidad and Tobago Seamen Education Employment Association. We seek to get jobs for young people who want to work in the maritime industry. We are trying to get them educated, to be qualified, certified and we are working together with the government to put things into place so our young people will have a career and a future, to move them away from the streets so that they could be a better citizen to show you what they have in them. Changes come with everything because people more educated, people more aware of what happening and people looking for a better life. The people of themselves developed the community, the government did very little and if the people were getting the assistance from the government more would have been done."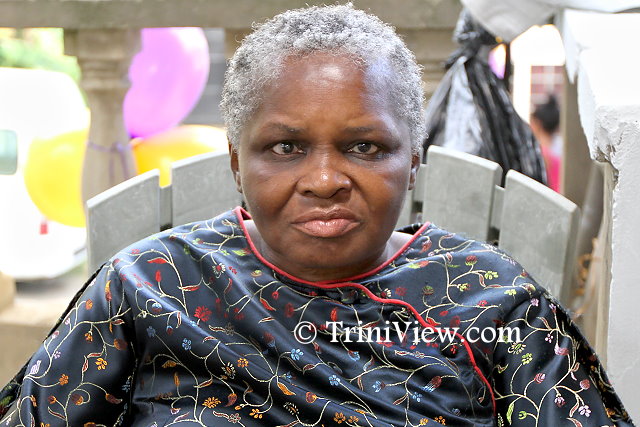 Ms. Madonna Romain, resident of Scorpion Alley, Carenage
Ms. Madonna Romain is another resident who vociferously lamented how the social changes that came to Scorpion Alley over the last few years have been negative, nothing in particular, the death of the children due to gang violence. "It does hurt to know you is a mother and you have a child get shoot that way. It grieve my heart and as a mother, I can talk. It does hurt." However she agreed with Mr. McCloud that better can happen if the government would get involved and assist the people as they strove to create an improved standard of living in the community.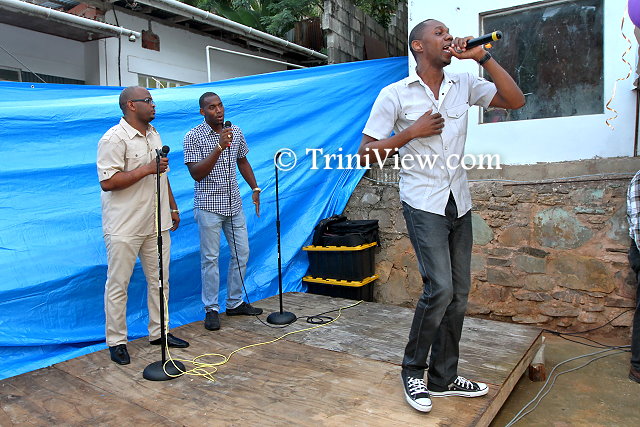 Mr. Donald Job performs 'Falling in Love with Jesus'
As the afternoon progressed and guests started arriving, a nearby ring stove held two large iron pots simmering a mixture of rice, carrots, onions and other fresh green seasonings. Natiki smiled and chattered with the guests when they greeted her, whilst deftly turning the heavy rice in the pots and as mouth-watering clouds of savoury steam was released into the air, she pronounced satisfaction with how quickly the rice had cooked. She too echoed her mother's sentiments that on this Sunday, "A lot of pots would be turned down." With the white tent erected, tables were beautifully laid out and seating arranged for the guests. A nearby wall was draped with bright red satin and festooned with artwork done by the children of the Sunday school. Youngsters arrived with parents dressed in their Sunday finery and the much anticipated event commenced. Ms. Chew was the Mistress of Ceremonies for the evening and it was well attended. Reverent Daniel was asked to open with prayer and was followed on the stage by Mr. Donald Job who offered an energetic rendition of 'Falling in Love with Jesus'. Prayers were offered up for the well being of the children and they were later invited to partake in a meal that was served buffet style. The atmosphere was jovial and the children became even more enthusiastic when they received their gifts.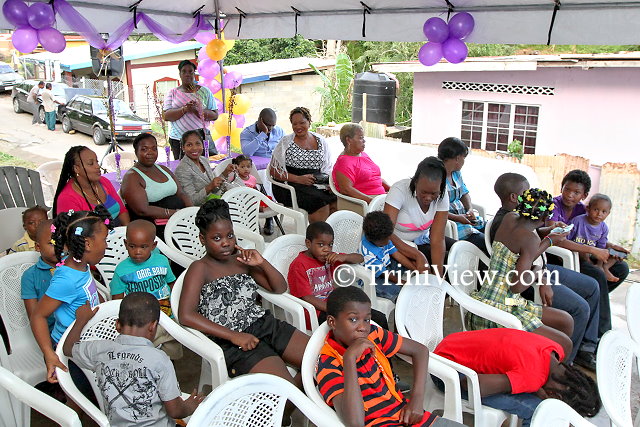 Residents of Scorpion Alley, Carenage at the Christmas get-together
Ms. Shakira Mark noted the difference in this sort of service which was less of a fete-like atmosphere and more in keeping with the community's spiritual and religious mores saying, "It's good for a change apart from the bump and grind. It is good in that it's actually uplifting the name of the Lord in the community and it's a first for us, I hope that we can continue it. It's good especially being in a community like this where a lot of tragedies take place so we pray that it's the beginning of a new day. We only declare positive things in this community, positive achievements. We have done thanksgivings and other stuff like that but to actually have a God focused Christmas treat, this is the first for our entire history here. We had many people from within the community who donated and assisted, our councillor Mr. Errol Slater, he was a major contributor also."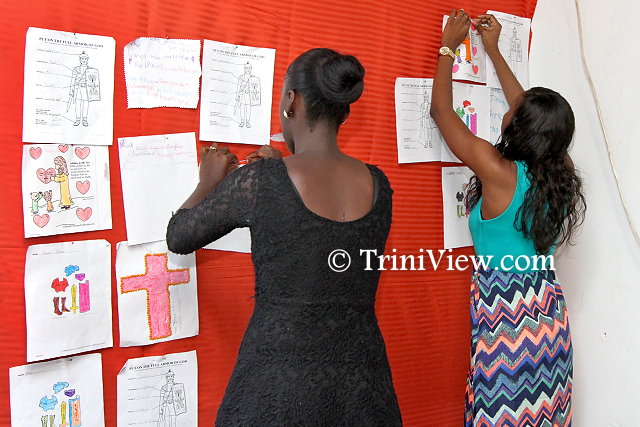 A display of the children's artwork
The display of the children's artwork was much admired as was the nearby table laden with the delicious food which Natiki and other enthusiastic chefs had cooked. As the neighbours mixed jovially with each other, the atmosphere and collegiality was a clear reflection of Mr. McCloud's earlier assertion that, "Events like this bring a community closer together."