Youths Take Hillview's 60th Birthday to the People
By Stephen Kangal
July 17, 2015
The continuing celebrations of Hillview College's 60th Birthday were taken to the streets of the host community of Tunapuna on Saturday 27 June during a 5K fun run organized by an indefatigable Staff Member, Mr. Victorio Hawkins and his group of volunteers. Students from SAGHS, Trinity/Bishop's, Lakshmi's and other neighbouring schools joined the students of Hillview in a grand arena-type celebration enjoying great camaraderie among themselves.
The major sponsors of the event entitled "$60 for 60" are shown in the photo below with a huge 60th Birthday Cake.
A health fair featuring the products offered by various companies was held simultaneous with the main event that ran from 1 to 7:30 p.m.
It was great fun to see the active involvement of young people having a clean time in the pre-race warm up Zumba and the after race party as shown in the photo below.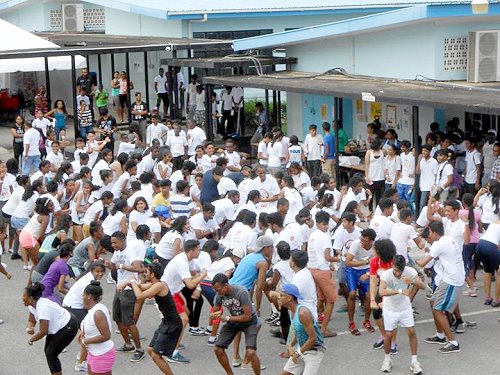 The administration, planning and execution of the occasion was entirely Staff- student -driven and a great learning experience in developing the skills, thrills and chills of events management.
The 5K which was the main event attracted a huge number of participants as shown at the starting point below.
The event climaxed with a huge glittering fireworks display. It was entirely self-financed with the help of generous sponsors and featured MC Sunny Bling and DJ Marcus Williams. Everyone was fulsome in their praise of event organizer Mr. Victorio Hawkins- a staff member.