Fashion Week Trinidad and Tobago 2009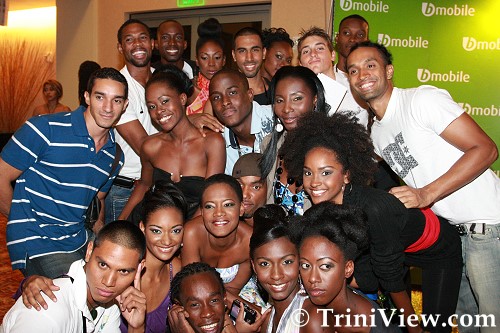 It was hungry cameras, flashing lights, and a dazzling array of colour, glitz and glamour as the second annual Trinidad and Tobago Fashion Week came off from May 29th to June 2nd 2009, at the Hyatt Regency in Port of Spain, Trinidad. Organised by a team that included Richard Young, Diane Hunte, Rosemary Stone, Alyson Brown, and personnel from the Fuse Agency, the show featured both veteran and upcoming designers showcasing their creations over the five night show. This year's show took an environmental focus with the theme 'The Green Revolution: Live Green' and all the five nights had a related sub-theme.

Model displays a Peter Elias design from the theme "Tree of Life"
According to a release from the organisers: "The Caribbean possesses an inimitable aesthetic, that Trinidad & Tobago contributes substantially to this regional style brand with its emerging fashion identity, and moreover that there exists a national fashion fraternity which recognizes that in order to forge ahead, as a fashion industry, its tenets need to be harnessed systematically. These have become the features that constitute the dynamic and distinctive option – that is, the Trinbagonian fashion mosaic."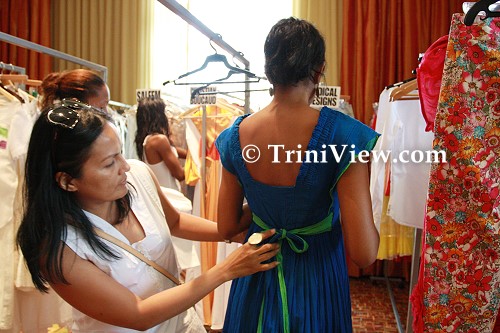 Dianne Hunt, founder of Fashion Week Trinidad and Tobago, and head of Radical Designs
Dianne Hunte, one of the organizers behind Fashion Week Trinidad and Tobago in an interview with Triniview.com expressed that one of the aims of FWTT is to revitalize the local fashion industry. She mentioned that the feedback from the audience was tremendous and that this was good as it is important that the Fashion Week engage the local buying public. She outlined that for next year's show, plans are being made to introduce regional buyers to the show, a move that will provide new opportunities for designers.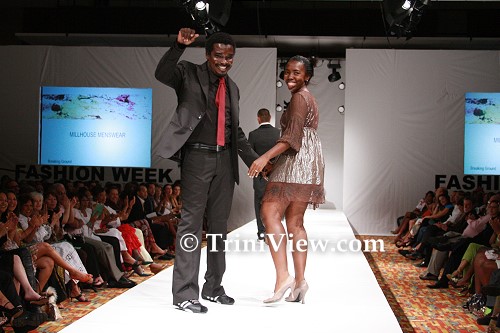 Coline and Gregory Mills of Millhouse Mensware
Millhouse had a strong presentation of their stylist line which caters exclusively for men. Coline and Gregory Mills of Millhouse Clothing expressed that this clothing line titled 'Southern Comfort' embodied an assertion that Caribbean designers have something to show to the world given that the fashion world is still European/North American and White. According to Coline, the local fashion industry is becoming more organised with developments such as Fashion Association of Trinidad and Tobago, UTT (University of Trinidad and Tobago) and the Caribbean Fashion Design Institute. Although known for their men's wear, Millhouse has taken up international engagements that saw them collaborating with a US based Trinidadian designer Charlene Sheppard to outfit music stars such as Jill Scott and Eryka Badu.
(left) Designer Claudia Pegus
Veteran designer Claudia Pegus presented her engaging line tiled 'Trapped' which climaxed in a symbolic unmasking of one of the models. She said that the line was inspired by an experience of being held up at gunpoint at her business place. Fashion, she said, has to make a statement, a positive statement. Claudia's statement represents a feeling of being trapped, what is happening in the country, and the need for release and corrective change in our society. Certainly her presentation had a certain shock appeal that engaged the attention of the audience.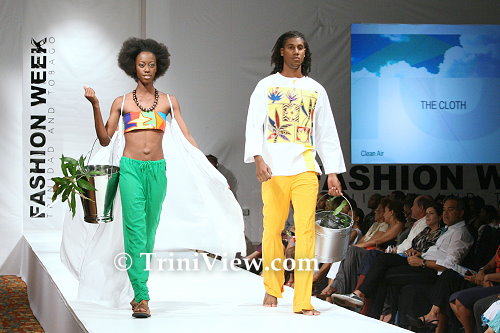 Designs by Robert Young from the theme 'The Cloth'
One of the boldest presentations of Fashion Week 2009 was that of Robert Young's 'The Cloth'. Starting with a dance and social commentary styled monologue, the presentation involved a lot of light, earthly colors sometimes mixed with brighter colours. Models carried plants in silver buckets with tags labelled 'Cuba', 'Flawed Capitalist System', 'Agriculture' and 'Self Reliance'. According to the designer Robert Young, for the last 50 years, the economic embargo against the communist island of Cuba has led to a self-reliance that he feels can be a model for development in many countries that have become spoilt by the now obviously flawed capitalist systems driving global economies.
Designer Anya Ayoung-Chee (C) and models in Pilar wear
One of the more memorable fashion displays came from newcomer Anya Ayoung-Chee, former representative of the Miss Universe for Trinidad and Tobago. Her clothing provided a unique blend of earthy, African fabric, Bobo-Shanti-esque head-wrapping, and hot cuts and folds that made her designs quite dynamic and relevant. Certainly, given the rave reviews of her new Pilar brand, Trinidad and Tobago has a lot to look out for in terms of her future creations.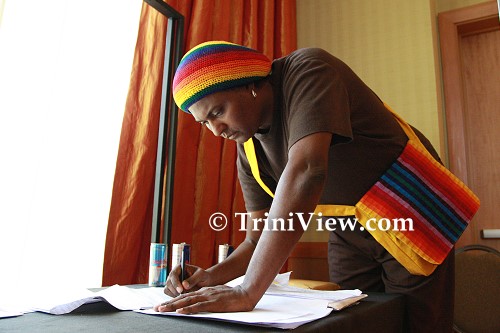 Richard Young, one of the directors of Fashion Week Trinidad and Tobago
Fashion Week 2009 was well-supported by the public who were very enthusiastic about the presentations by the various designers. The presentations were generally quite eye-catching and exciting and the models presented the various lines well. Popular designers such as Claudia Pegus, Meiling, Radical Designs, Sonia Mack, Millhouse, Peter Elias and Heather Jones had impressive presentations while lines such as DAV's Originals, Kimya Gasglow, CIA'S Fashions, Dexter Jennings' Concept Studio and Stacy Smith Designs among others made their presence felt. For a full list and contact information of the designers who participated in Fashion Week Trinidad and Tobago 2009, visit www.fwtt.org/Designers.html
TriniView.com Reporters
Event Date: May 29 – June 02, 2009
Fashion Week Trinidad and Tobago 2009 in pictures
www.triniview.com/gallery/main.php?g2_itemId=372784