Divali Celebrations in Plum Mitan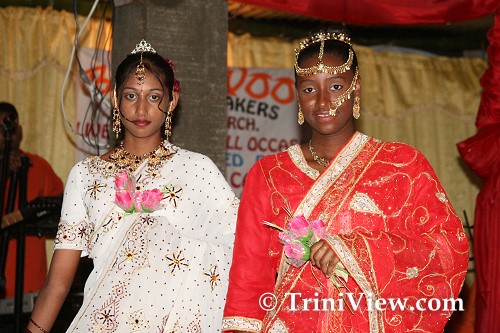 The Ram Nagar Shiva Mandir in Plum Mitan held a cultural show at the community grounds on October 9th 2009, as part of their Divali celebration. Despite the inclement weather, people from the community came out to witness the talent within the community. Children and their parents lighted deyas and interacted in the park right before the show.

Salick Rampersad, one of the main organisers behind the event, shared some details with Triniview.com:
"This is one of our big events of the year since it started back in the year 2000. It started basically with the women of the community. All the children started coming in with them and it just continued to build every year. From then, it has become what it is now. It is more of a big show focusing mainly on the queens at the end of the night, a little bit of the Dhoti King and the Little Princess with children under the age of ten. We also have a little skit which we take a lot of pride in and it involves the boys and girls of the community here. It is a little upliftment for us and a bit of expression. We express ourselves in a way that we see things outside of the community. It has been a lot of fun and we are trying to keep it going."
As part of this cultural show, there was a Dhoti King and Sari Princess/Queen competition which was very enthusiastically received by the audience. The queens for this show were Supreya Deonanan, Samantha Ali, Kavita Rampaul, Camille Mootoor and Nikisha while the little princesses were Arleah Ali, Amisha Rampersad, Devi Subah, Ashley Barran and Amala Dookhan. For the Dhoki King competition there were Pareem Rampersad, Mahabir Ragbir, Lochan George and Ricardo Mohammed.
One of the highlights of the show was a skit put on by the youth group which was not only very funny and entertaining but also contained a message about being careful of so-called spiritual leaders. The actors performed with distinction, bringing peals of laughter from the audience while delivering an insightful message. Throughout the evening there were also various performances of song and dance which were also well-received by the audience. Among this entertainment was several performances by the Bollywood Musicmakers Indian Orchestra who moved the audience with their renditions.