The Career Fair 2014
A Collaborative Canadian and US Endeavour in Education
By TriniView.com Reporters
Posted: January 05, 2015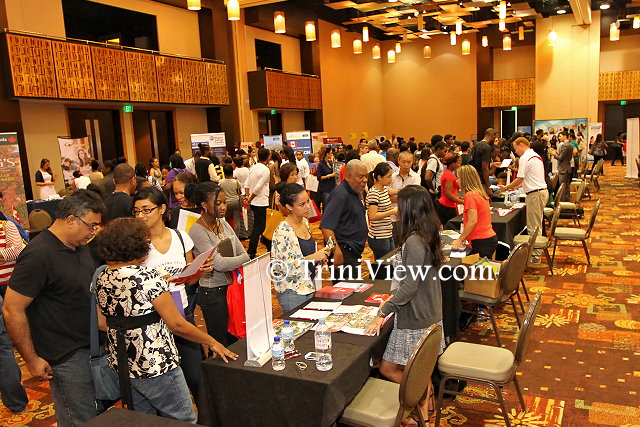 College recruiters assisting students and parents at the the 2014 College Fair
The Embassy of the United States of America and the High Commission of Canada hosted its 13th Annual College Fair at the Hyatt Regency Hotel, Wrightson Road, Port of Spain Spain on Saturday 15th November and Sunday 16th November, 2014 from 10:00 a.m. to 1:00 p.m. and 3:00 p.m. to 6:00 p.m. each day. Universities and Colleges from across Canada and The United States of America were in attendance with representatives from each institution on hand to answer questions and give first hand information to the hordes of eager Trinbagonian students who attended. As recruiters organized and added the finishing touches to their display tables, students queued outside of the Regency ballroom, many of them with their parents who were very supportive of their children's interest in studying in a foreign country.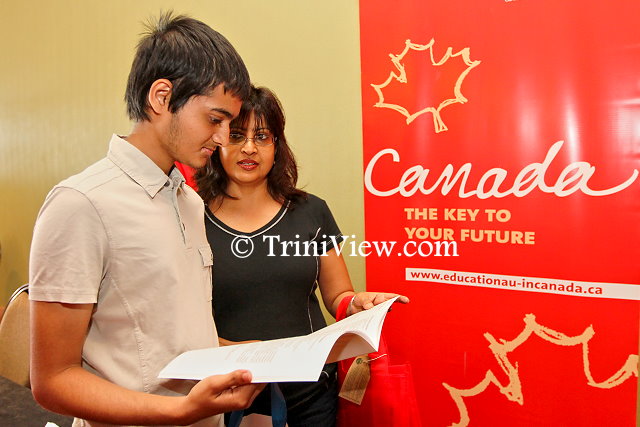 Angela Reyes and her son Aaron Reyes at the 2014 College Fair
Mrs. Angela Reyes was at the fair with her seventeen year old son, Aaron Reyes of Fatima College. He said that he had come "to see the different universities to apply to." The Woodbrook resident had learned about the fair via newspaper advertisements and a poster which had been placed on the school's bulletin board. He indicated that he was willing to study outside of the country since, "the universities away are probably more internationally recognized so they would offer better job opportunities also. I just want to get an idea of what else is out there." His mother offered her full support for his decision should he opt to study abroad saying, "I am all for it, he has to mature, he has to grow up so that will just be his first step. I just hope that we can get all the information we are looking for."
Gabrielle Wilkes was another such applicant. An alumni of Holy Name Convent, she was there with her mother Mrs. Joy Rodney Wilkes. Her career interest is in the field of Game Art and Design and she stated that since she could not access the necessary studies locally she was seeking to find a school where she could pursue her dream. Her mother was eager to support her, saying, "I think a parent's job is to equip a child to step out on his or her own so if that stepping out means going to another country I support her in everything. I want what's best for her." Gabrielle, who is eighteen years old, expressed gratitude for her mother's support because, "she's not trying to stifle me, stifle who I am."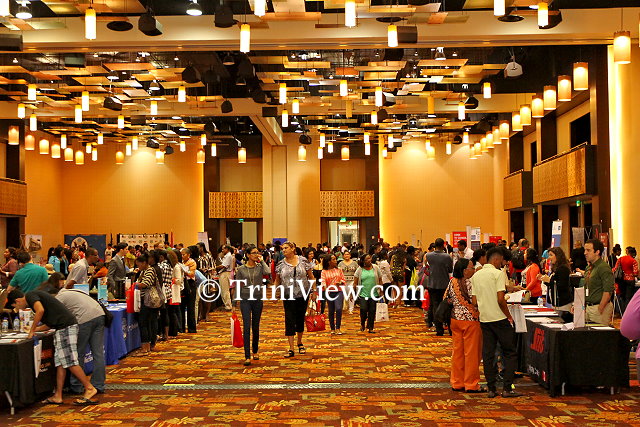 Students and parents at the 2014 College Fair
Seventeen year old Gabrielle Romain attended the fair with both her elder sister Alicia Romain and her mother Lisa Holder Romain. A student of St. Joseph Convent, Port of Spain, she confessed to hearing of the fair from posters in her school. Her field of interest is Environmental Science and Geography. She was excited about the fair because she wanted to "experience more opportunities and new cultures." Her mother affirmed her support for her daughter's objective saying, "I trust her judgement and I think she will know better than me what she wants out of life. She wants to go because she thinks it will be much better suited for her purpose. In terms of doing environmental [studies], there are things that they will have to do and she doesn't feel that Trinidad will offer so she thinks that the opportunities will be better outside."
Eighteen year old Tyrell Gittens of Arima had heard about the fair through a friend. A student of the Arima Central Secondary School, his field of interest is Geography. He admitted that while he was considering the University of the West Indies, he would like to go abroad to pursue his studies because "the program that UWI offers is pretty limited so I cannot specialize in the area that I want to." He went on to share his thoughts about the fair saying, "I think this fair is a good thing, people should come and learn about the different opportunities to study abroad because you never know what you will find out."
Twenty four year old Antonio Gomes of Woodbrook learned of the Fair from Facebook. He shared that he is at this time studying an MSC in Applied Science with the University of the West Indies but was seeking to further his education abroad with regards to Applied Psychology.
He stated:
"I'm at the college fair to gain more information about other cultures and maybe expand my research to the international community so that I can get that knowledge about the research and bring it back here eventually. The fair is useful because you get to meet all these different people and all the different bodies that might facilitate you where we don't have the facilities to facilitate your research. I'm looking to go abroad as an exchange for maybe one or two years and then come back and apply what I've learnt here." He offered that an advantage to studying abroad was that, "You get access to technologies that you may not have here, so for example we might have courses but we wouldn't have a course in media psychology or we don't have a course in child psychology but you can go abroad and get that theoretical framework from abroad and then bring it back here. Eventually we just bring all the skills and resources from other universities and try to encompass it here at the University of the West Indies."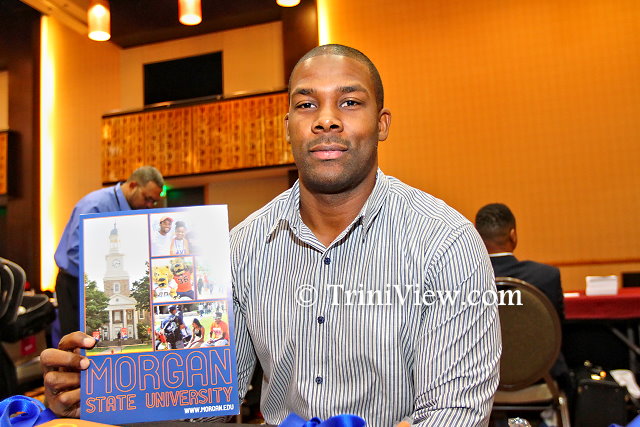 Kibwe Herrera, representative from Morgan State University
Representing Morgan State University U.S.A., Mr. Kibwe Herrera of Fyzabad, Trinidad explained how he came to be a recruiter at the fair:
"Well I went to the [Morgan State] university between the years 2003 and 2007. I did my Bachelor's in Electrical Engineering there. It was a good experience definitely. Formative years in terms of your development both personal and professional. So overall, I took the opportunity to represent Morgan State because I believe that it brings some positives for students. At the bare minimum, they would be exposed to their options up there. Even up to doing A' Levels I wasn't aware of Morgan State University (M.S.U.). I wasn't aware of the opportunities that you have abroad. It wasn't something that I was looking at. I was more looking at the universities down here…at that time it was just UWI."
He indicated that the fair was aimed at educating youngsters about the opportunities. He also felt that the advantage of studying outside was the exposure, saying:
"You meet so many people you go through culture shocks. You go through being educated about different cultures. You don't just meet people from the U.S., you meet people from other Caribbean islands. My roommate for four years was Nigerian. You meet people from all over the world."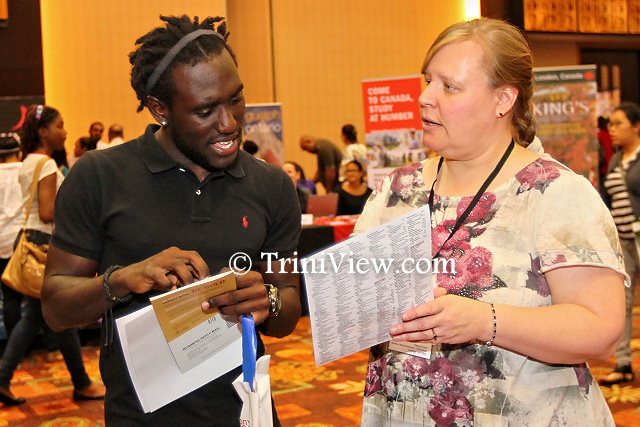 Ms. Cheryl Ernst, representative from Southern Illinois University assisting a student
Ms. Cheryl Ernst was there representing the Southern Illinois University, U.S.A. She shared her enthusiasm for the fair saying:
"I'd like to get to know some more Trinidadian students. I'm curious to know about this market. We've had some Caribbean students before and we have a few majors that match what people here are looking for. We are in the Midwest so we are basically the diversity hub of southern Illinois. The more variety that we can bring to our campus the better. There's a lot of misconceptions about the Caribbean and there's a lot of misconceptions about the world and this [education] is just one way to help purge some of those misconceptions and let students educate Americans as well. We have a very good scholarship which students are very, very keen on. We are located in a small town so it's safe. It's in the country…we have forests, we have lakes. It's a good wilderness environment, students find it very comfortable, very relaxed. Academically we have a lot to offer, we have aviation, we have business, we have forestry management, we have environmental resources and policy in addition to the traditional MBA, business, chemistry, biology."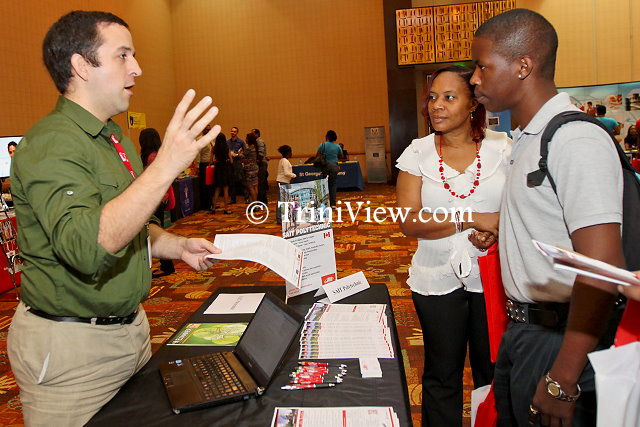 Kevin Newsome of SAIT Polytechnic assisting attendees
Mr. Kevin Newsome of (SAIT) Polytechnic, also known as The Southern Alberta Institute of Technology, was another recruiter who was on site. His University is based in Calgary, Canada which he pointed out, was the only school representing from the West side of Canada. He discussed his involvement in the College Fair, stating that his aim was to increase awareness that educational institutions are not exclusive to the East side of Canada in addition to attracting students from Trinidad and Tobago.
"I think I was the only West Side institution that was able to come besides increasing awareness that there are more institutions than just the east side of Canada as well as attract more students from Trinidad and Tobago. My institution is specifically related to oil and gas and that is our area of specialization. That's why we're here. Trinidad does have a lot of oil and petroleum so hopefully we'll get some more students from here." He mused that Trinbagonian students would prove an asset to the university by bringing diversity to the campus saying, "Most students end up on the eastern side of Canada because it's more convenient, with direct flights to Toronto. But hopefully, this [College Fair] will increase awareness of the western side of Canada that as many or more opportunities for both study and work afterwards. The Trinidadian students that we do get are some of our best students from within the country. I know that our instructors, professors, they like having Trinidadian students in the class. They say they are some of the best ones. So definitely we're hoping to keep up." He pointed out that the Southern Alberta Institute of Technology (SAIT) provided an edge in the job market both as a student and graduate since, "the economy in my province is booming, we don't have enough people within it so there's lots of opportunities for part time work as a student as well as full time after they've graduated because in Canada the students can (if they study a 2 year program) work up to 3 years afterwards. So students will be able to get that additional work experience if they wanted or take their education and come back home if they wished."

(L) High Commissioner for Canada to Trinidad and Tobago, His Excellency, Gerard Latulippe, Debra Boyce, Senior Trade Commissioner, Canadian High Commission and Jennifer Waldschutz, International Student Recruiter from the University of New Brunswick
Representative of the University of New Brunswick, Ms. Jennifer Waldschutz shared that the University of New Brunswick has a longstanding history of excellence both in Canada and in the Republic of Trinidad and Tobago. As the oldest English speaking university in Canada (founded in 1785), it stands as the first engineering university in Canada, the first law school, the first science faculty, the first to break ground in many areas. She shared that part of the unique legacy of The University of New Brunswick was that, "We are best known for engineering, for science and for business and again, because of our age, we were able to become a comprehensive university. So we offer a proper arts and humanities program. We have health care, we do education, we have a very strong business computer science and engineering coop or internship opportunities. So in all three of those faculties, the students are definitely doing work terms or internships. In the other faculties and programs, students can apply or sign up for that. But I think that's one of the things that makes Canada special…it's that students definitely have the opportunity to work during their study."
She continued:
"Most of our universities have the businesses that we work with which are multi-national companies so the students can find jobs with them after graduating and they can then shift back to Trinidad or they can go to a third country in the world. A Canadian university degree we know it's portable, it's recognized all over the world. Our students that we currently have from Trinidad are very active and currently involved in aspects of university life. They are often the first students to be involved in the clubs and societies and playing sports and being leaders in the student council so our Trinidad students are definitely not shy and we're always seeing their involvement. We have a Caribbean society and Trinidadian students are so active in that group particularly. She spoke about the University's presence in Trinidad, noting, "We have a very special relationship with Roytec. Roytec has a UNB degree so some of our professors teach here. We offer a special program with business and especially with education. We have a special relationship here, a special bond with the students and with the school, so over these few days we have the University of New Brunswick table that is half UNB and half is Roytec so you really get to see that it is a true partnership and has been happening for 20 plus years. We're really proud of that!"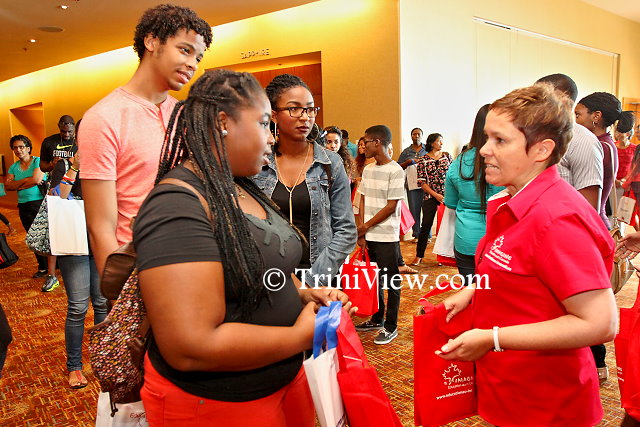 (L) Kezia Huggins, Haydon George and Markaisha De Four chat with Debra Boyce, Senior Trade Commissioner, with the High Commission of Canada to Trinidad and Tobago
Senior Trade Commissioner at the Canadian High Commission, Trinidad and Tobago, Ms. Deborah Boyce was quite pleased with the turnout. She disclosed:
"This is a very important and unique event for us. The annual education fair allows schools to come and meet students directly and target the students who are a right fit for the school so it's a really good opportunity for the students to come and ask very specific questions in schools they're interested in. Everything from what programs are available, what's life like on campus, what kind of sports and hobbies can I do, what's it like to live in that city. For us the fair is an invaluable tool to promote Canadian education in Trinidad as well as other countries." She shared that the Trinidadian students were welcomed in many Canadian universities since, "the schools have all told me unanimously that the Trinidadian students, when they arrive in Canada immediately become very engaged with the local student body. They're involved in the clubs, they're bringing their enthusiasm, they're bringing their talent, so many things to just enrich campus life so we're very lucky that we have such a close tie with Trinidad that we get so many Trinidadian students coming up to Canada. It builds these people to people ties that can strengthen the bonds between our two countries and have very, very long lasting economic benefits." She commented on the number of Trinidadians who have studied via Canadian institutions saying, "It's shocking to me in the last few days how many Trinidadians I've met who have either studied in Canada or have relatives that have studied in Canada and they're doing so much to contribute and continue the ties between our two countries. So this is kind of a really good way and a first step to strengthening our bilateral relationship."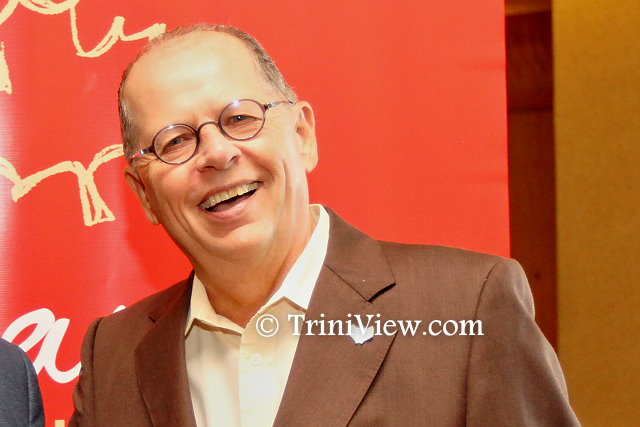 High Commissioner for Canada to Trinidad and Tobago, His Excellency, Gerard Latulippe
His Excellency Gérard Latulippe, High Commissioner for Canada to the Republic of Trinidad and Tobago also spoke about the Canadian Embassy's involvement in this event saying:
"Well it's amazing [the attendance], it's one of the most important attendances that I've seen. Last year was good but this year it's amazing. It shows the interest for Trinis in Canadian and US Universities. For us, for Canada, international education is a priority; we organize these fairs across the world. I don't know if you know but there are 293,000 international students going to Canada every year. There has been a reason for it obviously, the high quality of education and standards and reverse control, but the fact also I would say of the cost of living and tuition; costs are very competitive, lower than most of the other countries which is an advantage. Canada ranks fourth in the world for its broad education and obviously for Trinidadians and for us. It enhances the people to people thing." He added that the Trinidadian students certainly brought value to the Canadian universities, sharing, "I think that Trinidadian students are excelling students, high quality students. They are loved in Canada, they are easy to work with. Canada is a very welcoming country, a multicultural country so Trini students add to this in Canada. For those who have their credentials after the course and work in Canada can apply for Canadian citizenship without leaving the country, we love to welcome Trini students in Canada." He remarked too that the effort towards staging the fair was collaborative since the Canadian Embassy has, "always partnered with the U.S. Embassy for this project."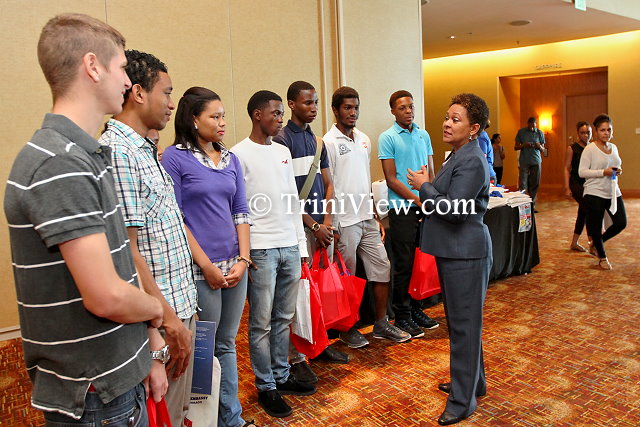 United States Chargé d'Affaires, Margaret B. Diop shares with students
Chargé d' Affaires, Margaret B. Diop of the U.S. Embassy, Port of Spain, commented thusly on this partnership:
"We've had a partnership for many years now and every November we collectively pull together colleges and universities from Canada and the U.S. to demonstrate partnership for the Americas and also because we need, in order to recruit these colleges, a credible mass so we founded the partnership. I think that in our country the U.S. has really prided itself on recruiting students historically. In fact, many of the breakthroughs we've had in science have been from international students so there was a great love on the part of universities for international students including those from your country. At the same time, we get so much value from participation. I just met last week with the President of Howard University who is from Trinidad and he received three of his degrees there including a Doctor of Medicine. That's just a testament and testimony to how well Trinbagonians do in the U.S. when they're pursuing an education. So we're thrilled about the partnership.
President Obama has also created a One Hundred Thousand Strong Initiative and the objective of that is by the year 2020 to have one hundred thousand students coming from the western hemisphere which includes the Caribbean and Latin America and the reverse as well in terms of getting American students to travel overseas through the western hemisphere in order to pursue their international education. It's more than just academics, it's cross cultural learning its understanding different perspectives and then being able to apply that whether immediately upon graduation or through one's life. We're hoping to have a number of students consider the respective universities here because there are a mixture; whether individuals are interested in Humanities or in Science or in Technology, Chemistry, etcetera. There are a broad range of recruiters and academic consultants so one wants to supply as much information as is possible to these students in order that they understand how to get there, so that we have a visa table and we have some of our custom officers speaking to them on what is an F1 student visa, how do you qualify for it, why is it important and when should you file. So the idea is to have a comprehensive recruitment but also informational session."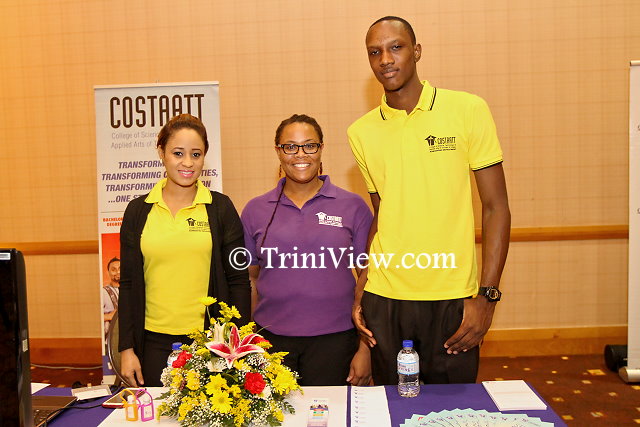 Representatives from COSTAATT
Representatives for local and regional Universities were likewise on hand to offer assistance. Ms. Liselle Prevatt of the admissions department in the College of Science, Technology and Applied Arts of Trinidad and Tobago (COSTAATT) took the time to share her perspective on the College Fair. COSTAATT's presence at the fair was the result of a collaboration with the United States of America Embassy and she lauded the event's turnout, saying:
"We tend to encourage students to start locally, gather up some credits and then help their parents with the strain of costs by gathering up their credits so that once they're abroad and they do credits across there, it's a lot less that they have to do. Financially, it works out in most locals' best interests to study locally first and then move on abroad." Ms. Prevatt pointed out the financial advantage which the Government Assistance for Tuition Expenses (GATE) Program gives to locals, ensuring that students would not be burdened with the tuition and exam costs that one encounters when studying abroad. She expressed that the College's goal at the fair was to… "broaden everyone's knowledge of what (COSTAATT) has to offer. (COSTAATT) is here and is competitive along with the University of the West Indies and the University of Trinidad and Tobago because we tend to focus on smaller classes so there is more one and one with the lecturers who are all pursuing master degrees. We do have an edge with our lecturer to student ratio and the connections between the lecturers and students are very good."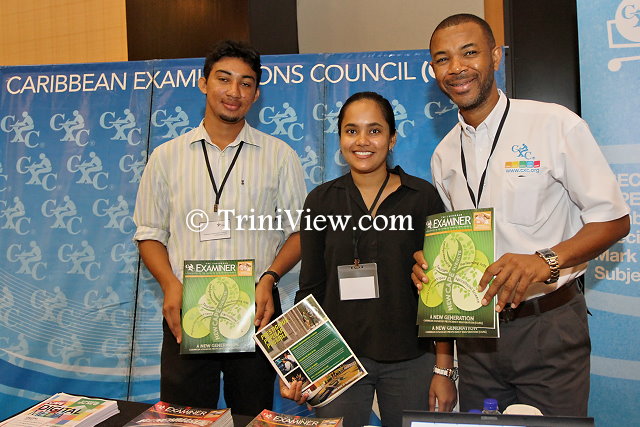 (R) Mr. Cleveland Sam and his associates of CXC
Mr. Cleveland Sam of St. Vincent is based in Barbados with the Caribbean Examinations Council (CXC). He applauded the efforts of all the representatives at the fair and explained CXC's history with the College Fair accordingly.
"This is a fair we have been doing for the last eleven years. We have always found the Trinidad and Tobago College Fair to be very worthwhile and rewarding. At this [College] Fair, unlike other fairs, the students come with their parents, so you get to interact with the parents who are the real decision makers. The parents come with issues and questions they may have had for a long time. We want to interact with students and their parents but also [with] the universities who are here. This is one of the strategies we use to ensure that the institutions that are recruiting here in the Caribbean are aware of the qualifications…that they have a thorough understanding of those qualifications and also discuss the whole issue of credits, transfer of credits, exemptions for students presenting the Caribbean Advanced Proficiency Examination (CAPE) subjects." He opined that the Canadian and U.S. universities recognize the edge that students holding (CAPE) certification possess saying, "If you speak to schools like Radison and York and NYU and whatever big name school is here, they would tell you that when recruiting internationally, they love the Caribbean students, they love the students that come with (CAPE) and one of the things that they love about the students is the fact that the students are much more prepared for University work and that is attributed to the fact that we have something called School Based Assessment (SBA). The (SBA) gives the Caribbean student a significant edge when they enter university. As you know in university you have to be involved in teamwork, group work, you have to be involved in research and with the CXC School Based Assessment those are things you do every day, every month.
I think that is why this fair continues to grow as well because as the word spreads about the (CAPE) students, more and more universities are coming to the college fairs in Trinidad, in Barbados, in Jamaica, because I think that the Caribbean students do very well. Here's a fact that the Caribbean people are not aware of. The Caribbean supplies most students per capita to North America than any other place in the world. For every ten thousand college aged students in the Caribbean, they get forty students. From China, they only get nineteen. So this is a significant increase in terms of the return on the investment for them recruiting in the Caribbean." He further explained that the Caribbean Examination Council's presence in this year's College Fair was twofold, "We in CXC, there are two things we are promoting here today. One is a CXC store which we launched two weeks ago, an online store so CXC students can get/source all their materials at the online store and secondly, earlier this year we launched what we called the new generation CAPE subjects and we are also promoting these new generation CAPE subjects, Entrepreneurship, Tourism, Performing Arts, Agricultural Science and Physical Education and Sport. We are hoping that students will take up these subjects, it gives them a much more entrepreneurial perspective in terms of their education and these are subjects where they can leave school and work for themselves as well as digital media which we launched in 2013."

Marina Piper, representative for the OAS
Also making its mark at the College Fair was the Organisation of American States. Representative for the OAS, Marina Piper chatted about her organisation's involvement offering some information on their interest free student loans.
"It's called the Leo Rowe Fund. He was the first president of what became the OAS and when he died he actually left his wealth for this purpose so that students from Latin America and the Caribbean who he saw as disadvantaged would have some help in accessing education in the U.S. It's not a very well known fund and it is beneficial in that it's interest free." She was hoping to raise more public awareness of the public availability of these funds. She further disclosed, "There are specific limitations. You have to be in a position to graduate in two years, [available to] anybody doing an exchange program and has to be a minimum of one semester. You have to be enrolled and you have to agree to return to your home country to help your home country after you get your degree. It has to be in the United States and there are no age limitations. It removes the financial burden from the parent and places it on the student who is expected to repay the loan after graduation. There is a moratorium for three months and then there is up to fifty months to pay it off. It is a maximum of $15,000.00 U.S. dollars. Nobody can tell you how to use the money. You can put it towards tuition or living expenses, it's not monitored but to get the loan you have to be a good student. You are expected to return home so you are expected to pay off the loan in local currency."
The 2014 annual College Fair included nine schools from Trinidad and Tobago, forty-four from the United States, twenty-seven from Canada and three regional. It was a well coordinated event with additional support desks provided by both the United States and Canadian Embassies to ensure that interested students could access relevant information on how to obtain student visas. Republic Bank was on hand to offer advice on financing and the Accreditation Council of Trinidad and Tobago was also represented.
College Fair 2014 in pictures:
www.triniview.com/gallery/main.php?g2_itemId=794189